Wow. It's October. TOMORROW. This can only mean one thing…no, not Halloween…no, not that it's Christmas the month after next, but once again, a new month means new book releases! We're in for a treat this October, with an influx of Christmas novels being released (more about those later…) alongside some classic chick-lit novels and one or two releases from some of my favourite authors. Let's take a look…
What do you do if you come face to face with a ghost?

Put it down to a bump on the head and work stress if you're a respected academic like Cleo Carpenter. With Christmas approaching, professional rivalry afoot and a best friend determined to interfere in her love life the strain is clearly starting to get to her.

Guilt-stricken and deceased, Alex Thorne is desperate to make amends with his brother, Rafe, a tortured musician trapped in a spiral of destruction. When an encounter with Cleo forges a link between them she becomes his only hope. So what if the only person who can see him is a sceptic?

As Cleo starts to doubt her sanity, the safe world she takes for granted crumbles around her. Setting out to regain control and prove once and for all ghosts don't exist, she embarks on a journey of self discovery and surprise, learning that love really does defy science, logic and maybe even death itself…
Seriously, how good does Dead Romantic sound?? I love Ruth Saberton and this novel sounds as though it's going to rival Katy Carter Wants a Hero (my personal favourite of Ruth's novels…) Plus with the added addition of ghostly goings on, it's perfect for Halloween.
Dead Romantic by Ruth Saberton, released 2nd October by Notting Hill Press. Pre-order
---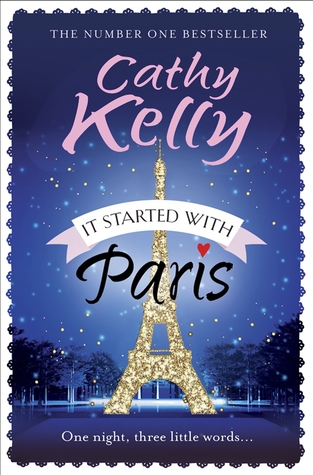 It all started with Paris. At the top of the Eiffel Tower, a young man proposes to his girlfriend, cheered on by delighted tourists. In that second, everything changes, not just for the happy couple, but for the family and friends awaiting their return in Bridgeport, Ireland…
Leila's been nursing a badly broken heart since her love-rat husband just upped and left her one morning, but she's determined to put on a brave face for the bride.
Vonnie, a widow and exceptional cake-maker, is just daring to let love back into her life, although someone seems determined to stop it.
And Grace, a divorced head teacher, finds the impending wedding of her son means that she's spending more time with her ex-husband. After all those years apart, is it possible she's made a mistake?
Cathy Kelly is a hugely popular author, and I feel as though I really need to read more of her books. I've read one or two of Cathy's pervious novels and completely loved them so I am keen to discover more of her work, and what better way to do so than with the release of this beauty? (LOOK at that cover!) It sounds perfect; funny, emotional and romantic. The ideal read for those chilly autumn nights.
It Started With Paris by Cathy Kelly, released 9th October by Orion. Pre-order
---
Jasmine knows two things: one, she loves her vulnerable sister unconditionally, and will fight to the death to protect her from anyone who upsets her. Two, she's only ever been good at one thing – her job helping business start-ups.
So when she's sacked and put on gardening leave, Jasmine realises that she has nothing else to fill her life. Insomnia keeps her staring out of her bedroom window, and she finds herself watching the antics of her neighbour, shock jock Matt, with more than a casual eye. Matt is also taking a forced leave of absence from work, after one of his controversial chat shows went too far…
Jasmine has every reason to dislike Matt, and the feeling appears to be mutual. But not everything is as it seems, and soon Jasmine and Matt are forced to think again…
Cecelia Ahern is up there with some of my all time favourite authors, and getting a new book of hers is like Christmas to me. I just love her. Her stories are amazing on so many levels and from the sound of the synopsis, The Year I Met You is going to be no different. I'm counting down the days until this is released and my excitement is almost on 'New Sophie-Kinsella' level (that is an actual thing. Fact.) I'm enchanted by the cover already and I can't wait to be enchanted by Cecelia's amazing story-telling too.
The Year I Met You by Cecelia Ahern, released 9th October by Harper Collins. Pre-order
---
Cinderella meets Falling Down in this wickedly funny tale about having it all
Carol is perfect… at least that's what everyone thinks. In reality she's sinking fast – her family treats her like their personal assistant and her boyfriend is so busy with work that he's got her single-handedly running their relationship. Not that her job is any easier. As the only woman on the bank's trading floor she spends twelve-hour days trying not to get sworn at or felt up by colleagues who put the "W" in banker.
How long can she go on pleasing everyone else before she snaps and loses it all?
With humor and empathy, Perfect Girl lays bare the balancing act that working women face in a man's world
I have heard endless good things about Michele Gorman's novels and I have a few sitting on my shelf that I haven't got round to reading yet but I can't wait to start (Single in the City, I'm looking at you!) so the release of Perfect Girl gives me the perfect (sorry) excuse to finally read one of her fantastic-sounding books. I love the synopsis, I love the cover and I'm massively excited about getting stuck into this…
Perfect Girl by Michele Gorman, released 14th October 2014 by Notting Hill Press. Pre-order
---
'Welcome to the Hope Street Hotel – where you check in married, and check out single.'
Two years ago Chloe Townsend was dumped at the altar and had to leave behind everything that mattered to her. Even now she's finding it hard to move forward. That is until she lands an incredible job, running a brand new boutique hotel. Suddenly she's starting to put her life back together, and, apart from the fact that her hard-to-please new boss is breathing down her neck, things are looking good.
But what goes on in the Hope Street Hotel is a far cry from anything she's ever dealt with before. This is a pioneering 'divorce hotel' designed to make every aspect of breaking up efficient and pain-free. In one single weekend, Chloe's team promises to take care of everything – legal, technical, emotional – and guests check out carefree and single.
No one is better qualified than Chloe to understand what couples need when their relationship is at breaking point, but she soon finds herself having to tackle the heartbreak she's tried to bury. In particular three couples need her help – Jo and Dave, Lucy and Andrew, and Kirk and Dawn – and the opening weekend is full of revelation, trouble, memories happy and sad, facts that need facing, and some very big surprises.
It's time to move on. And it soon becomes clear that some endings are, in fact, very exciting new beginnings …
Although the e-book version of Love Me or Leave Me was released in September (click here to buy, if, like me, you are extremely impatient) October sees the release of this gorgeous book in paperback. Claudia Carroll is one heck of a fantastic writer, I adore her novels and I was drawn to this cover right away, it's going to look spectacular in paperback, so why not treat yourself? It'll look lovely adorning your book shelf… In all seriousness this sounds like a GREAT read and going from reviews on some of the other fabulous book blogs out there – it is.
Love Me or Leave Me by Claudia Carroll, released in paperback 23rd October by Avon. Pre-order