It is Thursday…this can only mean one thing (besides it being Friday tomorrow) and that is that there's a whole influx of new releases flying onto our bookshelves today. I have been waiting for 9th October for what seems like forever as there are SO MANY good books out today, my bank account has been dreading this day. Sigh.
With super human effort I have managed to whittle today's releases down to just the ones I am super, super, SUPER excited about. So take a look and get yourself down to your local bookshop to celebrate Books Are My Bag whilst you're at it. It would be rude not to…
A Most Desirable Marriage by Hilary Boyd
Lawrence and Jo have enjoyed a strong marriage, the envy of their friends. Even after thirty years they have lots to say to each other, many interests in common and, until recently, a good sex life.
But Lawrence seems wary and restless. Something's wrong. Just how wrong, Jo is about to discover…
Can they use their years of history – all the things they've shared – to overcome a devastating betrayal?
Click to buy Paperback or Kindle.
---
The Year Met You by Cecelia Ahern
Jasmine know two things: one, she loves her vulnerable sister unconditionally, and will fight to the death to protect her from anyone who upsets her. Two, she's only ever been good at one thing – her job helping business start-ups.
So when she's sacked and put on gardening leave, Jasmine realises that she has nothing else to fill her life. Insomnia keeps her staring out of her bedroom window, and she finds herself watching the antics of her neighbour, shock jock Matt, with more than a casual eye. Matt is also taking a forced leave of absence from work, after one of his controversial chat shows went too far…
Jasmine has every reason to dislike Matt, and the feeling appears to be mutual. But not everything is as it seems, and soon Jasmine and Matt are forced to think again…
Click to buy Hardback or Kindle.
---
My True Love Gave to Me by Stephanie Perkins
A collection of joyful festive stories that will keep you warm during the cold winter months
On the first day of Christmas, my true love gave to me . . .
This beautiful collection features twelve gorgeously romantic stories set during the festive period, by some of the most talented and exciting YA authors writing today. The stories are filled with the magic of first love and the magic of the holidays.
Click to buy Hardback or Kindle
---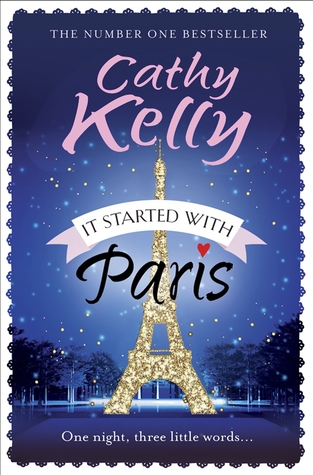 It Started With Paris by Cathy Kelly
It all started with Paris. At the top of the Eiffel Tower, a young man proposes to his girlfriend, cheered on by delighted tourists. In that second, everything changes, not just for the happy couple, but for the family and friends awaiting their return in Bridgeport, Ireland…
Leila's been nursing a badly broken heart since her love-rat husband just upped and left her one morning, but she's determined to put on a brave face for the bride.
Vonnie, a widow and exceptional cake-maker, is just daring to let love back into her life, although someone seems determined to stop it.
And Grace, a divorced head teacher, finds the impending wedding of her son means that she's spending more time with her ex-husband. After all those years apart, is it possible she's made a mistake?
Click to buy Hardback or Kindle.
---