Everyone loves a freebie and seeing as the post I did last week about the best free eBooks currently over on Amazon (UK) went down so well and there are still a stack of brilliant free eBooks in the form of novels are short stoires, I thought I'd do a second post. Remember that the prices are subject to change at any time and all of these books are currently free on Amazon.co.uk. Get filling up your e-reader…
A Year in the Life of a Playground Mother by Christie Barlow
A month by month comical tale of a young mother fighting for her place in the world against the backdrop of the Playground Mafia.
As her life unfolds and she takes us through from one amusing anecdote to another the characters come to life. There is Penelope who has a lot more going on in her life than she bargained for and Mrs Noland who has a lot less than she claims, not to mention Rupert who is a VERY busy man. With Mrs High School Musical, The International Sex God and The Frisky Pensioner, the characters are undeniably fascinating and leave you compelled to read more.
Who knew that one false move in the playground, one step in the wrong direction or smile at the wrong person could lead to such complications?
Click to buy.
---
Sweet Nothing by Alison May
Would you risk everything for love?
Independent, straight-talking Trix Allen wouldn't. She's been in love once before and ended up with nothing. Now safely single, Trix is as far away from the saccharine-sweet world of hearts and flowers as it's possible to be.
Ben Messina is the man who broke Trix's heart. Now he's successful the only thing rational Ben and free-spirited Trix see eye-to-eye on is the fact that falling in love isn't part of the plan. But when Ben's brother sets out to win the heart of Trix's best friend, romance is very much in the air. Will Trix gamble everything on love and risk ending up with zero once again?
---
The Christmas Getaway by Jill Barry.
Christmas is not Lulu's favourite time of year.
And she can't yet face the idea of her gorgeous boyfriend Ravi meeting her family.
So this year she wants to plan an alternative Christmas.
When Ravi suggests they invite Lulu's best friends – Susannah and Jo – to join them she is unsure at first.
But when Lulu suggests that they all spend the Christmas break in a secluded coastal cottage together, with their partners in tow, they both jump at the chance.
Susannah is back in a relationship with her teenage sweetheart, Grant. And Jo is living with Troy Cooper AKA TC, the soap opera star.
And, as of yet, none of the girls have met their best friend's partners.
With the cottage booked, Lulu can't wait for their festive getaway.
But then disaster strikes.
Ravi is mugged on his morning run and ends in hospital the day before their holiday.
Will Lulu still manage to get her perfect Christmas holiday?
---
Creepy Christmas by Jaimie Admans
Strange things are occurring in the neighbourhood. A mysterious snowfall, one Santa too many, and eyes of coal that watch you wherever you go. Ten-year-old Kaity is busy trying to get rid of her mum's creepy new boyfriend and reunite her divorced parents, but her curiosity gets the better of her when she meets the new mall Santa and his enchanting daughter Blizzard. Can Kaity help them save Christmas from being destroyed by Anti-Claus – a pretend Santa who is a permanent member of the naughty list?
It's Christmas in the village of Chelferry, but this year the snowmen can move, the fairy won't stay on top of the Christmas tree, and if you listen closely to the musical Christmas cards, you can hear the faint sound of screaming over the Jingle Bells…
---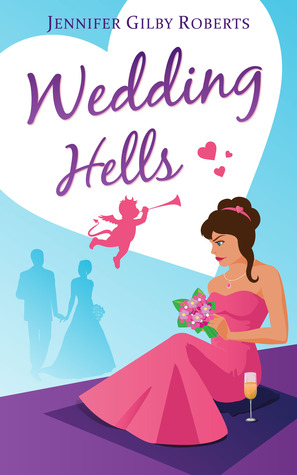 Wedding Hells by Jennifer Gilby Roberts
Mel Parker's perfect little sister is getting married and she'd rather cut her own arm off than attend. Her relatives are guaranteed to give her hell about not going first, her dress is unbearable and her beloved best friend Will isn't even invited. But her boyfriend is there. And there'll be cake. So maybe it won't be as bad as she thinks.
Maybe it'll be worse…
---
 Enjoy book-lovers! ♥
If you are an author and have a eBook coming up for promotion on Amazon then please get in touch holly.bookaholic@gmail.com to let me know & I'll happily post the details.