You know those gorgeous glossy Christmas magazine's that Boots, Debenhams and the almost all of the other high street stores produce every year? Well I thought I would produce one of those of my own, only in blog-form and about books, naturally. I believe that there's a book out there for everybody, whether you like your romance, crime, sci-fi, sagas, autobiographies…whatever your interest there'll be a book for you. Books make the perfect present, that it a scientifically proven fact*. So here's my handy guide as to what the buy for that awkward niece/work colleague/great cousin twice removed…
*It's not? Well it should be

Off The Leash: A Dog's Best Friend by Rupert Fawcett
In its first year as a daily cartoon blog on Facebook, Off The Leash developed a regular daily following of half a million dog lovers from around the world, and has become a place where people who are passionate about pooches share anecdotes, pictures and jokes. Capturing the secret thoughts and dreams of dogs, Rupert Fawcett's cartoons are brilliantly observed – and touchingly true to life. As well as the best dog photos sent in by fans of Off The Leash, A Dog's Best Friend rounds up a new selection of touching, hilarious drawings of dogs of every size, shape and breed doing what they do best: stealing beds, out-smarting cats and questing for the perfect stick…
Click to buy. 
This book is properly laugh-out-loud funny and every sketch is frighteningly realistic. It's uncanny. I can't believe that Rupert Fawcett wrote this without coming and observing my dogs because this book could actually be about them. It's sheer brilliance. A MUST for any animal (especially dog) lover. Don't forget to check out the first book Off The Leash: The Secret Life of Dogs too.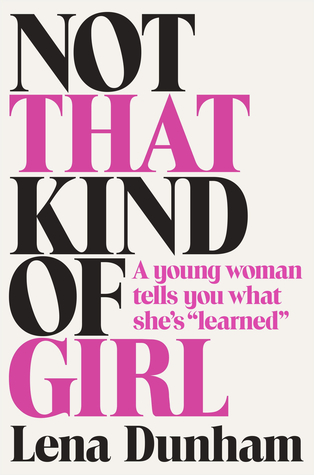 Not That Kind of Girl by Lena Dunham
If I could take what I've learned and make one menial job easier for you, or prevent you from having the kind of sex where you feel you must keep your sneakers on in case you want to run away during the act, then every misstep of mine was worthwhile. I'm already predicting my future shame at thinking I had anything to offer you, but also my future glory in having stopped you from trying an expensive juice cleanse or thinking that it was your fault when the person you are dating suddenly backs away, intimidated by the clarity of your personal mission here on earth. No, I am not a sexpert, a psychologist, or a dietician. I am not a mother of three or the owner of a successful hosiery franchise. But I am a girl with a keen interest in having it all, and what follows are hopeful dispatches from the frontlines of that struggle.
Click to buy.
This book reminds me of Caitlin Moran's 'How to Be a Woman' and sounds pretty much perfect. I've read tons of rave reviews for this book and I'm really looking forward to reading. It sounds wise, funny and scarily true…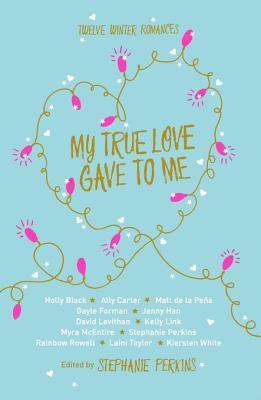 My True Love Gave To Me by Stephanie Perkins
On the first day of Christmas, my true love gave to me …This beautiful collection features twelve gorgeously romantic stories set during the festive period, by some of the most talented and exciting YA authors writing today. The stories are filled with the magic of first love and the magic of the holidays.
Click to buy
This book makes the perfect gift for any fan of YA fiction. Some of the most popular YA authors are in this collection including Rainbow Rowell, David Levithan and Gayle Forman. Not only is it a dream collection of stories for anyone who likes reading Young Adult, but it is one of the most gorgeous books I have ever seen. There's a ribbon marker with the hardback version and the edge of the pages are sprayed pink. There is no girl who would not like to wake up to find this in her stocking on Christmas day…
Shopaholic to the Stars by Sophie Kinsella

Becky Brandon (nee Bloomwood) is in Hollywood! It's as if all her life has been leading to this moment. She's hanging out with the stars … or at least she will be, when she finally gets to meet movie superstar Sage Seymour, whom husband Luke is now managing.
There's so much to see and do! And getting Minnie through the hurdles for her A-list Hollywood pre-school will require some…er…help.
Becky sets her heart on a new career – she's going to be a celebrity stylist. Red carpet, here she comes! But Becky soon finds it's tough in Tinseltown. Luckily her best friend Suze comes over to keep her company, and together they embark on the Hollywood insider trail. But somehow…things aren't quite working out as they'd hoped.
Then Becky's big chance comes, and it's an opportunity that money can't buy. But will it cost her too much? Click to buy.
Shopaholic to the Stars will make the perfect gift for any chick lit fan, or indeed any women in your life who loves shopping…or indeed just any woman in general, really! The ideal light, funny, and fabulous read…Show me a chick lit lover who doesn't adore Becky Bloomwood.
Us by David Nicholls
'I was looking forward to us growing old together. Me and you, growing old and dying together.'
'Douglas, who in their right mind would look forward to that?'
Douglas Petersen understands his wife's need to 'rediscover herself' now that their son is leaving home.
He just thought they'd be doing their rediscovering together.
So when Connie announces that she will be leaving, too, he resolves to make their last family holiday into the trip of a lifetime: one that will draw the three of them closer, and win the respect of his son. One that will make Connie fall in love with him all over again.
The hotels are booked, the tickets bought, the itinerary planned and printed.
What could possibly go wrong?
Click to buy.
David Nicholls is one of those super popular authors that appeal to such a wide range of readers. If you haven't read his smash hit One Day, then there's a good chance you've seen the film. David's novels are hilarious and often extremely thought provoking, Us would make a great gift for that awkward person that you just don't know what to buy for.
Leaving Time by Jodi Picoult
Jenna Metcalf was with her mother the night she disappeared in tragic and mysterious circumstances, but she remembers nothing.
Over ten years have passed, and still Jenna reads and rereads her mother's journals, hoping to find some clue hidden there, in the meticulous recording of her scientific research with elephants.
Desperate for answers, Jenna uses all her savings to recruit the aid of a private detective – and a psychic.
Jenna knows her mother loved her. She knows she would not leave her. And she will not rest until she finds out what happened that night. In her most gripping mystery since House Rules, Jodi Picoult brings us a powerful story of a young girl's determination to uncover the truth, however shocking and life-changing it might be.
Click to buy.
Leaving Time sounds like classic Jodi Picoult. I've no doubt that this gripping, suspense filled novel will spark off hundreds of discussions and bring a whole new audience to Jodi's spectacular writing. A great present for a huge range of fiction fans.
---
I hope that this post has given you some present ideas for those people who are tricky to buy for (and if not, why not treat yourself to one? Presents to yourself are completely allowed.) ♥