Welcome to a very special Festive Feature on my blog, where every day up until Christmas some of my favourite authors will be sharing what they love most about the festive season, including their favourite films, food, music, presents, memories, books…Plus much more!
Today I'm hugely excited to be able to share this fabulous Festive-fest by the extremely lovely Catherine Ferguson…
I am a MASSIVE fan of Christmas. I always have been but have kept it fairly quiet because it's generally not considered very cool to sigh with delight on sighting your first Christmas tree in October, is it? But it's like I can 'come out' now – because since writing Humbugs & Heartstrings I've found a whole community of book lovers who are all refreshingly unashamed about buying Christmas reads in September!
When I was deciding what to write a book about, I knew it had to be something I'd be happy spending the best part of a year with – and Christmas was the obvious solution. I'm not saying I'd like to celebrate Christmas all year round (like my heroine's mother in Humbugs & Heartstrings) but, well, maybe . . . I mean, what's not to like about the festive season? The lights, the bling, the glamour, friends and family meeting up, everyone smiling for a change, the pantomime (my 13-year-old still wants to go – yay!), great stuff on TV, champagne on Christmas morning and knowing it's your absolute duty to consume large amounts of iced fruit cake and boxes of exotic chocolates – otherwise they'll still be around in January.
Bring it on!
Catherine Ferguson
Author, Humbugs & Heartstrings
Many, many thanks to Catherine for contributing to my Festive Feature. ♥
---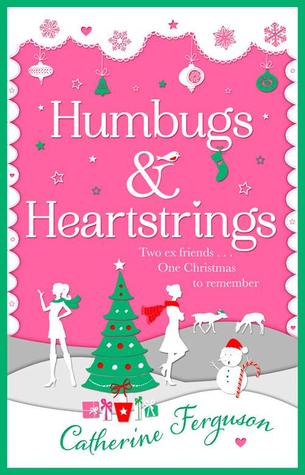 Catherine Ferguson burst onto the writing scene at the age of nine, anonymously penning a weekly magazine for her five-year-old brother (mysteriously titled the 'Willy' comic) and fooling him completely by posting it through the letterbox every Thursday.
Catherine's continuing love of writing saw her study English at Dundee University and spend her twenties writing for various teenage magazines including Jackie and Blue Jeans and meeting pop stars. She worked as Fiction Editor at Patches magazine (little sister to Jackie) before getting serious and becoming a sub-editor on the Dundee Courier & Advertiser. Moving south in her thirties, she set up Surrey Organics, delivering fresh organic produce to people's homes – and this experience provided the inspiration for her first attempt at writing a full-length novel.
Catherine's first novel HUMBUG AND HEARTSTRINGS is very loosely based on Dickens' A CHRISTMAS CAROL and is a clever, modern tale about the price of friendship, the cost of enmity, and the value of love. She lives with her son in Northumberland.
♥Catherine Ferguson♥ | Harper Collins Author Page | Twitter | Goodreads |