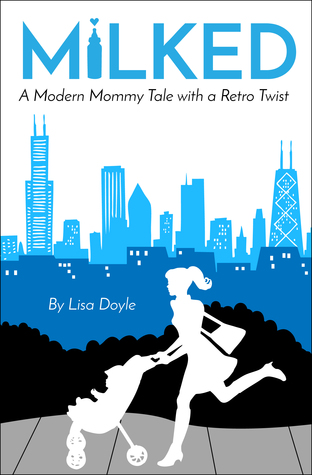 Milked by Lisa Doyle
Release Date: 21st November 2014
Publisher: Simon & Fig
Buy: Paperback | Kindle
Rating:

By and large, Amanda Keane makes pretty good decisions. Okay, she might not have the best taste in men, but she's got great friends, a good job, and an independent spirit. That is, until her 30th birthday ushers in a whirlwind romance with a sexy Irish musician who leaves her, not at the altar as she imagined, but accidentally pregnant. And when he disappears, she's downsized out of a job, her apartment is robbed, and lapsed health insurance coverage leaves her with a C-section to pay for, Amanda is launched headfirst into the life of a broke single mom. But her friend and uber successful ob-gyn, Joy, clues her in to an unlikely temp position with one of Chicago's celebrity elite that just may be the answer to all her woes. Or could it be just the beginning?
It's with serious trepidation that Amanda embarks on her surprisingly lucrative new career: underground wet nurse to the offspring of Chi-town's rich and famous. Amanda must quickly understand how to live at the whims and mercy of the one percent as she deals with the irony of nursing – and loving – someone else's child, while still making ends meet for her own daughter. And then there's Cute Daycare Dad (aka Dan), who's obviously interested in her. But can she afford to tell him what she really does for a living? Is her new job (something she thought went out with the 19th century) a shameful thing? Just another way of selling her body? Or does it have something to teach her after all?
A novel of motherhood, its many demands, and all the little triumphs along the way, MILKED is a warm and witty debut about making tough choices and travelling the roundabout road to happiness.
We first meet Amanda as she turns the big 3-0. Her questionable taste in men comes into play as she ends up falling for the hunky Irish waiter at her birthday party. A whirlwind romance follows and Amanda is well and truly loved up with the delicious sounding Eamonn.
However, when he returns to Ireland, Amanda is determined that they can do the whole 'long-distance' thing until she discovers – uh,oh – she's pregnant. Ok, so it's not ideal, but this could be IT for her and Eamon and they can finally be a family. Right? Erm, wrong.
Eamon is less than thrilled with the idea and disappears off the face of the earth despite agreeing to marry Amanda.
Not only is Amanda left heartbroken but she's also on the verge of being left penniless as things go from bad to worse and she loses her job in publishing and struggles to come to terms with being a single parent.
Desperate to find another job and give her baby, Maddie, the best possible start in life, Amanda's friend, Joy, comes up with a possible solution when she puts her in touch with a celebrity couple who have just become surrogate parents to twins and are looking for a nanny/wet nurse. Amanda is initially horrified. Although Maddie is no longer breastfed Amanda can't imagine feeding someone else's child. However, as time progresses and her situation worsens, Amanda finds herself getting in touch with her potential new employers and agreeing to start the following week.
Of course Amanda's new career doesn't run smoothly, and then throw in CDD (Cute Daycare Dad; Dan) who Amanda meets when dropping Maddie off at nursery and you've got yourself a whole new load of complications (you try explaining milk blisters to potential suitors…)
I was massively intrigued by the synopsis of Milked. I don't recall ever reading a novel covering a topic such as wet-nursing before (I only had a vague collection of what that even was!) so I was looking forward to reading something perhaps that little bit different and Milked certainly ticked all the boxes for me because I thoroughly enjoyed it.
I really liked the whirlwind relationship between Amanda and Eamonn at the start of the story. He sounded completely dreamy and I can see why Amanda fell head over heels in love with him. However, he soon turned into the biggest, rattiest of rats and I really felt for poor Amanda being left high and dry (or not so dry as the case may turn out…!)
Watching her struggle to adapt to motherhood made for a really insightful, funny and heartfelt read. She wasn't sure about being a single mother at first and who can blame her after how she was abandoned by Eamonn, but she soon found her whole world changing as she became a fully fledged mother to the adorable Maddie and found herself doing anything she could to provide a safe and stable home for her daughter. You really see Amanda grow up in the novel and I liked reading about her as she goes through that transition.
Her job as a nanny/wet nurse to high-profile celebs also makes for a juicy and often very funny part of the story as Amanda finds herself dealing with pristine, white nurseries (WHITE!?), re-usable diapers and struggling parents. Slightly different from publishing…
This is such a fun, unusual style of story that any chick lit fan will surely adore. Amanda is your perfect heroine; she's likeable, funny and when all is said and done – trying her best. She learns a lot of valuable life lessons within the story and it really was a joy reading about her journey.
If you're a mother then I've no doubt that great big chunks of this novel will resonate, but even if you're not it's still a highly enjoyable, funny, romantic read. Full of adorable kids, hunky men, a delightful group of friends, (Joy, Meg and Leigh and Amanda) romance, the importance of family and the things we'll do for love. If you're looking for something that little bit different or if you're looking for an all round engaging novel then look no further than Milked. I loved the cover (it's gorgeous!) I loved the title (so clever and appropriate) I loved the writing and I all round loved the story…a big thumbs up from me!
This is a really exciting debut from Lisa Doyle and I am now firmly looking forward to reading more of her novels, hopefully in the very near future!
A huge thank you to Kim for sending me a copy of Milked to read and review. ♥
Lisa Doyle is a communications manager and freelance writer based in the Chicago area. A native of Hinsdale, Illinois and a graduate of Miami University, she spent several years editing business-to-business publications for the personal care industry before moving to the nonprofit sector, and currently works in advocacy for homeless families at Bridge Communities in Glen Ellyn, Illinois. She has written for major beauty trade publications (Global Cosmetic Industry, Skin Inc, Salon Today, Modern Salon, Renew, Suburban Life) and is a contributor to WOMEN REINVENTED: TRUE STORIES OF EMPOWERMENT AND CHANGE (LaChance Publishing, 2010). Doyle is represented by Claire Anderson-Wheeler of Regal Literary, Inc., a full-service agency based in New York.
♥Lisa Doyle♥ | Website | Facebook | Twitter | Goodreads |