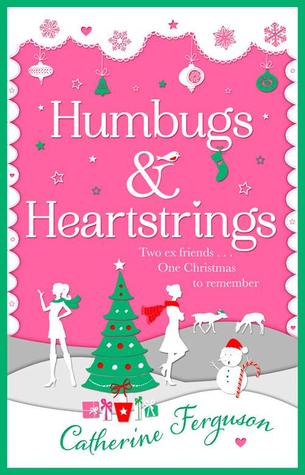 Humbugs and Heartstrings by Catherine Ferguson
Release Date: 2nd October 2014
Publisher: Maze
Buy: Kindle
Rating:

A tale about love and friendships, complete with a sprinkling of Christmas magic. Perfect for fans of Jenny Colgan and Lucy Diamond.
Two ex-friends. One Christmas to remember …
Bobbie's boss Carol is a real misery-guts, dedicated to making the lives of everyone around her unhappy in pursuit of every last penny. What makes it worse is that the two women have history: they were once best friends.
When handsome hotelier Charlie steps into the frame the two women go to battle as one sees a romantic future and the other a possible lifeboat for her business.
With wonderful warmth and humour – and the odd mince pie fight – the women are forced to confront their shared past, the turbulent present and, most importantly, the potential of the future.
Curl up this Christmas with this heartwarming and funny read. You'll never look at a mince pie in the same way again…
Humbugs and Heartstrings tells the story of Bobbie and her extremely-evil boss, Carol. Bobbie and Carol used to be BFF's, until something happened and the pair had a massive falling out. However, a series of unfortunate events has lead to Bobbie working for her ex-best friend at cleaning company Spit and Polish.
Bobbie is sure that the old Carol still lurks somewhere underneath in her frosty, penny-pinching boss, but it looks as though their relationship is set to sour even more when hotel owner Charlie appears on the scene. Charlie is interested in investing in Spit and Polish and Carol is going to make damn sure he does by digging her claws in as deep as they will go. However Bobbie finds herself hopelessly attracted to Charlie too, only, unlike Carol, she doesn't have an ulterior motive for his affections. Surely it's only a matter of time before all out war is declared?
I have been looking forward to reading Humbugs and Heartstrings for what feels like forever. The cover is one of the most gorgeous ones have seen this year and when I found out that the story was loosely based on A Christmas Carol I was sold. I adored these clever references to Charles Dickens' famous story, it was such a fantastic idea and Carol really is the perfect modern day scrooge. This element of the story was really cleverly done and added such a nice touch. It also made me desperately want to know if Carol was going to follow in the footsteps of Scrooge and see the error of her ways (although at times I didn't see how. The woman could be a TOTAL cow!)
I loved Bobbie. She is frantically saving up to go private for an operation on her younger brother, Tim, which means constantly scrimping and saving and sacrificing her own happiness in the process. She is such a selfless character and is always thinking of other people and I really warmed to her. I desperately wanted her to get the man, follow her creative career dreams and be happy. I really struggled to believe that she and Carol had ever been best friends in the first place though; the woman must have had a serious personality transplant because she could be vicious. You do find out why she is like she is as the story progresses, but I still think Bobbie should have told her where to go a long time ago.
Bobbie's narrative is excellent and I loved reading the story from her perspective. It makes the story so easy and 'readable' and one of those novels that you can't help but whizz through.
There's a mix of brilliant characters too including Fez, Shona, Bunty, Tim – they all brought their own special bits to the story and I loved each and every one of them (especially Charlie who sounds pretty much perfect…) That's excluding Carol, of course, but she is a character you'll find yourself loving to hate!
There are some moments of comedy gold in Humbugs and Heartstrings, involving mince pies, Christmas pudding fancy dress outfits, Ronald McDonald and oysters. I wasn't too sure how festive Humbugs and Heartstrings was going to be as it starts off in October but I needn't have worried. Catherine achieves that very tricky aspect of making this novel Christmassy (and there is LOTS of Christmas, don't worry!) but saying that it's still a novel that you could get away with reading at any time of year because it has such a strong storyline.
I am so excited to have discovered Catherine Ferguson's work as this is an absolutely cracking debut. I would even go so far as to say it's one of my favourite rom-com's of the year. There's friendship, romance, rivalry, humour in abundance, and the underlying message of being brave enough to follow your dreams (oh, and there's a turkey crisis-every Christmas story should have one!)
Humbugs and Heartstrings completely lives up to its gorgeous Christmassy cover. When Bobbie sets up a Christmas Fayre in order to raise money for her younger brother Tim there are more festive happenings that you can shake a Christmas pudding at, some funny and some festive. I also love the way the story resembles A Christmas Carol – but can this Carol shed her Scrooge-like ways? Only one way to find out…(DOWNLOAD!)
Catherine Ferguson burst onto the writing scene at the age of nine, anonymously penning a weekly magazine for her five-year-old brother (mysteriously titled the 'Willy' comic) and fooling him completely by posting it through the letterbox every Thursday.
Catherine's continuing love of writing saw her study English at Dundee University and spend her twenties writing for various teenage magazines including Jackie and Blue Jeans and meeting pop stars. Then she got serious and worked as a sub-editor at the Dundee Courier and the Aberdeen Press & Journal before moving to Surrey and setting up her own business, Surrey Organics, delivering fresh organic fruit and veg to people's homes. (She based her very first attempt at a novel on these veggie experiences but sadly, it is still in a drawer!)
Catherine's first novel HUMBUGS AND HEARTSTRINGS is very loosely based on Dickens' A CHRISTMAS CAROL and is a clever, modern tale about the price of friendship, the cost of enmity, and the value of love. It was the launch title for Avon's brand new imprint, Maze, and was published in October 2014.
She lives with her son in Northumberland.
♥Catherine Ferguson♥ | Harper Collins Author Page | Twitter | Goodreads |