Although I have only been blogging for half of 2014, in those six months I have come across LOTS of fabulous new authors. One of my favourite things about blogging is that some of these authors I possibly wouldn't have even known about had I not started my blog. To me, that is reason enough to keep blogging FOREVER– if it means discovering new authors then what's not to love!? As an avid reader I have always tried to read new authors and try out as many different books as I can, but there are just so many out there – where do you start? It's entirely through being contacted via my own blog, reading all of the amazing book blogs out there at the moment and receiving recommendations from fellow book worms that I've been introduced to some of the following authors.
Thanks to becoming a book blogger I've also read a fair few books outside of my comfort zone too, and surprised myself by thoroughly enjoying them.
Here's a look at a few of my favourite authors which I have discovered simply through being a book blogger this year…
Robert Bryndza
I can't imagine my life without Coco Pinchard after discovering Robert's hilarious and utterly amazing series of books. I honestly don't know how he managed to fly under my chick-lit loving radar for so long. However, now I have been thoroughly introduced to Coco and I adore her and her rather crazy life.
I discovered Robert's books when I agreed to review his latest novel, Coco Pinchard: The Consequences of Love and Sex for Girls Love To Read back in the summer. I was hooked right from the off and I now can't wait to devour the rest of the series. A special mention must also go to A Very Coco Christmas which is one of my all time favourite Christmas novellas. Funny AND festive, it's still December so there's still time to give this classic a read…
Emma Davies

I was intrigued from the synopsis of Emma's debut novel, Letting in Light, as soon as I was offered the chance to review it. However, I had no idea just how much I would enjoy this addictive, compelling and hugely romantic novel. There was something really special about the characters in Emma's novel and I desperately want to read more from them in the future. I still think about these characters and what happened to them now and I read the book back in September (maybe a re-read is in order!?) If you are a fan of the magnificent Katie Fforde then you must give Emma's novel a read because the style of writing is so similar and it has the same cosy, romantic feel of a Fforde novel. There's a light and a dark side to Letting in Light though, which will keep you hooked right until the very end.

Aven Ellis
As soon as I started blogging, Aven Ellis was an author that a lot of the book blogging community seemed to adore, so naturally I couldn't wait to discover her writing for myself and I am BEYOND pleased that I did. She is amazing. The first novel I read and loved of Aven's was Connectivity, which was a fabulous story about whether it's possible to have a successful career AND a successful relationship. It was heart-warming, cute, romantic and an all round fabulous read. However, my all time favourite book of Aven's is Chronicles of a Lincoln Park Fashionista (although saying that I am still to read Waiting for Prince Harry and Surviving The Rachel…eeeek…I can't wait!)
Jon Rance
I've said it plenty of times on my blog before, so I'm sure you're already aware of how much I love Jon Rance and his properly-laugh-out-loud diaries of Harry Spencer. My list of favourite male rom-com authors is growing by the second, so it is possible I may have discovered Jon's books sooner or later. I had borrowed This ThirySomething Life from my Library and the perfect excuse to read it immediately arrived when I was offered the chance to review his latest release (and sequel to This ThirtySomething Life), This Family Life. I quickly devoured both books and I am now a life long fan of Jon Rance. Both books made me laugh, despair, sympathise (usually with Harry's wife Emily, but occasionally with Harry himself…) cringe and laugh some more. I'm still yet to read Happy Endings, but needless to say I cannot wait…!
Julie Shackman
I was hooked from the moment I read the first page of Julie's debut novel, Rock My World. It was such an enjoyable and addictive romance, but at the same time it was slightly different from the norm and I loved that about it. The characters were realistic, the setting fantastic and there are plenty of plot twists and turns along the way. I love books where you can completely escape from the real world for a bit and Rock My World transported me perfectly. Full of imagination, humour and with a ghostly romance, Rock My World opened my eyes to Julie's writing and I cannot wait to get started on her second novel, Hero or Zero…

Kristan Higgins
I can't believe that I classed myself as a romance fan before I discovered Kristan Higgins. SERIOUSLY, where had I been!? When I was offered the chance to review Kristan's latest novel, In Your Dreams, I naturally jumped at the chance (there was a cute dog on the cover, ahem…) In all seriousness I loved the sound of the synopsis but seeing as this was book four in the Blue Heron series I wondered if I would struggle to catch up. However, my worrying was pointless because I immediately fell in love with these characters, the setting and Kristan's fabulous writing. I had no trouble picking up what was going on and found In Your Dreams to be perfect as a standalone novel (but I now have the excuse to read the previous three novels, it would be rude not to, right!?)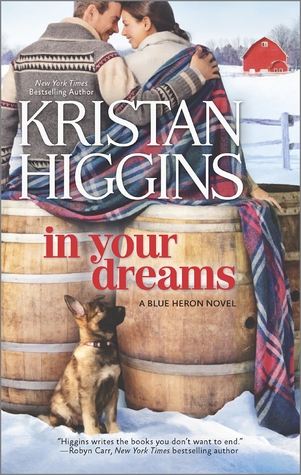 ---
I am now wishing I hadn't started this post because I keep thinking of authors I want to add to it. Whoops. The truth is I have loved so many books this year and discovered so many fabulous new authors that I honestly would list them all if I could, but there's reading to be done, so I can't.
These are just a few of my absolute, absolute favourites that I feel as though I might not have come across had I not started blogging and I just wanted to let these authors know just how pleased I am that I made the decision to start Bookaholic Confessions and therefore discovered them and their wonderful work.
♥