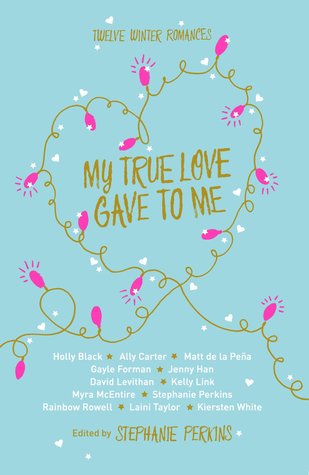 My True Love Gave To Me by Rainbow Rowell, Ally Carter, Gayle Forman
Matt de la Pena, David Levithan, Jenny Hann, Myra McEntire, Stephanie Perkins,
Laini Taylor, Kiersten White, Holly Black, Kelly Link

Release Date: 9th October 2014
Publisher: Macmillan Children's Books
Buy: Hardback  Kindle
Rating:

A collection of joyful festive stories that will keep you warm during the cold winter months
On the first day of Christmas, my true love gave to me . . .
This beautiful collection features twelve gorgeously romantic stories set during the festive period, by some of the most talented and exciting YA authors writing today. The stories are filled with the magic of first love and the magic of the holidays.
It's fair to say I have been pretty excited about reading My True Love Gave To Me. Ok, that's an understatement… Not only is it visually one of the most beautiful books ever (I don't think I've mentioned it has PINK EDGED PAGES!?!?) but it contains stories written by some of my all-time favourite Young Adult authors EVER. Rainbow Rowell and Stephanie Perkins, anyone?
Similar to a bag of wine gums, when you get an anthology of stories it's fair to say that you usually get a mixed bag. You get the ones you aren't so keen on (the yellow & green, yuck!) the ones you don't mind (black ones…) and the ones you absolutely love and can't get enough of (orange and red, please!) However, on the whole I found this collection of stories to be mostly in the red and orange wine gum territory because I mostly adored them.
My True Love Gave to Me kicks off with Midnights by Rainbow Rowell and no surprises here; I fell in love with this story. I love Rainbow and was probably most excited about reading her offering and it didn't disappoint. It was written in Rainbow's usual realistic, loveable style and made for such a gorgeously romantic story. Sigh. Perfect for Christmas.
Other favourites were It's a Yuletide Miracle, Charlie Brown by Stephanie Perkins, I loved the characters of North and Marigold and how they came together and how their friendship formed. I could easily have read a whole novel based around these two.
Krampuslauf by Holly Black was also rather excellent. It's completely magical and one of those stories that you can let your imagination run away with.
Welcome to Christmas, CA by Kiersten White was another favourite. Perfectly Christmassy (the characters live in a place called CHRISTMAS, what more could you want!?) poignant and compelling it practically had me in tears at points.
I thought that the Star of Bethlehem by Ally Carter was amazing too. The events that unfold really got me thinking and I was desperate to know what Lydia (or should I say Hulda!?) was running from.
Short and sweet, I enjoyed Your Temporary Santa by David Levithan. This is the first story I've ever read by Levithan (crazy, I know!) and I was fascinated by his characters right from the off. The only trouble was that I wanted more from them. I wanted to know what had happened to make the characters the way that they were and I still feel as though lots of things that could have been explained. Still, I guess that's the joy of short stories, not everything can be fully explained so it leaves you guessing.
There wasn't really a story that I disliked (aka a green or yellow wine-gum). I just enjoyed some more than others and overall this is one fantastic, magical, enchanting collection of stories from some of today's finest Young Adult authors.
I deliberately kept this book back to read over Christmas and I'm so glad that I did – it was perfect for dipping in and out of over the festive season (when there's presents to be opened and films to be watched too, of course…)
I know I will re-visit My True Love Gave To Me for many Christmases to come. In fact there's no reason as to why this collection of stories couldn't be read at any time of year. It's that enjoyable and whilst the stories will certainly get you feeling festive they all have significant, gripping plot lines that will always be enjoyed, regardless of if your Christmas tree is up or not.
Romantic, funny, enchanting and magical, My True Love Gave To Me is such a cosy, compelling collection of stories that will be sure to warm you up a chilly winter evening.
A huge thank you to Macmillan Children's Books for sending me a copy of My True Love Gave To Me to read and review. ♥