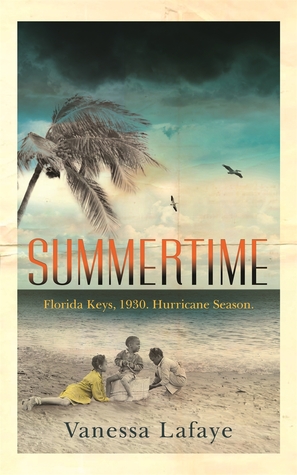 Summertime by Vanessa Lafaye
Release Date: 15th January 2015
Publisher: Orion
Buy: Hardback  Kindle
Rating:

Florida Keys, 1935. Hurricane Season.
Tens of thousands of black and white men scarred by their experiences of war in Europe return home to find themselves abandoned to destitution by the US government.
The tiny, segregated community of Heron Key is suddenly overwhelmed by broken, disturbed men with new ideas about racial equality and nothing left to lose.
Tensions flare when a black veteran is accused of committing the most heinous crime of all against a white resident's wife.
And not far off the strongest and most intense hurricane America has ever witnessed is gaining force.
Summertime is a fictional story about a real event. Set in Heron Key in Florida during the nineteen thirties, the story is based on the real labour day hurricane of 1935. However this storm takes place just after the annual 4th July beach party in a town that's about to reach crisis point.
There is a massive racial divide in Heron Key. Certain shops won't serve black people (and those that will often have a separate entrance for anyone who isn't white), even the beach party is divided into two – one half for black people, one half for white.
Then there's the ever growing problem of the war veterans living in the town. Despite fighting for their country they are looked upon as pests, unwanted vermin who do nothing but lie, steal and cause trouble. The veterans are suffering from the effects of fighting in battle and are in Heron Key to work – much to the dismay of the town's inhabitants.
The impact of the Great Depression has left things in Heron Key looking dismal and it soon becomes clear that a life-changing storm is brewing – in more ways than one…
2015 is looking set to be an epic year for fiction. There's lots of amazing releases flying our way over course of the year, but I can safely say that Summertime has set the standard for my year of reading…and it's extremely high.
This book grabbed me by the shoulders and gave me a good shake right from the off. The drama kicks off right from page one, when we meet Missy who is working for Mr and Mrs Kincaid. Missy is looking after their baby, Nathan when disaster strikes (or rather, an alligator strikes…)
It's one explosive scene after another from then onwards, making Summertime an extremely difficult book to put down.
The characters that we are introduced to are so complex and really jumped off the page for me. We meet Missy and Selma straight away – key characters to events that are about to unfold. Then we are gradually introduced to Henry Roberts, who is originally from Heron Key but went off to fight when Missy was just a child. He has returned to the town but he's living out with the bunch of veterans, under the impression that he has a duty of care to them.
We also meet the local Deputy, Dwayne, Doc, the rest of the veterans and their boss, Trent. There's the perfect Dolores Mason, Mabel and her infamous potato salad and we get to know Mrs Kincaid (known as Hilda) a lot more too as she is at the  centre of one of the huge events that's about the engulf the town.
The fact that this is Vanessa Lafaye's debut novel really amazes me. Her writing is so rich and descriptive. She brings the atmosphere of Heron Key to life and her writing is so full of suspense. You can sense the impending doom that's about to befall the town – and I'm not just talking about the fast approaching storm.
The way that Vanessa describes Heron Key, especially the heat, will have you forgetting that it's a frosty January day outside. You will feel the heat from her words, you can imagine the oppressive air, the look of the storm clouds, it's all there.
I love books that are fictional but which teach me about a certain period of history or event at the same time, and Summertime slots into that category perfectly. I'm ashamed to say I knew little of how appallingly the WWI veterans were treated. I certainly didn't know the extent of the racial divide in the south at that time, and I also didn't know about the real labour day hurricane of 1935. I was shocked at some of the things I learnt, particularly the violence and the prejudice attitude that was held by many.
The whole story is set at such an exciting pace as both the tension and the storm build. You will feel uneasy as you devour this novel, but that's all part of its appeal. You just don't know what's going to happen, or when. This makes for the perfect backdrop for a love story, which is also taking place alongside all of the other things that are happening. To say this novel is action-packed is a complete understatement. However, despite all that is going on, not once did I feel unable to keep up with what was happening or find my interest waning. In fact, quite the opposite. The more that happened, the more shocked , intrigued and excited I became and I physically could not stop reading.
Vanessa's style of writing is packed full of passion for Florida and the characters that she has brought to life so well. Her writing is just so easy to read and I found it to be extremely believable. Despite the fact that this story is actually based on real events, as far as I'm concerned this story WAS real. It was so much more than words on a page to me as I bonded with the characters and began to fear for them.
It's only January but I can safely say that this is one of my Books of 2015. I just know that it's going to be really hard to beat because it had everything I look for in a novel, plus much more.
Mesmerising, powerful and heartbreaking, Summertime is such an exciting, frightening yet beautiful novel.
A huge thank you to publishers Orion for sending me a copy of Summertime to read and review. ♥
I was born in Tallahassee, FL in 1963 but the family moved to Tampa soon after. This is where I was raised and schooled until I left for Duke University in 1981. There were hurricanes most years, strong enough to send us scurrying for the safety of the bedroom closets, but nothing on the scale depicted in SUMMERTIME. I am happy to say that I've never experienced a natural disaster of that magnitude. A thirst for adventure brought me to Europe in 1987, first to France and then England.
Writing was always a part of my life, from my first story at the age of six, but I did not made any efforts to get published until my 40s. I never imagined that my first novel to be published would be set in Florida, the place which I left nearly 30 years ago. At age 51, I'm proof that it's never too late to have your dreams come true.
♥Vanessa Lafaye♥  | Website  | Goodreads  | Twitter  |