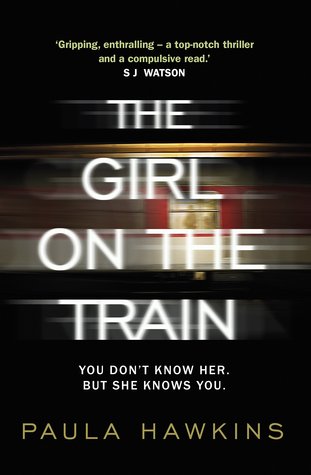 The Girl on the Train by Paula Hawkins
Release Date: 15th January 2015
Publisher: Transworld
Buy: Hardback | Kindle
Rating:

Rachel takes the same commuter train every morning. Every day she rattles down the track, flashes past a stretch of cozy suburban homes, and stops at the signal that allows her to daily watch the same couple breakfasting on their deck. She's even started to feel like she knows them. "Jess and Jason," she calls them. Their life—as she sees it—is perfect. Not unlike the life she recently lost.
And then she sees something shocking. It's only a minute until the train moves on, but it's enough. Now everything's changed. Unable to keep it to herself, Rachel offers what she knows to the police, and becomes inextricably entwined in what happens next, as well as in the lives of everyone involved. Has she done more harm than good?
The Girl on the Train is told from three viewpoints. Firstly we have Rachel whose life seems to be falling apart at the seams. She has lost her job, her husband and is turning into a full blown alcoholic. She is yet to tell Cathy, the girl whose house she's living in that she's lost her job, so she continues to catch the 8:04 train into London every day under the pretence that she's going to work. It's on this train that she first notices the couple who live in number fifteen Blenheim Road as the train travels past their back garden. It's a few doors down from the house Rachel used to share with her ex-husband, Tom, who now lives there with his new girlfriend Anna (who is also one of the three narrators of the story) and their baby daughter.
Rachel is fascinated by the couple living at number fifteen; she often see's them out in their back garden, imagines what they're like and even gives them names, until one day she sees something that changes everything…
The occupant's of number fifteen Blenheim road are really Megan and Scott. Despite what Rachel imagines we discover that their relationship is far from perfect as Megan tells her part of the story. But then things are about to take a much more sinister turn when Megan suddenly disappears off the face of the earth and Rachel realises that she holds the key to some very important information…But will anyone believe her?
There is such a huge buzz of excitement around this book. Naturally I had very high expectations but I was also slightly weary…would it be as good as everyone claims? There have been many books in the past that readers have loved but I just didn't 'get' – would this be the same? The short answer is…NO, because this book was just incredible.
I think this is a genius idea for a plotline. Who hasn't looked at other people and wondered about their lives? Particularly if, like Rachel, you pass the same houses or see the same people day after day. It's such a brilliant premise for a novel and the synopsis alone makes me just want to drop everything and start reading.
The story didn't actually play out in the way I thought it would. To begin with you assume that Rachel is just your every day thirty-something women on her way to work, but the more that is revealed about her life, the more you realise that isn't the case. The same with Megan; you get an image of how she's going to be simply from Rachel's observations but in reality she's totally different. It leaves you with that unsettling feeling of never quite knowing who to trust. My allegiances regularly changed throughout the story, not just with the women in the novel, but also with the men, Tom and Scott. At times I sympathised with Rachel, at other times I just wanted to give her a good shake because she seemed to be making things so difficult for herself. I never really knew how to feel about Megan, same with Anna. The phrase 'trust no one' has never been more apt.
The more the story progresses and the more information you discover, you often start to doubt yourself as to what really happened or who to really believe. I personally LOVE stories like this; ones that constantly keep you guessing and The Girl on the Train slots into that category perfectly.
I also love the format in which it's written. It jumps back and forth in time, depending on who's narrating at the time, so it's important to always look at the dates of each entry. It just flows so well and I loved how it gives you the back-story of the characters to start off with – and then BOOM- it escalates into full blown drama and excitement.
Paula Hawkins' writing is outstanding. She made these characters real for me, especially Rachel who I can picture as clear as day. As far as I was concerned I was in her head – seeing the things she saw (or not remembering the things she saw as the case may be…) I felt her frustrations, her intrigue, and her fear. She would annoy me and shock me, but boy was she real.
I could talk about this novel all day, but I will try and refrain from doing that. The most important thing I can say in this review is READ THIS BOOK. Just do it. Then you'll see what I mean.
Sat here thinking about this novel (as I know I will be for many days if not weeks to come) the thing I'm taking away from it most of all is probably that no one is as they really seem. We all daydream about what it's like to be other people – but will never know what it is really like to be that person because you never really know what goes on behind closed doors.
A book that will keep you guessing, will scare you, will make you think and will also make you realise that no one is as they seem. The Girl on the Train is one of my all-time favourite debuts EVER. I couldn't get enough of this unpredictable, complex, and scarily realistic story.
This is one journey you HAVE to take…
A huge thank you to publishers Transworld for sending me a copy of The Girl on the Train to review and for having me as part of the official blog tour. ♥
Paula Hawkins worked as a journalist for fifteen years before turning her hand to fiction.
Born and brought up in Zimbabwe, Paula moved to London in 1989 and has lived there ever since. The Girl on the Train is her first thriller.
♥Paula Hawkins♥ | Twitter | Goodreads | Transworld Books |