Happy Valentine's Day! Whether you're loved up and drowning in cards, flowers and chocolates or whether you're single and your plans for this evening involve PJs & a good book, you can still take advantage of some of the fantastic eBook bargains which are currently available over on Amazon. Don't worry if this years Valentine's Day hasn't turned out the way that you planned – all of the romance you could possibly need can be found in the books below. Who needs flowers!? All of the eBooks included are 99p or less, in some cases – FREE!
♥
The Valentine-Free Zone by Fiona Gibson
The Funny One: Part of the Love…Maybe ebook short story collection.
Jenny's teenage son Cameron wants her out of their flat while he cooks a special Valentine supper for his girlfriend… so how on earth is she supposed to spend the most romantic night of the year?
A laugh-out-loud Valentine's read, perfect for fans of 'Outnumbered' and Fern Britton.
Price: FREE over on Amazon UK.
Letting in Light be Emma Davies
Rowan Hill. Come first out of curiosity, explore as a guest, return as a friend.
When Ellie arrives at Rowan Hill all she wants is peace and quiet and a place to lick her wounds, but fate it would seem has other things in mind for her.
Firstly there's Will, who has a reputation for being a humourless grumpy loner; things would be perfect if everyone would just leave him and his estate alone. Is he just plain grumpy, or is it the big fat secret he's keeping that makes him act the way he does?
Then there's Finn, who's drop dead gorgeous, but who ran away from his past. He's now planning a return home to Rowan Hill, and although he knows Will's secret, he's not about to tell Ellie. Is it loyalty to his brother that keeps him quiet, or perhaps it's just that he has a few secrets of his own?
The perfect solution for all of them is staring Ellie in the face, trouble is she's been accused of meddling before. Her vision for Rowan Hill could be just what everyone needs, so should she follow her heart or her head?
As Ellie puts her plans to save Rowan Hill into action, romance and friendships blossom, however the complications of the past are never far away, and a shocking revelation soon threatens their hopes for the future. Suddenly the beliefs they once held true become the biggest obstacle they have to overcome. Will Ellie find the courage to learn from the truth and finally let a little light into all their lives.
After all, life, like art, is all about perception, and sometimes it just depends on your point of view….
Price: 99p on Amazon (UK) $1.54 on Amazon (US).
Kisses & Cupcakes by a selection of Choc-Lit authors, including: Jane Lovering, Juliet Archer, Margaret James, Henriette Gyland, Christine Stovell, Liz Harris, Sarah Tranter, Linda Mitchelmore, Kathryn Freeman, Janet Gover, Laura E James, Berni Stevens, Alison May, Rhoda Baxter, Clare Chase, Sarah Waights, Melanie Hudson and Evonne Wareham.
A delicious selection of romantic short stories with sumptuous recipes to match, from the Choc Lit authors.

Price: FREE over on Amazon UK and Amazon US.
Valentine's on Primrose Hill
The third short story in the fun & flirty #LoveLondon series from exciting new chick lit author Nikki Moore!
For Georgiana Dunn, life changed forever in the devastating moment that the lorry hit her car.
Scarred and scared, she's not left the house in months.Then her mum buys her a puppy, forcing her to face the world again, walking on London's beautiful Primrose Hill. But that doesn't mean she's looking forward to Valentine's Day.
Leo devotes himself to working with children with special educational needs. In fact, he does very little else, and his friends are always telling him to get a (love) life. So when they challenge him to find a date for Valentine's Day, and he meets a lovely but lost girl who looks like she could use a friend, he thinks he's found the perfect solution.
But life has a way of being less than perfect … Will he be left standing on his own on the most romantic day of the year?
Price: 99p on Amazon (UK)
A Batch Made in Heaven by Kate Harrison
Is there a recipe for true love? Becca Orchard believes the ingredients are science, psychology and faultless date planning. It's a formula that's made her one of the most successful match-makers in London.
Craft baker Adam Hill is more interested in recipes for bread than love: at his Pudding Lane Bakery in the heart of the City, he mixes old and new to create irresistible food, from Elizabethan Maids of Honour to flowerpot rolls.
But then Becca the Bride Hunter sets Adam up with one of her most awkward clients – and in the chaos that follows, she begins to wonder if she knows anything about finding the perfect match.
From the author of the 5:2 Diet Book, A Batch Made in Heaven is a delicious romance celebrating love, loaves and London – previously published as The Bride Hunter.
Price: 99p on Amazon (UK) and $1.51 on Amazon (US).
Do You Remember the First Time? by Jenny Colgan
Life doesn't have a rewind button. Ever wished it did?
Flora's wish is about to come true, in a magical new novel about the ultimate second chance, from the bestselling author of WORKING WONDERS and AMANDA'S WEDDING.
As her best friend Tashy cuts into her wedding cake, 32-year-old Flora realises she is disillusioned with life. Suddenly, her well-paid job, cosy flat and stable relationship with sensible Olly don't amount to a whole lot. Flora wants to be 16 again. She closes her eyes and wishes. Her wish has come true.
Waking up the next morning is a shock. But now Flora has the chance to right some wrongs. Trading crows feet for pimples, love handles for a torso Britney Spears would kill for and dull dinner parties for house parties where White Lightning and snogging are the order of the day, Flora revels in a life where things are far less complicated and just much more… FUN.
It's not all laughs though. Will what she does change the future? How can she get back to the present and her ordinary life? And does she even want to?
Price: 99p on Amazon (UK) 
Love Rules by Freya North
An intelligent, sexy novel about best friends, about settling down and about throwing it all away…
When you fall in love do you follow your heart or use your head?
Thea Luckmore believes in love – the magic spark of true, old-fashioned, romantic love. She's determined only ever to fall head over heels, or rather, heart over head.
Alice Heggarty, her best friend, is always falling in lust – with dashing rogues who invariably break her heart. As yet another disastrous relationship ends, Alice makes a decision. It's time to marry and she knows just the man.
For Thea, Saul Mundy promises to be the perfect fit and Thea finds herself falling in love and loving it.
But though newly wed Alice encourages Thea to settle down and conform, she finds that she's not as keen as she thought on playing by the rules. Alice starts to break them left, right and centre… At the same time, Thea's world, in which love reigns supreme, is shaken to core.
When it comes to love, should you listen to your head, your heart, or your best friend?
Price: 99p on Amazon (UK)
The Frog Prince by Sophie Ranald
Not all stories end with happily-ever-after…
On paper, Will Turner seems like the ideal man: he's gorgeous, has a GSOH and looks great in a pair of Marigolds. Oh, and his tech start-up has made him rich beyond his wildest dreams. So why can't he find the perfect girlfriend?
Stella's just moved in with Will's best mate Julian, and she'd love Will to settle down too, ideally with a New Best Friend for her. She persuades him to try online dating – but there's a catch. Will has to go undercover and pretend to be an average, hard-working bloke. He'll do the big reveal only when he's found Ms Right.
What could possibly go wrong?
While Will encounters ticking biological clocks, YouTube pick-up artists and a cat called Muggle, Stella's own fairytale isn't working out quite as she imagined. Is her heart really in the right place? And has she left it too late to kiss her prince?
Price: 99p on Amazon (UK) and $1.51 on Amazon (US).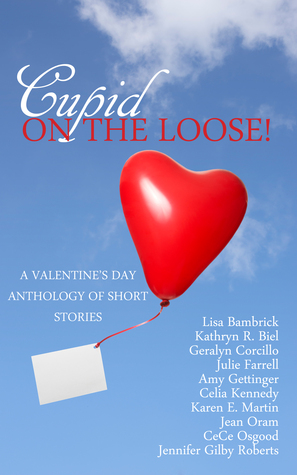 Cupid on the Loose! A Valentine's Day Anthology of Short Stories
A collection of ten contemporary chick lit short stories set around Valentine's Day.
Cupid is on the loose and anything could happen, as ten of his targets are about to find out. Will they find love or wave it goodbye? If their man goes down on one knee, will they say yes or no? If an old flame suddenly appears, will it start a fire or fizzle out? Read on and find out…
Stories included:
* All the World's a Page by Jennifer Gilby Roberts
* Miss Understanding in the Ballroom with the Wrench by Geralyn Corcillo
* The Wonder of India by Julie Farrell
* Vodka and Chocolate Hearts by Jean Oram
* Cupid, with a Eucalyptus Tree, in the Teachers' Workroom by Amy Gettinger
* Sugar, It's Cold Outside by Celia Kennedy
* Fly, Robin, Fly by Kathryn R. Biel
* Not Just for Valentine's Day by Karen E. Martin
* Cupid's Second Chance by Lisa Bambrick
* And The Winner Is… by CeCe Osgood
♥