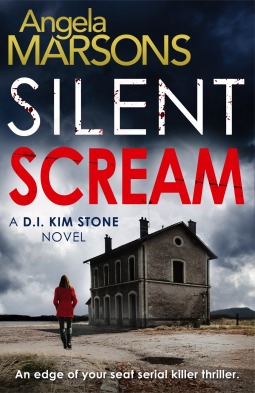 Silent Scream by Angela Marsons
Release Date: 20th February 2015
Publisher: Bookouture
Buy: Kindle
Rating:

Even the darkest secrets can't stay buried forever…
Five figures gather round a shallow grave. They had all taken turns to dig. An adult-sized hole would have taken longer. An innocent life had been taken but the pact had been made. Their secrets would be buried, bound in blood …
Years later, a headmistress is found brutally strangled, the first in a spate of gruesome murders which shock the Black Country.
But when human remains are discovered at a former children's home, disturbing secrets are also unearthed. D.I. Kim Stone fast realises she's on the hunt for a twisted individual whose killing spree spans decades.
As the body count rises, Kim needs to stop the murderer before they strike again. But to catch the killer, can Kim confront the demons of her own past before it's too late? 
Many years ago a brutal crime was committed at a children's home in the Black Country and there's only five people who know what really happened. When one of these five people is found murdered with the other four looking to be rapidly in danger, D.I. Kim Stone looks to have one heck of a tough case on her hands.
The plot thickens when human remains are found at the site of the former children's home. What really happened all those years ago? And who is set on seeking revenge on all the people who were associated with Crestwood children's home? With a personal affinity to solving this case, Kim is determined to bring whoever is behind these crimes to justice and if it means upsetting one or two people or putting herself in danger along the way, then that's all part of the job…
I was never a huge reader of crime fiction until I started blogging; but now it's fast becoming one of my favourite genres. Whilst I may have read a few psychological thrillers, I've not read many full-on serial killer thrillers until now. As a huge fan of Bookouture's titles I was intrigued to give their first ever crime thriller novel a try and boy am I glad that I did!
There's a huge buzz about Silent Scream already and it's not officially out until today. It's been flying up the Amazon charts on pre-orders alone so I couldn't wait to meet D.I Kim Stone and join in with the investigation…
A make-or-break in a novel like this for me is the characters. I found all of the characters in Silent Scream to be terrifically real. Some were flawed, some were infuriating, some were just plain vile, some invoked hatred and some are not who you'd perhaps think… The blend of characters was just perfect. Then you have D.I Kim Stone and her team, Bryant, Stace and Kevin. These four characters worked so well together, particularly Kim and Bryant – they had such a wonderful relationship, full to the brim with banter. I liked how Bryant knew Kim almost better than she knows herself and they made the perfect team. Whilst Kim is the more bolshier, all-guns-blazing-type of the two, Bryant brings the calmer puppy-rescuing side to their partnership.
Not forgetting Kim Stone herself. She is one brave, feisty, D.I and I am full of admiration for this lady. She makes for such a strong lead character and I adored her style of getting things done. Whilst she may come across as a tough-nut, the things she has suffered during her life are breathtaking. I was speechless at some of the things she has experienced and how she has used her past to become the person she is today. I cannot wait to re-visit D.I Stone; I'm missing her 'take-no-crap' attitude already! (Although I wouldn't fancy being a passenger in her car – I'll leave that one to Bryant…)
I was in no way expecting to become as engrossed in the murder investigation as I did with Silent Scream. It got to the point where I couldn't take any more twists or turns; I NEEDED to know what happened and the more I found out the more terrified (yet intrigued) I became. It's one shock after another and that on-the-edge-of-your-seat feeling doesn't stop until right at the end. I had such difficulty dragging my eyes away from my Kindle with this one which is quite rare for me because I like to read in short bursts rather than attempt a marathon reading session – but I would have done that willingly for this book.
Angela Marsons is clearly one extremely talented author and I think the D.I Stone novels are going to be BIG. It's not just the terrific plot that will grab you, but Angela's accomplished, thrilling and atmospheric writing. She plays out the story so well, yet never gives anything away making it impossible to guess what's really been going on. I also really admire the amount of research Angela's put into Silent Scream. I'm talking especially about Archaeology and the Postmortems (I found the parts of the novel where the human bones were found and analysed especially fascinating and the things that can be found out from what little remains there are of a person astounded me!)
Be warned; there are definitely dark parts to this novel; but they're not all-encompassing and whilst some parts did make me shudder, there's so much more to this novel than the odd grizzly murder.  Yes it can be upsetting and disturbing at points but as a crime-fiction newbie I'm trying to learn to not be such a wimp and surprisingly – I'm enjoying it!
Although, after finishing the novel I'm left with one question…
When does the next case begin??
A huge thank you to publishers Bookouture for approving me on NetGalley to read and review Silent Scream.♥

Angela discovered a love of writing at Primary School when a short piece on the rocks and the sea gained her the only merit point she ever got.
Angela wrote the stories that burned inside and then stored them safely in a desk drawer.
After much urging from her partner she began to enter short story competitions in Writer's News resulting in a win and three short listed entries.
She used the Amazon KDP program to publish two of her earlier works before concentrating on her true passion – Crime.
After many, many submissions Angela was signed in a 4 book deal to http://bookouture.com as their first crime author.
Her first book SILENT SCREAM will be published in February 2015.
♥Angela Marsons♥ |  Website |  Facebook |  Twitter | Goodreads |