Yes book lovers, you read that correctly – Book Bargain(s) of the Week! Don't despair that it's only Tuesday afternoon – download one (or all??) of these beauties and you'll soon perk right up. Here's my selection of favourite eBook's available this week on Amazon.co.uk for £1.00 or less (some are even cheaper than chocolate!)
A Day at the Office by Matt Dunn
Julie kissed Mark at the office Christmas party. She doesn't seem to remember, but he's not been able to forget. What better day to jog her memory than Valentine's Day?
Calum's found the girl of his dreams on the internet. Trouble is, he's not been completely honest about himself. Tonight he's meeting her for the first time. But will it also be the last?
Nathan's organised his usual Anti-Valentine's party for the office singletons. Sophie's going – again. Though this year, if she gets her way, they might just be leaving together.
One office. Five lives. On the most romantic day of the year.
Click to buy for £1.00.
As Good as it Gets? by Fiona Gibson
"Midlife crisis? WHAT midlife crisis?!"
Charlotte Bristow is worried about her husband Will. With her 16-year-old daughter Rosie newly signed to a top modelling agency, and Will recently out of a job, things are changing in their household.
As Will dusts down his old leather trousers and starts partying with their new, fun neighbours, Charlotte begins to wonder what on earth is going on.
So when Fraser, Charlotte's ex – and father of Rosie – suddenly arrives back on the scene, she starts to imagine what might have been…
Click to buy for 99p.
Tiny Acts of Love by Lucy Lawrie
Surviving motherhood? It's all about having the right support network.
Lawyer Cassie has a new baby, a husband who converses mainly through jokes, a best friend on the other side of the world, and a taskforce of Babycraft mums who make her feel she has about as much maternal aptitude as a jellyfish.
Husband Jonathan dismisses Cassie's maternal anxieties, but is he really paying attention to his struggling wife? He's started sleep talking and it seems there's more on his mind than he's letting on. Then sexy, swaggering ex-boyfriend Malkie saunters into Cassie's life again. Unlike Jonathan, he 'gets' her. He'd like to get her into bed again, too…
And on top of all her emotional turmoil, she also finds herself advising a funeral director on ghost protocol and becomes involved in an act of hotel spa fraud, never mind hiding cans of wasp spray all over the house to deal with the stalker who seems to be lurking everywhere she looks. Marriage and motherhood isn't the fairytale Cassie thought it would be. Will her strange new world fall apart around her or will tiny acts of love be enough to get her through?
Click to buy for 59p.
Love…From Both Sides by Nick Spalding
Sometimes, the hardest part of finding love is keeping a straight face…
For Jamie Newman, being a single guy isn't proving to be much fun, especially when confronted with a sexually belligerent divorcee and a goddess so far out of his league she might as well be a different species.Mind you, being a girl in search of love isn't a bowl of cherries either. Just ask Laura McIntyre, who's recently contended with a horny estate agent on a quest for light relief and a rabid mountain bike enthusiast with a penchant for lycra that leaves little to the imagination.
When Jamie and Laura bump into one another (quite literally) it looks like their luck may have changed – but sometimes finding the right person is only the start of your problems…
Love… From Both Sides is a warts-and-all romantic comedy for everyone who knows how tricky the quest for love can be.
Click to buy for 59p.
The Case of the Missing Boyfriend by Nick Alexander
Thirty-nine year old CC is living the urban dream: a high-powered job in advertising, a beautiful flat, and a wild bunch of gay friends to spend the weekends with. And yet she feels like the Titanic – slowly, inexorably, and against all expectation, sinking.
The truth is, CC would rather be digging turnips on a remote farm than convincing the masses to buy a life-changing pair of double-zippered jeans – rather be snuggling at home with the Missing Boyfriend than playing star fag-hag in London's latest coke-spots. But sightings of men without weird fetishes or secret wives are rarer than an original metaphor, and CC fears that pursuing the Good Life alone will just leave her feeling even more isolated.
Could her best friend's pop-psychology be right? Are the horrors of CC's past preventing her from moving on? And if CC finally does confront her demons, will she find the Missing Boyfriend? Or is it already too late?
Click to buy for 89p.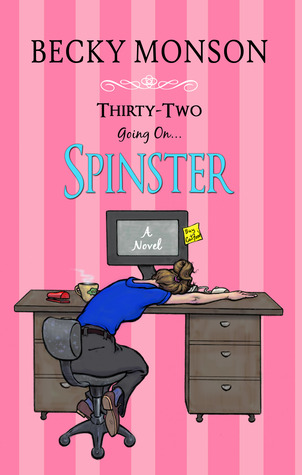 Thirty-Two Going on Spunder by Becky Monson
Julia Dorning is a spinster, or at least on the road to becoming one. She has no social life, hates her job, and lives in her parent's basement with her cat, Charlie.
With the arrival of Jared Moody, the new hire at work, Julia's mundane life is suddenly turned upside down. Her instant (and totally ridiculous) crush on the new guy causes Julia to finally make some long-overdue changes, in hopes to find a life that includes more than baking and hanging out with Charlie.
But when the biggest and most unexpected change comes, will the new and improved Julia be able to overcome it? Or will she go back to her spinster ways?

Click to buy for 99p.
Tied Up with Love by Amelia Thorne
'We're from KMW. Do exactly as you're told and you won't get hurt…'
Being grabbed off the street, blind folded, tied up and thrown into a van was not what Izzy expected to happen when she stepped out the door that morning. But when an accidental kidnapping at the hands of the sexy Ethan Chase and his 'Kidnap My Wife' sexual fantasy business leads to just that, Izzy seizes the chance to turn her misfortune into a brilliant new job opportunity…
Since then, life has been one big tangle of new client meetings, fake kidnapping pick-ups, and handling the temperamental, but drop dead gorgeous 'bad boy' Mr Chase. But, as liberating as being tied up in Ethan's life is, Izzy knows the time is fast approaching when she must make some decisions and take charge of her future. The only question is: will Ethan allow himself to be a part of it?
Click to buy for 99p.
♥
---
If you're on a book-buying ban at the moment then why not download these lovely freebies? (Freebies don't count, honestly!)
Neanderthal Seeks Human by Penny Reid
There are three things you need to know about Janie Morris: 1) She is incapable of engaging in a conversation without volunteering TMTI (Too Much Trivial Information), especially when she is unnerved, 2) No one unnerves her more than Quinn Sullivan, and 3) She doesn't know how to knit.
After losing her boyfriend, apartment, and job in the same day, Janie Morris can't help wondering what new torment fate has in store. To her utter mortification, Quinn Sullivan- aka Sir McHotpants- witnesses it all then keeps turning up like a pair of shoes you lust after but can't afford. The last thing she expects is for Quinn- the focus of her slightly, albeit harmless, stalkerish tendencies- to make her an offer she can't refuse.
Click to buy.
One Way or Another by Lucy Barker
Meet Isla Morgan. Once upon a time her life was pretty much all about writing songs and being the adored girlfriend of super-hot popstar Nate Jones. Now she's broke, single and stuck on the road trip to hell with her acid-tongued grandmother and a photographer who's distracting her for all the wrong reasons.
Still reeling from the humiliation of being publicly dumped by Nate in favour of glamour model, Ruby Wright, Isla retreats to the sanctuary of her parents' home to hide from the world and begin her new life plan: feeling sorry for herself. But every cloud has a silver lining, and Isla's relentless agent, Miriam, has a plan that will turn her world around.
All she has to do is drive her eighty-nine year old grandmother, Nana Mac (she of the neon dresses and white beehive) to Inverness in the company of Bill, a struggling photographer who's there to propel Isla back into the money. But is that the only thing Bill has on his mind?
As things start to heat up in the back of the SUV, Nate, freshly dumped by Ruby, is suddenly back on the scene and hell-bent on charming his way back into Isla's affections. And he's got company. But Isla's not giving in without a fight and as secrets and lies are exposed she begins to wonder if anyone is what they seem.
Amidst the paparazzi scrums and tabloid revelations, can Isla figure out what – or who – she really wants? Or is she destined to spend the rest of her life reading magazines about cats in her childhood bedroom?
The only thing Isla knows for sure is that, one way or another, she's going to get her life back. Even if that means spending twelve days driving an impossibly large car whilst being repeatedly called a loser by an eighty-nine year old geriatric gremlin.
Click to buy.
♥