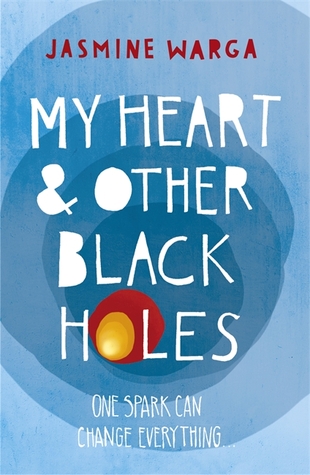 My Heart & Other Black Holes by Jasmine Warga
Release Date: 19th February 2015
Publisher: Hodder Paperback
Buy: Paperback | Kindle
Rating:

Sixteen-year-old physics nerd Aysel is obsessed with plotting her own death. With a mother who can barely look at her without wincing, classmates who whisper behind her back, and a father whose violent crime rocked her small town, Aysel is ready to turn her potential energy into nothingness.
There's only one problem: she's not sure she has the courage to do it alone. But once she discovers a website with a section called Suicide Partners, Aysel's convinced she's found her solution: a teen boy with the username FrozenRobot (aka Roman) who's haunted by a family tragedy is looking for a partner. 
Even though Aysel and Roman have nothing in common, they slowly start to fill in each other's broken lives. But as their suicide pact becomes more concrete, Aysel begins to question whether she really wants to go through with it. Ultimately, she must choose between wanting to die or trying to convince Roman to live so they can discover the potential of their energy together. Except that Roman may not be so easy to convince.
My Heart and Other Black Holes tells the story of two suicidal teens; Aysel and Roman, who meet one another online and make a pact to commit suicide together. Both have very different reasons for wanting to die, but the whole idea of finding a suicide partner is to make sure that both participants follow through with the plan.
Only for ALS0109 (Aysel) and FrozenRobot (Roman) things don't go exactly how they planned.  They set a date – April 7th, they set the place – Crestville Point, however what they didn't plan on was actually becoming close to one another and helping each other to discover that perhaps there is a reason for them living after all. Only as much as Aysel's point of view starts to change, can she bring the life back to Roman's eyes and make him see that maybe, just maybe, he has a reason to stay alive too?
Without saying too much I had a vested interest in reading this book. It spoke to me before I even turned the first page and to be entirely honest I don't know where to even start with writing this review.
I've not read an enormous amount of books that tackle depression and suicide, but this one really knocked me for six. The way in which Jasmine Warga portrays depression is absolutely spot on, especially Aysel's references to a black slug living inside her that gobbles up all of her emotions and feelings. Jasmine Warga certainly does not shy away from these tricky subject matters, and has created a thoroughly realistic sufferer in Aysel – she could be any American teenager, but what goes on her head proves that the battles that she's really fighting are invisible to the naked eye and this will surely resonate with so many readers who have experienced depression.
Whilst Aysel is a thoroughly likeable character, the feelings and thoughts that she experiences are never glossed over. They are frighteningly real, and 'messed up' in a way that will turn you into a bit of a wreck yourself after reading.
If you have ever wondered how a book can be both tragic and life-affirming at the same time then you're answer is within the pages of this novel. One of the things I loved most about My Heart and Other Black Holes was simply the relationship between Aysel and Roman. I got so involved in this book that I felt happy that they had found each other. I felt safe when they were together, because they understood what the other was feeling better than anyone else. Knowing that these characters were no longer going through these emotions on their own made me feel relieved. That might sound strange – it sounds strange to me as I read it back – but that is honestly how I felt. Watching their relationship develop before your very eyes is something special and the way that they support and help each other is both touching and tear-inducing at the same time. I want these two to be together all of the time and I can't bear to think of them apart. One of my favourite quotes of the whole book is when Aysel says that Roman is 'No longer the person I want to die with; he's the person I want to be alive with."
Jasmine Warga must have put in a huge amount of research when writing this novel and I really admire the way in which she has tackled these extremely difficult subjects. This novel in no way glamorises suicide, but instead it portrays the message that there is always hope and we can find it in the most unexpected of places. It's far from being a completely dark and frightening novel – there are many lighter sides to the story too. I particularly liked the element of how Aysel was a Science geek and fascinated by the concepts of physics and how she attempted to match them up to what's going on in her own life. The way she thought about energy was fascinating and it really got me thinking. Where does a person's energy go when they die? Anyway, that's a topic for another day… (Physics not being my strong point). Aysel was also quick witted and humorously snarky, she made for a brilliant lead character and I hope that the way she manages to get her 'black slug' under control will be an inspiration to any readers who are experiencing similar difficulties.
Jasmine Warga has blown me away with this novel; it's incredibly hard to believe it's only her debut. It's well-structured, realistic, brave, bold, frightening and really rather beautiful. If you've ever experienced any of the issues that are tackled in this sensitive yet fearless book then I can't urge you enough to pick it up. And if you haven't  -still pick it up. Not only is it a un-put-down-able read but it gives a compelling insight into the feelings and thoughts that people with mental health issues experience on a daily basis.
I can safely say that this is one of my favourite books of 2015. Jasmine Warga is an extremely talented author who has created an extremely special novel here. I hope that it gets the recognition and praise that it deserves…
A huge thank you to BookBridgr and Hodder & Stoughton for kindly sending me a copy of My Heart & Other Black Holes to read and review. ♥
Hi. I'm Jasmine. My first novel, My Heart and Other Black Holes, will be published in 2015 by Balzer + Bray/HarperCollins. I'm currently writing my second book which is tentatively scheduled to be published in 2016.
I like emotive music, animals of all sorts, and lemonade. And books.