Ivy Lane by Cathy Bramley
Release Date: 12th February 2015
Publisher: Transworld (Corgi)
Buy: Paperback |  Kindle
Rating:

Tilly Parker needs a fresh start, fresh air and a fresh attitude if she is ever to leave the past behind and move on with her life. As she seeks out peace and quiet in a new town, taking on a plot at Ivy Lane allotments seems like the perfect solution. But the friendly Ivy Lane community has other ideas and gradually draw Tilly in to their cosy, comforting world of planting seedlings, organizing bake sales and planning seasonal parties. As the seasons pass, will Tilly learn to stop hiding amongst the sweetpeas and let people back into her life – and her heart?
The start of Ivy Lane introduces us to Tilly who has just moved to a small market town called Kingsfield. Along with her new home, Tilly is due to start work teaching at the local primary school and has also acquired a plot at the Ivy Lane allotments. It's not clear at first why Tilly has upped sticks and moved to Kingsfield; but it's obvious that something awful has happened involving her husband, James, and she's attempting to move on from events of the past and start afresh. She's in quite a bad way when she first visits Plot 16B at the Ivy Lane allotments. She craves solitude, peace and isn't interested in getting to know anyone. However, it seems that her fellow occupants of the allotments have other ideas. There's the gorgeous fireman Charlie who is more than happy to give Tilly a helping hand with getting her plot into shape, Tilly's (fantastic-Dot-Com) plot-neighbour Gemma who's more into manicures than growing carrots, allotment secretary Christine and her husband Roy, plus a whole range of other friendly faces, including TV director Aidan Whitby who is there to film an allotment special at Ivy Lane for the BBC programme Green Fingers. They welcome Tilly with open arms and very slowly make her realise that perhaps she's a stronger person than she thinks… The story is divided up into four parts to co-inside with the four seasons, starting with Spring. I loved this idea and think it worked so well with the events of the story as things start to be revealed. I think my favourite season was Winter as everything really came together for me during this part of the story. It really resonated with me that when you look back on the novel as a whole, as with the real seasons, there was such a massive contrast between where we started out in Spring compared to where things finish up in Winter. Although Ivy Lane was originally released in four parts I'm pleased that I managed to wait until the full length novel was available as there are so many moments of suspense within these pages – I would have been climbing the walls in my desperation to find out what was going to happen. It was heavenly to be able to read this novel in full and get myself fully immersed into life at Ivy Lane and connect with the characters in the way in which I did. This is, of course, completely down to Cathy Bramley's superb writing. She has created this magnificent community and array of people who you'll fall in love with, care for and empathise with. Cathy also brought Ivy Lane allotments to life for me in a way that makes me wish I had my own plot. (I do live near an allotment and did gaze in through the gates many a time whilst reading this novel – sadly it doesn't quite resemble Ivy Lane and I haven't seen a Charlie-lookalike tending to his veg…) The allotment was such a wonderful backdrop to the story and the perfect setting for bringing this fascinating array of people from different walks of life together. This is the first Cathy Bramley novel I have read and I am off to download Conditional Love as we speak because she completely enchanted me with Ivy Lane. Her writing is so rich, warm and satisfying. Reading Ivy Lane is like being ensconced in a big fluffy blanket on a cold night. It'll leave you with the same happy glow and it's a place that you'll never want to leave… Uplifting, action-packed and full of emotion and suspense Ivy Lane has become a firm favourite of mine and I know for certain that I'll be delving back into its pages again in the future.
A huge thank you to publishers Transworld for very kindly sending me a copy of Ivy Lane to read and review and for having me as part of the blog tour. ♥ Don't forget to check out the other fabulous blogs taking part both this week and next…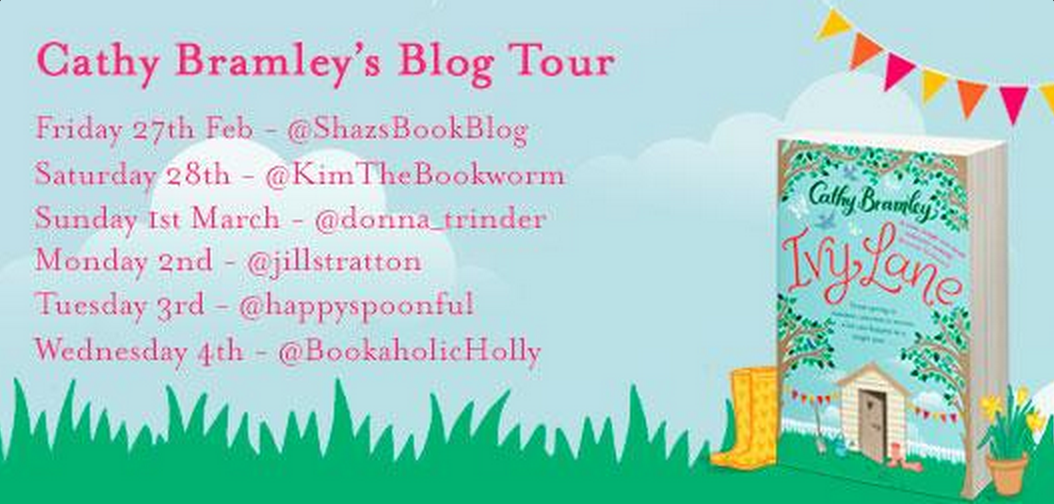 Cathy Bramley is the author of the best-selling romantic comedies Ivy Lane, a four-part serialised novel (Spring, Summer, Autumn and Winter), and Conditional Love. Both are being published as paperbacks in 2015. She lives in a Nottinghamshire village with her husband, two daughters and a dog.
Her recent career as a full-time writer of light-hearted, romantic fiction has come as somewhat of a lovely surprise after spending the last eighteen years running her own marketing agency. However, she has been always an avid reader, hiding her book under the duvet and reading by torchlight. Luckily her husband has now bought her a Kindle with a light, so that's the end of that palaver.
♥Cathy Bramley♥ |  Website |  Twitter |  Facebook |  Goodreads  |