If you're a regular reader of my blog then you'll know that I have been LOVING the Red Eye series of YA horror stories from Stripes Publishing. I'm delighted to be a part of the tour for their latest release, Flesh and Blood by Simon Cheshire and as well as reviewing the book I also got the opportunity to interview Simon. Here he spills the beans on writing spooky stories, all things YA and reveals which horror novels are some of his personal favourties…
Hello Simon, welcome to Bookaholic Confessions! Thank you so much for participating in this interview. Would you like to start by introducing yourself…?
I've been a published writer for about twenty years now, mostly in the comedy, detective and action-adventure genres. My earlier books for teens were what you might call rom-coms.
Can you tell us a bit about your new novel Flesh and Blood (released 2nd March 2015 by Stripes Publishing as part of the Red Eye series)?
It's my first ever horror novel. Horror is something I've always enjoyed, but only now have I had the chance to have a go at it myself!
I love the premise for Flesh and Blood and I can't wait to get engrossed in the story. What inspired you to come up with this storyline?
Initially, the relentless nastiness of the news headlines. The horrible events in Flesh And Blood are really only a step or two beyond things that get reported all the time.
 How long did it take you to write Flesh and Blood?
From start to finish, I think around five months, which is about average for me. Although, this is actually the longest book I've ever written, too!
On a scale of one to ten how much should I prepare myself to be spooked out by this novel?
Oooh, about twenty-five? People have told me it pulls no punches. There are some very brutal bits.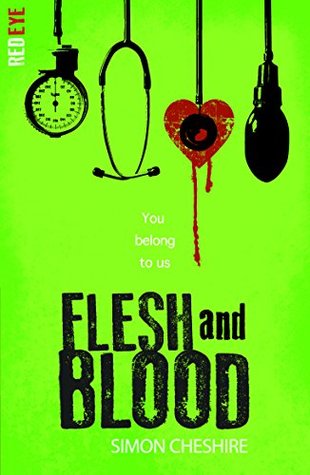 Do you read many horror novels yourself? Do you have an all-time favourite?
My personal taste tends to lean towards the traditional: Lovecraft, Poe, M.R.James and the like. I love Shirley Jackson's Haunting Of Hill House, and some of Stephen King's early novels. I grew up reading the Pan Book Of Horror Stories series, with their wonderfully garish covers.
What's the best thing about writing Children's and YA fiction?
Being able to help encourage the next generation of readers. The habit of reading widely and regularly is one that needs to be nurtured. I think I feel a gardening analogy coming on!
Can you tell us a bit about your journey to publication?
I was writing, with the intention of being a published writer, from the age of about 16 or 17. For many years, I had a steady drip of rejected manuscripts landing on my doormat. I kept all the rejection letters in a set of overflowing lever arch files, which was a peculiar form of self-torture but I only did it to make sure I didn't accidentally send the same book to the same publisher twice! Eventually, I was plucked from the slush pile in 1997 by an editor at Walker Books.
And finally – can you tell us a bit about what you're working on at the moment?
Right now, a book about grammar and a book about spelling, both for Key Stage 2.
A huge thank you to Simon for participating in this interview and to Jessie from Little Tiger Press. ♥
Click to get your copy of Flesh and Flood in paperback or download the eBook.