Whole Life Re-Do by Shealy James
Release Date: 30th January 2014
Publisher: CreateSpace Independent Publishing
Buy: Paperback |  Kindle
Rating:

After a disastrous first marriage, Eve Bryant is attempting to make a drastic change by moving across the country for a new job and a new life. She swears she isn't looking for a new man, but when she meets a persistent Grant Mitchell, she throws her rules right out the window. Unfortunately, Grant and Eve's new relationship may not withstand interference from a woman scorned and a troubled ex-husband. Grant will fight to keep Eve in his life, but after what she's been through, Eve isn't sure she hasn't any fight left to give. Is love really enough or does this mean the end for a couple who seemed to find everything they ever needed in each other?
When Eve moves all the way across the country from Georgia to Seattle she is set on getting her life back on track after suffering at the hands of her ex. Currently in the process of divorcing her bullying husband, Eve has taken a new job, got herself a new apartment and is determined to turn her life around after going through a difficult patch.
However; as soon as she claps eyes on the gorgeous Grant Mitchell her plans seem to go out of the window. A relationship is the last thing Eve wants right now but when Grant takes a shine to Eve and she finds herself quickly reciprocating the handsome business man's feelings. Although once the pair do give into their feelings it's clear that their relationship isn't going to be plain sailing, what with Grant's disapproving mother, his string of glamorous yet vicious exes, not to mention the small matter of Eve's divorce which is growing messier by the day. Is their relationship strong enough to withstand all of the hurdles that are thrown their way or will life put an end to their whirlwind romance?
I was sucked into the pages of this story right from the off. I immediately bonded with Eve and felt that she was a hugely strong and realistic character (I also want to try her famous red velvet cupcakes…) Although it's not immediately clear what she's been through, as more is revealed throughout the story you soon come to realise that she's one tough cookie and she surely deserves a little happiness? As much as she tries to resist Grant (and she does try, believe me) his seductive powers are inescapable. I loved how these two got together. There was sizzling chemistry right from the off and although they might be worlds apart they just 'clicked' and I desperately wanted things to work out for them.
I may have fallen a little bit in love with Grant throughout the story. (The way that Shealy James describes him makes it hard not to…Plus he gives pizza to homeless guys. AND his eyes change colour depending on his mood…) At first I was worried that there was something up with Grant, purely because he was so protective over Eve. I did wonder if he was going to cross into over-protective territory and turn out to be a bit strange (handsome, yet strange) but I soon learnt that his behaviour was purely down to the strength of his feelings for Eve. The things he does for Eve will make your heart melt and their relationship will leave you feeling toasty, content and really rather jealous.
I just wanted Grant to ride in on his white horse and make every right for Eve, although Eve being Eve didn't want that. She's a strong lady with a lot of pride and she wants to do things for herself – which I could totally understand. At times I just wished she'd stop fighting everything, though.
There's a whole range of great character within the story. I really liked Nolan and Maddox and I'd love to read more about what happens to these two in the future. Tiffani was great too, along with the rest of Eve's family. Whilst we don't really see or hear much of the notorious Kitty (aka the woman Grant's mother wants him to marry) you can't help but take a bit of a dislike to her; purely for who she is. However Shealy James' second novel in the series Whole Life Makeover is based around Kitty and I am chomping at the bit to read it. Who knows, maybe my opinion of her will change once I get to know her??
As romance's go, Whole Life Re-Do is a good 'un. It's full of exciting twists with well developed characters and you can't help but be drawn into the story. If you're looking for an exciting, fun read with a gorgeous lead character who you'll fall in love with yourself then you've found your book with Whole Life Re-Do.

A huge thank you to author Shealy James for sending me a copy of Whole Life Re-Do to read and review. ♥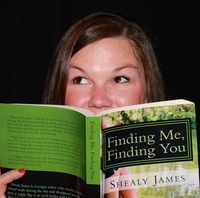 Shealy James is Georgia native who teaches middle school math during the day and disappears into fiction at night. She is an avid reader and a writer who laughs in the face of middle school angst and welcomes humor, drama, and the all-important happy ending. Shealy is the author of the Finding Series and the Whole Life Series.
♥Shealy James♥  |  Website | Twitter  | Goodreads  |