If you're often scouring Amazon for books like me, then you may be aware that there is a Spring Sale on at the moment, with many Kindle books being reduced to £1.00 or less. I may have been on a bit of a splurge; it would have been rude not to, am I right? Here's what I've downloaded and some of my favourites…
Second Time Lucky by Sophie King
Once Bridgewater House was the stately home of Lord Pearmain. Now, however, the house has been divided into separate residences for financial purposes. The Lord is forced to live in one of the humble apartments alongside his newly acquired housemates, among them a newly-divorced mother-of-three, a legendary screen goddess of the lives.
Click to buy for 99p.
The Man Who Can't Be Moved by Tilly Tennant
Fledgling journalist Ellie Newton is keen to prove herself when she lands a hard-won job at the Millrise Echo. So when reports come in of a man camped on the corner of a local street, refusing to move until the girl who has jilted him takes him back, Ellie is on a mission to get the scoop.
She arrives to meet Ben Kelly, a man she is instantly attracted to. But she has a job to do and an incredible story to write and has soon pledged to help him win back the girl of his dreams. With Ellie's help, Ben's plight captures the hearts and imaginations of the public. And when a TV film crew appears to make a feature on the most romantic gesture the town of Millrise has ever seen, Ellie's mission gets its happy ending…
But while Ellie has been busy fixing the lives of her wayward parents, providing shoulders for heartbroken friends to cry on, and worrying about her terminally-ill aunt, she hasn't noticed that she has also been falling quietly in love – with the very man she has now ensured is hopelessly out of her reach.
Ellie must choose between doing the right thing, and the thing that feels right. And whatever choice she makes, someone will get their heart broken.
Click to buy for 99p.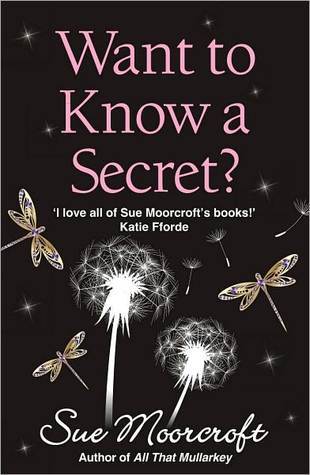 Want to Know a Secret? by Sue Moorcroft
Money, love and family. Which matters most?
When Diane Jenner's husband is hurt in a helicopter crash, she discovers a secret that changes her life. And it's all about money, the kind of money the Jenners have never had.
James North has money, and he knows it doesn't buy happiness. He's been a rock for his wayward wife and troubled daughter – but that doesn't stop him wanting Diane.
James and Diane have something in common: they always put family first. Which means that what happens in the back of James's Mercedes is a really, really bad idea.
Click to buy for 99p.
It Would be Wrong to Steal my Sister's Boyfriend (Wouldn't It?) by Sophie Ranald
You live together, laugh together, borrow her shoes and eyeliner – is there anything you can't share with your sister?
Ellie's younger sister Rose has it all. She's beautiful, stylish and dates gorgeous, glamorous millionaires, while Ellie is quite happy watching TV on the sofa with her old mate Ben. But when Rose brings her new boyfriend home, it's lust at first sight for Ellie. And although she knows it's wrong, everything changes: she'll do whatever it takes to get Oliver, even if it means abandoning her principles and turning a deaf ear to her friends. After all, would it be so wrong to take up running, put some highlights in her hair and make herself look a tiny, little bit more like Rose? But as Ellie follows in her sister's stiletto-heeled footsteps, she realises that finding love could mean losing the most important thing in the world.
Click to buy for 99p.
Move Over Darling by Christine Stovell
*Set in Wales and New York.*
When is it time to stop running?
Coralie Casey is haunted by her past. Deciding it's time for a fresh start, she sets up 'Sweet Cleans', a range of natural beauty and cleaning products, and escapes to Penmorfa, a quiet coastal village in west Wales.
Gethin Lewis thinks he's about to put his home village Penmorfa behind him for good. Now an internationally-acclaimed artist living in New York, he just has to return one last time to wind up his father's estate.
But the village soon disrupts their carefully laid plans. As truths are uncovered which threaten to split the community apart, Gethin is forced to question his real reasons for abandoning Penmorfa, and Coralie is made to face the fact that some stains just won't go away.
Click to buy for 99p.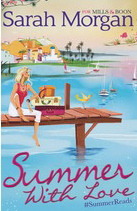 Summer With Love by Sarah Morgan
Remember that summer when everything changed?
Katy: Days away from marrying a man she doesn't love, Katy's shocked when fate throws her in the path of Jago Rodriguez – he may have left her years before, but now he's back, more beautiful than ever and still makes her heart skip a beat…
Libby: Spirited, impulsive and independent, Libby has no interest in relationships, until she comes face to face with a man who won't give up and a date she can't turn down!
Alex: Wanted by every woman he's ever met, Alex is totally unprepared when a stranger appears on his doorstep with a baby in her arms and turns his world upside down.
Click to buy for 99p.
Looking for La La by Ellie Campbell
In a recent survey 65% of mothers admitted feeling undervalued, over-criticised and constantly tired.
Cathy is no exception. Her dull, uneventful days as a stay at home, mother of two, are radically transformed however with the arrival of a heavily lipsticked postcard addressed to husband, Declan. Who is the mysterious La La? Could Declan really be having an affair? And is Cathy actually being stalked?
Whatever – it will definitely prove riveting gossip for the Tuesday Twice Monthlies, Cathy's 'Mothers Restaurant Research' group where scandal flows as recklessly as the wine. But what starts as a light-hearted investigation with best friend Raz, soon turns into something much more sinister.
With a possible murderer on the scene, a sexy admirer igniting long-forgotten sparks, and all her friends hiding secrets, it's not only Cathy's marriage that's in jeopardy. Add in the scheming antics of Declan's new assistant, the stress of organising the school Save The Toilet's dance and the stage is set for a dangerous showdown and some very unsettling, possibly deadly, revelations.
Click to buy for 99p.
The Summer Without You by Karen Swan
Rowena Tipton isn't looking for a new life, just a new adventure, something to while away the months as her long-term boyfriend presses pause on their relationship before they become engaged. But when a chance encounter at a New York wedding leads to an audition for a coveted houseshare in The Hamptons – Manhattan's elite beach scene – suddenly a new life is exactly what she's got. Stretching before her is a summer with three eclectic housemates, long days on white sand ocean beaches and parties on gilded tennis courts. But high rewards bring high stakes and Rowena soon finds herself caught in the crossfire of a vicious intimidation campaign. Alone for the first time in her adult life, she has no-one to turn to but a stranger who is everything she doesn't want – but possibly everything she needs…
Click to buy for 99p
Perfume of Provence by Kate Fitzroy
Leaving her cheating ex-boyfriend behind, Rosie Fielding heads away from her hectic working life in the London fashion world to spend a blissful – and man-free – weekend basking in the Cote d'Azur sunshine. Surely the Mediterranean sea breeze will blow away memories of the disastrous anniversary dinner-that-never-was??
During a chance visit to a nearby perfumery, Rosie meets the owner, Jean-Michel de Fleurenne, whose distillery and crumbling chateau are desperately in need of her PR expertise. Everyone knows you should never mix business with pleasure… but in the heat of Provence the rules seem to melt away. The soft perfume of the lavender fields and the rich citrus aromas of the fruit trees are blissfully intoxicating and soon, maybe all too soon, Rosie is falling madly in love with a certain impossibly handsome French perfumier and his aristocratic life at Chateau de Fleurenne.
But if French is the language of love then why doesn't the path of true love run smoothly for Rosie?
Click to buy for 99p.
…All of these books can be enjoyed perfectly with a good supply of chocolate! Happy Easter! ♥