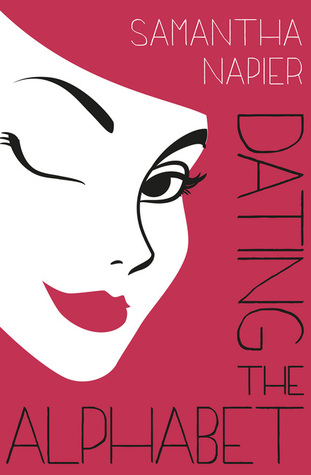 Dating the Alphabet by Samantha Napier
Release Date: 1st March 2015
Publisher: AUS Impulse
Buy: Kindle
Rating:

From Archie to Zolon, Ramona is determined to find a happy ending to her fairytale. Ramona Rawlings is going to make dating fun again. Armed with an alphabet poster, post-it notes and her best friend Emma, Ramona is going to date the alphabet – from A to Z, Archie to Zolon and everything in between. Throw in the chaos of managing a theatre restaurant with a roster full of strong personalities, unfulfilled dreams and lustful hook ups and Ramona's world is turned upside-down. In between Evan the arrogant, Ivan the emotionally stunted and Glen the racist, Ramona discovers what she really wants: to be a good friend, to emotionally connect with a man and to replace her vodka-tonics with kale smoothies. But how many frogs will she have to kiss before she finds her fairytale?
In Dating the Alphabet we follow restaurant manager Ramona Rawlings on her quest for true love. Whilst post-it note enthusiast Ramona loves her job she desperately wishes she could find 'the one' and with the help of her best friend Emma they concoct a fiendish plan that surely can't fail…Ramona is going to be DTA…In other words Dating the Alphabet. Scouring online dating sites, attending speed-dating nights, going to boot camp, it doesn't matter how Ramona meets her next date – as long as his name begins with the right letter then the plan is working. And after all there are twenty six letters of the alphabet, that's twenty six dates, meaning twenty six potential love interests. At least one of them has to meet Ramona's requirements. Right…?
As soon as I read the synopsis for Dating the Alphabet I was sold on this book. It sounded great and I loved the idea. (I also wanted to see how Ramona managed to find a date whose name began with U, X and Y…) I also wanted to see what would happen if Ramona meets someone she really likes but *shock, horror* his name doesn't begin with the right letter of the alphabet…
Whilst I loved Ramona's alphabetical dating journey, the thing that I actually enjoyed the most about this book was the theatre restaurant where she worked. The restaurant is managed by Ramona and the staff who work there all dress up as well known characters. So you might have Cinderella bringing you your lunch, or Tarzan taking your drinks order (complete with loin cloth) or even Fat Elvis crooning away whilst you munch on your dinner. I really enjoyed reading about the shenanigans at the restaurant, whether it's the staff sneaking the costumes home for their own personal use (much to the annoyance of the wardrobe-lady) or Cinderella demanding that her dress is shortened because she's been doing so much work on her legs and wants to show them off… It was brilliant how Samantha Napier always, ALWAYS refers to these characters as their characters. We don't find out their real names; for example, Tarzan is always Tarzan, Little Red Riding Hood is always, you guessed it, Little Red Riding Hood, even when they're not working. This really does make for hilarious reading at times. You quickly get used to it but occasionally it can catch you off guard in the middle of the story and it always made me chuckle.
I loved the rapport between everyone who worked at the restaurant too. They're a fantastic bunch of characters and the more you get to know them, the more you like them. I thought it was sweet how much Ramona cared about her colleagues and I was so happy with the way that things turned out for them all.
Of course the main theme of the story – Ramona's slightly crazy love-life makes for a hilarious, scary and sometimes all too familiar read. I guarantee that you will be able to relate to Ramona's situation and you will swoon, cringe and commiserate along with her at some of the dates (and she really does date some corkers!)
Of course, Dating the Alphabet isn't all about Ramona's love life. Encouraged with her DTA plan by her best friend Emma, the pair's friendship hits rocky ground at one point in the novel and Ramona learns a few lessons in life as well as love. On the whole Ramona is a really likeable character, but she did sometimes do things that frustrated me just that little bit too much and she did come across as self-centred at points. Which is why I love the direction that the story took which led Ramona to learn what, or who, is exactly important in her life. It's a classic case of missing what's right under your nose…
Dating the Alphabet is pure escapism and I absolutely loved it. It's just that little bit different from your standard romance, it's fun, fast-paced and brilliantly written. To anyone out there who has navigated the (quite frankly terrifying) world of dating, this is for you. You'll be laughing, nodding your head in recognition and enjoying every minute…
A huge thank you to Samantha Napier and AUS Impulse for sending me a copy of Dating the Alphabet. ♥
I not only like reading rom coms I like writing them. Dating the Alphabet is my first book,
Harper Collins, my new bestie, is publishing it in March 2015.