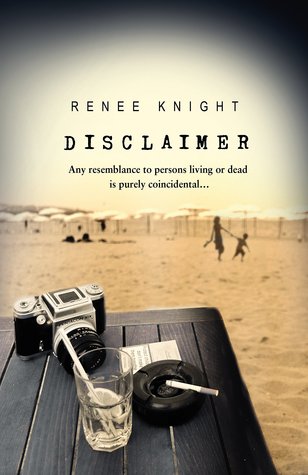 Disclaimer by Renee Knight
Release Date: 9th April 2015
Publisher: Doubleday
Buy: Paperback  |  Kindle
Rating:

Finding a mysterious novel at her bedside plunges documentary filmmaker Catherine Ravenscroft into a living nightmare. Though ostensibly fiction, The Perfect Stranger recreates in vivid, unmistakable detail the terrible day Catherine became hostage to a dark secret, a secret that only one other person knew–and that person is dead.
Now that the past is catching up with her, Catherine's world is falling apart. Her only hope is to confront what really happened on that awful day even if the shocking truth might destroy her.
Catherine and Robert Ravenscroft are living a seemingly normal, happy life together. They both have good jobs and have recently downsized after their twenty-five year old son, Nicholas, moved into his own place. Yes, things are pretty good right now. Or at least they are until Catherine reaches for the novel that's mysteriously appeared on her bedside table, entitled The Perfect Stranger. Catherine may have never heard of the author but one thing's for sure – she certainly knows the lead character in the novel, Charlotte. There's no doubt about it – Catherine IS Charlotte and the novel details an event from Catherine's past that she thought was long since forgotten. Something that she and she alone knows about – even Robert is oblivious. But who has written this novel? How did it find its way into her home? And perhaps most frightening of all is the grisly ending that 'Charlotte' encounters in the book…
The premise for this story is an absolute genius. As soon as I read the synopsis I knew that I just HAD to read this book. It sounded like a perfect plot for a juicy, unpredictable and harrowing story – and I found Disclaimer to be exactly that. It lived up to all of my expectations and more…Heck, it completely surpassed my expectations and I couldn't get enough.
What I loved the most about this book is how it made me stop and think. Can you actually imagine if this happened to you? If one day you obliviously picked up a novel that was supposedly fictional but soon realised that it was based around an event from your past and the lead character was actually YOU? It makes my mind go crazy, but it's such a good idea.
The story starts off at a fairly sedate pace. We are introduced to Catherine and Robert, but then there's the slightly strange Stephen Brigstocke. Without giving too much away it's not immediately clear how everyone is connected and I was pawing at the pages in an attempt to find out. What had Catherine done to deserve such hatred? Who had written this book about her? Where does Nicholas fit in with everything?  It bamboozled me how everything would fit together, but don't panic because everything does click together, leading to a ultimately satisfying, shocking and exciting story full of twists and turns round every corner.
The element of suspense is very full on and I love that just when you think you've got things straight – CRASH BANG WALLOP – you haven't. The story flows so well, never giving too much away but at the same time giving you just enough information to go on. You are constantly kept on your toes and you never quite know in which direction the story is going to take you.
I thought that the way in which this story was told was hugely effective. The chapter's narrated by Stephen Brigstocke are written in the first person, whereas Catherine's chapters are written in the third. I felt as though this gave me a greater insight into the character's minds, but at the same time because Catherine's part of the story is told in the third person it takes longer for everything to be revealed, which adds to the enormous element of suspense running throughout the story.
If you're a fan of psychological thrillers then this is a must-read. It's one of those all encompassing books that grabs your attention and holds it right until the very last page. I'm no expert on the genre but I would guess that Disclaimer has all the ingredients of a smashing thriller. The characters are well developed, surprising and unsettling, the concept is fantastic and highly intriguing, there's plenty of shockers buried within its pages and it will keep you guessing right until the end.
Disclaimer is a dark and compelling debut, questioning trust, love, secrets and revenge. Make sure you clear your diary for a day or two before getting well and truly stuck in…
A huge thank you to Alison at Transworld for sending me a review copy of Disclaimer and to Becky at Transworld for having me as part of the official blog tour. ♥