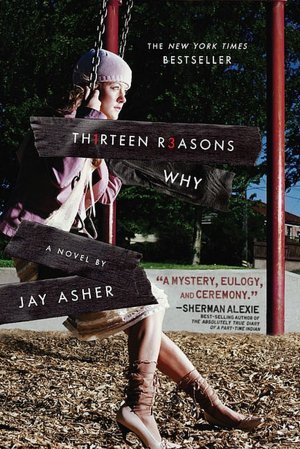 Thirteen Reasons Why by Jay Asher
Release Date: 6th August 2009
Publisher: Penguin
Buy: Paperback |  Kindle
Rating:

Clay Jensen returns home from school to find a mysterious box with his name on it lying on his porch. Inside he discovers thirteen cassette tapes recorded by Hannah Baker, his classmate and crush who committed suicide two weeks earlier.
On tape, Hannah explains that there are thirteen reasons why she decided to end her life. Clay is one of them. If he listens, he'll find out how he made the list.
When teenager Hannah Baker commits suicide she makes a series of thirteen tapes, each dedicated to a person who played a part in her decision to end her life. She puts into action a plan to have the tapes delivered to everyone on this list as they discover what was really going on in Hannah's life and how they are all connected.
Thirteen Reasons Why follows the story of Clay Jensen, who is one of the people featured on the tapes. He is in shock when the tapes arrive on his doorstep with strict instructions to pass them on to the next person on the list when he has finished listening to them.  As far as Clay is aware he has never done anything to upset, Hannah. In fact he was in love with her from afar and only got close enough to speak with her once or twice.
However, as Clay listens to the tapes and visits the locations that Hannah has marked on a map and instructed the listeners to visit, the story starts to unfold and Clay is upset, angry, shocked and hurt by the secrets that he discovers. He also soon grows to realise that the littlest of actions can have the biggest of impacts…
I had been hearing so much about this book (most of it really good) that I was eager to give it a try and see if it lived up to all of the hype.
When I first started reading this book I was engrossed. The premise sounded harrowing, shocking and utterly compelling. I'd never read a story like this before ever and a few pages in I completely forgot about the world around me and all that mattered was finishing this book and finding out why Hannah decided to end her life and why exactly Clay was involved. He seemed like a nice enough guy, I couldn't imagine he would ever do anything to upset Hannah – in fact it became obvious that she was very special to him…so why?
We experience the story as Clay is listening to the tapes. You have Hannah's commentary which is interspersed with Clay's thoughts and his journey of visiting the places that Hannah has instructed the listeners to visit. The way in which this story was told was wonderful and it made it so easy to read. Hannah's voice was in italics and sometimes I was speeding through this book so fast that I missed the difference in fonts and got confused about who was saying/thinking what. But that's just me. If you're taking your time to absorb every detail of the story then this won't be a problem. I was just enjoying reading it so much that I wanted to consume it as fast as possible.
I generally thought that they way that the narration went back and forth between Hannah and Clay was brilliantly done and adds so much suspense and intrigue to the story. 'Hearing' Hannah's voice was eerie enough for me, so I have no doubt how it must have been for Clay. I desperately wanted someone to reach out to her and for things to end differently, but this story is no fairytale and sadly we know that the outcome can't be changed.
There's no doubt that the thing I will take away from this novel is the realisation that everything we do (and I mean EVERYTHING, no matter how big or small) effects other people in ways we can't imagine. Hannah calls this the 'snowball' effect. Yes, some of the things that happened to her may not have seemed like a massive deal to everyone, but add another load of people treating her badly/using her/not making the time to listen to her etc and suddenly the problem grows into something much bigger and much scarier.
There's no denying that this is not an easy book to read and it will leave you feeling raw and at times, uncomfortable. It definitely deserves the hype that it has been awarded and if you like reading powerful and thought provoking YA that will stay with you for a long, long time, then pick up this book.
*Personal Copy*
Jay Asher got the idea for Thirteen Reasons Why at a museum. While taking an audio tour, he was struck by the eeriness of the voice in his ear – a woman who described everything he was looking at , but wasn't there. Jay has worked in various bookstores and lives in California. The US bestseller, Thirteen Reasons Why, is his debut novel.
| Thirteen Reasons Why Website | Blog |  Twitter |  Facebook  |  Goodreads |