When We Were Friends by Tina Seskis
Release Date: 23rd April 2015
Publisher: Penguin
Buy: Paperback |  Kindle
Rating:
It had always been the six of us.
Since we met at university twenty-five years ago, we'd faced everything together. Break-ups and marriages, motherhood and death. We were closer than sisters; the edges of our lives bled into each other.
But that was before the night of the reunion. The night of exposed secrets and jagged accusations. The night when everything changed.
And then we were five.
When We Were Friends tells the story of Camilla, Natasha, Reneè, Sissy, Siobhan and Juliette. The six women who are now in their forties, formed a strong friendship when they were all at University together. Despite their lives all moving in very different directions, they all still make the effort get together once a year. They played such an important part in each others all those years ago, experiencing all the trials and tribulations that University life brings, whilst always being there for one another.
However the girl's latest meet-up for a picnic in Hyde Park turns into a disaster pretty much straight away. Tensions are running high and the consumption of alcohol loosens everyone's tongues just that little bit too much. Secrets are revealed, some home-truths dished out and the resentment between certain members of the group hits boiling point. It's therefore no surprise when something awful happens and only five of the six women end up leaving Hyde Park that evening…
I was ridiculously excited about reading this novel right from the off. The synopsis completely sold me on this story; it sounded fantastic and gave such scope for a compelling, dark and hugely addictive story. I love novels that centre on reunions and meet-ups involving people who used to know each other in the past. There is always the potential for some explosive storylines leading on from these kinds of events…and Tina Seskis certainly takes full advantage of this because When We Were Friends is one tense, exciting, shocking, rollercoaster of a novel.
Firstly I thought that the mix of characters in this novel was superb. You are bound to recognise at least one of six women from friendship groups of your own. There's Camilla who is the mother hen of the group, Sissy is the quiet one who worries about everything, Siobhan is the spoilt 'princess' of the group, Reneè is the outrageous one, Natasha the one that likes to pretend that her life is perfect and Juliette is the one who seems to turn a blind eye to everything… Whilst these women don't sound like the nicest bunch of people, once you get to know them you can begin to identify with their troubles and they suddenly become a lot more appealing. There's no doubt that they were fascinating characters to read about and the more you discover about them, the more compelling the story becomes.
I found the way in which the story was told to be highly effective. The chapters are short and attention-grabbing, as the story yo-yos back in time to when the girls were at University, to their Hype Park reunion and beyond. You also get to hear snippets from other characters which I thought was great as it provides a slightly different take on events. Whilst I liked this format of the story, I was worried that I'd have difficulty keeping up with what was going on, however this proved to not be an issue because I was so engrossed in what was happening and the way in which the story was told made perfect sense. I was also concerned that I'd have trouble keeping up with who was who amongst these six women, but I think that the characters were so well defined and different from one another that I felt as though I got to know them really well right from the start.
Tina Seskis must be applauded for her excellent, nerve-wracking style of writing. I loved how the story unfolded before my very eyes, yet nothing was ever given away. It's like you're always kept just that little bit in the dark and you can never guess in which direction the story is going to go. I feel as though so many readers will be able to identify with the issues that Tina examines in When We Were Friends too, for example how many of us insist on meeting up with people from our past just because we feel as though we 'ought to'? It's a situation I'm sure 99% of us will recognise and it makes for a brilliant basis of the story. I also liked the way that Tina shaped her characters and how they were affected by the events of their past, without even realising it themselves.
I was frantically turning the pages of this novel to find out what happened at the end. It will keep you entertained for the whole 390 pages and you'll be sailing through this juicy read without even realising. The tension just flies off the pages of When We Were Friends and it gets to the point when you can bear the suspense no longer and are overcome by this all consuming desire to uncover the truth.
This book is a must-read and yet another winner from 2015. If you like compelling, exciting, page-turners then I can't recommend enough that you grab yourself a copy of When We Were Friends…
A huge thank to you Tina Seskis & Katie at Penguin for sending me a copy of When We Were Friends to read and review & for having me on board the blog tour. ♥
Click HERE to enter my Rafflecopter giveaway to win one of three copies of When We Were Friends by Tina Seskis. Good Luck!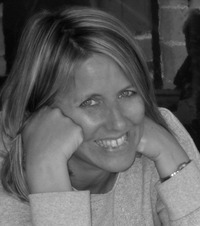 Tina Seskis grew up in Hampshire, the daughter of an airline engineer and a sales representative. She studied business at the University of Bath and then worked for over 20 years in marketing, advertising and online, with varying degrees of success.
Tina wrote the first draft of One Step Too Far in 2010 and then wrote her second novel A Serpentine Affair in autumn/winter 2011. Her latest novel (working title The One) is due for completion in 2014.
One Step Too Far has been an international bestseller and has sold to 15 publishers worldwide.
Tina lives in North London with her husband and son.