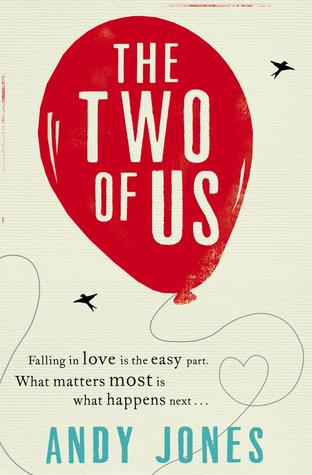 The Two of Us by Andy Jones
Release Date:  7th May 2015 (Paperback)
Publisher: Simon and Schuster
Buy: Paperback |  Kindle
Rating:

Falling in love is the easy part. What matters most is what happens next…
Fisher and Ivy have been an item for a whole nineteen days. And they just know they are meant to be together. The fact that they know little else about each other is a minor detail. Over the course of twelve months, in which their lives will change forever, Fisher and Ivy discover that falling in love is one thing, but staying there is an entirely different story.
The Two of Us is a charming, honest and heart-breaking novel about life, love, and the importance of taking neither one for granted.
The Two of Us introduces us to the whirlwind romance between Fisher and Ivy. When we first meet the couple they have only been together nineteen days but they are in that properly loved-up stage where they can't get enough of one another.
The story is told from Fisher (aka Will's) viewpoint as the couple come crashing back down to earth with a bang when Ivy discovers she is pregnant. It's a rocky road for their relationship from here on in as they contemplate parenthood whilst still getting to properly know one another. We come along for the ride for the next year as the pair navigates life, love, living together and unexpected arrivals…
The Two of Us is one of those books that I'd been hearing lots of good things about. I'd even seen it compared to the magnificent One Day by David Nicholls, so naturally I was quite excited about seeing what Andy Jones had to offer with this story and it didn't disappoint one bit.
I loved having a male narrator. Having the story told entirely through Will's eyes was effective and just that little bit different to the norm. I really liked Will as a character and I wanted him to be happy. I worried for him, I felt sympathetic towards him and I entirely felt his anguish when things go wrong. Andy Jones really made him come alive for me and I loved how he came across as just an average, normal, funny and kind hearted sort of guy. I felt less of a connection with Ivy, but that's to be expected as we only hear about her from Will's point of view, so naturally as a reader you'd be more inclined to warm to Will.
Whilst Ivy and Will's relationship is an absolute joy to read about, there was another part of the story that effected me and made me shed a tear or two and that was the one surrounding Will's best friend, El. El has Huntington's Disease and is being cared for by his partner, Phil. I'm warning you now that these scenes will break your heart. The whole story is written sensitively yet realistically and you can feel the characters heartbreak and anguish as they watch El deteriorate before their very eyes.
I loved how the sadder parts of the story are equally balanced out with fun, warmth and humour. It's a tricky balance to achieve but I feel as though Andy Jones has nailed it. Andy's writing will draw you in until this book consumes you and you just HAVE to continue reading to find out what's going to happen. There were times in the book when I thought I knew in which direction the story was going, but it turns out I was epically wrong. You never can quite tell which path the plotline is going to take and I love books like that. You can try to second guess these characters but it won't always work…
You can't help but become attached to Ivy and Will's relationship. There are times when they seem so incompatible but then there are times when their romance will give you that warm, fuzzy feeling inside too. But that's all part of the fun of the story; can these two very different people overcome the obstacles that life throws at them and make a go of things, despite everything? I certainly hoped so…
Thought provoking and moving, The Two of Us is one of my favourite reads of 2015 so far and I'm really excited to see what Andy Jones brings us next.  His voice is fresh, unique and I loved his style of writing.
I can't recommend this book enough, just make sure you have a large supply of tissues to hand when you come to read it…
Thank you to publisher Simon and Schuster for approving me on NetGalley to read The Two of Us. ♥
Andy Jones lives in London with his wife and two little girls. During the day he works in an advertising agency; at weekends and horribly early in the mornings, he writes fiction.