It was with MASSIVE excitement that I welcome the wonderful Kerry Fisher to my blog today. Kerry's latest novel, The Island Escape, was released on 21st May 2015 and it is a fantastic read – I just loved it! (Click here to get hold of your copy) Here Kerry gives us the lowdown on her latest novel, tells us what it's like to get 5* reviews and chats 'What If' moments…
Hi Kerry, a big, warm welcome to Bookaholic Confessions! Thank you so much for participating in this interview, would you like to start by introducing yourself…?
Hello and thank you so much for inviting me onto your blog. I'm Kerry Fisher, I write contemporary women's fiction, love unusual sculpture, naughty dogs and am still working on filtering my thoughts before they make their way out into the world.
I am insanely excited about your new novel, The Island Escape (released 21st May 2015 by Avon). Can you tell us a bit about it?
It's the story of two women who've been best friends since school, Octavia and Roberta. Octavia was a former wild child, now married to the very staid Jonathan and living a drudge of a life, far-removed from the one she'd envisaged. When Roberta finally leaves her bullyboy husband, Scott, and starts again, Octavia begins to question her lot and wonders what life would have been like with 'the one who got away' – an adventurous and charming Corsican called Xavi.
I'm sure that Octavia's story is one that lots of readers will be able to relate to. What inspired you to come up with this storyline?
Seeing how intense my teenage children's feelings are as they sit on the cusp of adulthood – when they haven't yet made a single decision that will dictate the rest of their lives – started me thinking about the gulf between what you imagine your future will be like when you're twenty and how it turns out when you're forty! I think it's human nature to rewrite history with the aid of rosy-tinted specs – but I often think it's not the people from our past we're hankering after, so much as that lovely carefree feeling of freedom, when anything was possible.
Have you ever had any 'what if' moments about your own life?
Actually, I wish I'd had a few more 'what if' moments. My downfall has always been to see everything through to the bitter end and assure myself beyond all doubt that the man I was with most definitely wasn't the right one for me!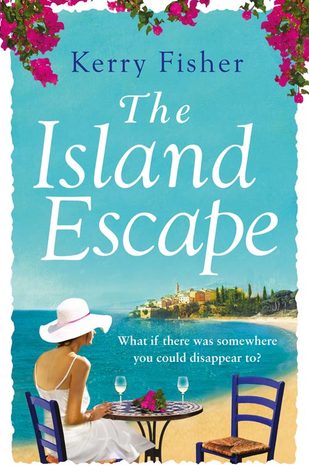 Are your characters completely fictional or are they ever based on anyone in real life?
I start out thinking that I'll speed things up and instead of using my imagination, I'll just use a person I know in real life, thinly disguise him or her with brown hair or blue eyes and that'll be that, but sadly it never turns out like that. I find it much more difficult to make a real person behave in a credible way, than a fictional character. I'm far more likely to take an isolated trait from someone I know – a way of standing, a refusal to argue ever, a noisy manner of chewing – and use it to build an imaginary person.
How long did it take you to write The Island Escape?
All my books have taken me about a year (though I don't tend to work much in the school holidays owing to the teens floating in and out: 'Yeah, yeah, we know you're working but can you take me into town?) plus a few extra weeks for the edits from my publisher.
How did you go about doing any relevant research for your novel?
Some of the novel is set in Corsica where I taught English for a year when I was nineteen as part of my degree in modern languages. I ended up in a tiny village where the average age of the residents was about one hundred and five. During the week, all the children from the surrounding mountain villages stayed in the boarding school where I had a room, but disappeared off home at weekends. I'd then sit in a huge Harry Potteresque building on my own, scared to venture out to the bathroom. Sometimes I'd make a brave dash into the village and join all the old men drinking Pastis and playing cards. Thirty years later, it felt so good to put some of that difficult experience to good use in The Island Escape.
Your previous novel, The School Gate Survival Guide has received some fantastic 5* reviews and has been a massive hit with readers. How does it feel to hear that readers have enjoyed your book?
I've been so lucky to have some great feedback – but I still look at reviews with one eye screwed up in case it says 'worst book I've ever read.' However, it absolutely makes my day when readers take the time to review, tweet or message me on Facebook because they've enjoyed my writing. One review that really stood out for me was from a lady who told me she suffered from rheumatoid arthritis and for a short time, while she was reading my novel, she forgot about the pain. That was the biggest compliment.
Who are your favourite authors and what kind of books do you enjoy reading?
I tend to read either women's contemporary fiction or psychological thrillers. Recently I've loved After The Storm by Jane Lythell, The Book of You by Claire Kendal and Letters to the Lost by Iona Grey. I'm currently reading The Last Foundling (non-fiction) by Tom H.MacKenzie, which is such a moving story about growing up in a Foundling Hospital during the Second World War.
And finally – can you tell us a bit about what you're working on at the moment?
I can't bear the thought of trying to find rugby kit, help with quadratic equations and referee computer use if I'm stressing over finishing a novel to a deadline so I just keep cracking on and have already finished novel three. It deals with how secrets become more toxic as they seep down the generations, interwoven with very contemporary issues about parenting teenagers. I'm currently an author in search of a plot for book four!
A huge thank you to Kerry Fisher and Sabah at LightBrigade PR.♥
Don't forget to get hold of your copy of Island Escape here.
♥Kerry Fisher♥ | Website | Facebook | Twitter |