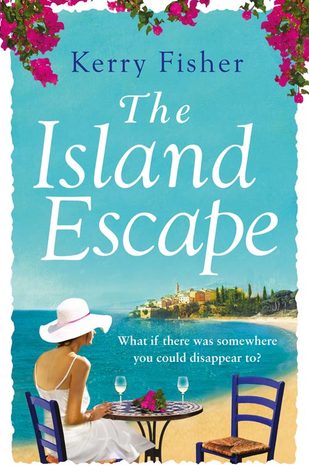 The Island Escape by Kerry Fisher
Release Date: 21st May 2015
Publisher: Avon
Buy: Paperback  Kindle
Rating:

Can one woman's marriage survive her best friend's divorce? Fans of Veronica Henry and Erica James, this is the next book to add to your reading list.
It's time to get back to where it all began…
Octavia Sheldon thought she'd have a different life. One where she travelled the world with an exotic husband and free-spirited children in tow. But things didn't turn out quite like that.
Married to safe, reliable Jonathan, her life now consists of packed lunches, school runs and more loads of dirty washing than she ever thought possible. She's not unhappy. It's just that she can barely recognise herself any longer.
So as Octavia watches her best friend's marriage break up, it starts her thinking. What if life could be different? What if she could escape and get back to the person she used to be? Escape back to the island where she spent her summers? And what if the man she used to love was there waiting for her…?
The Island Escape tells the story of friends Roberta and Octavia. Best friends since school and now in their late thirties, they are both forced to suddenly take stock of their lives when Roberta plucks up the courage to finally leave her bullying husband. Octavia then starts to examine her own life choices. She's married with three children but can't pin-point exactly when her life became so…well…boring. Things come to a head for Octavia when she attends an old school reunion with Roberta. What happened to the slightly wild, care-free woman Octavia once was? Plagued by a bunch of 'What-if's', Octavia starts to wonder if her life could have taken a very different path. What if she hadn't settled down? What if she had stayed together with her first love, Xavi, on the island where she spent many of her summers? Could her life be different, or is it too late to find out…?
I absolutely adored this funny, warm and surprising tale about two friends who are forced to re-evaluate their lives. We all have 'What-If' moments at some point in our lives; and there's undoubtedly been hundreds of novels about characters chasing their dreams but the way in which Octavia's 'What-If' is played out is done brilliantly and made a brilliant premise for the whole story.
From the synopsis I was expecting this novel to be entirely about Octavia and assumed that Roberta would take a back seat in the actual story, but it turns out I was very much mistaken with this as the story is actually told in alternating chapters between the two women. They both had a slightly sad, at times frustrating and always gripping story to tell, and the way in which their lives intertwined with one another as they helped each other out through life's crisis's made for a brilliant read.
I was delighted to discover that the story would be told from both Roberta and Octavia's viewpoints and I loved watching their friendship play out over the pages. They are the kind of women you would be glad you call friends in real life; caring, genuine and reliable (y'know the sort…the type of friend you can ring at 3am and ask to collect you from a police cell…) At times I didn't agree with their actions and even found some of the things they did utterly frustrating – but that just goes towards proving that Kerry Fisher has created two very real and believable characters in Octavia and Roberta. They had such a strong bond, I loved the chemistry between them and their friendship was a joy to read about. Like any good friendship, theirs has niggles, tensions and rivalries, which adds a great depth to the story.
I love everything about Kerry's style of writing. She mixes humour, the lighter side of friendship and romance with darker issues that you wouldn't necessarily expect to find within the pages of this book, but weaved together you've got yourself a gripping, page-turner of a novel that you'll struggle to put down with an extremely strong plot. Kerry will lure you with her fantastic storytelling qualities and before you know it you just HAVE to find out more about these characters and what's going to happen to them. I love books where you feel as though you really become involved with the lead characters and this was certainly the case for me with Octavia and Roberta.
I also think this book possibly has one of my favourite opening lines in the whole world, ever. 'I was wearing the wrong bra for sitting in a police cell'. Tell me who wouldn't read that opening sentence and NOT want to read on…? No one. That's who.
I do have one warning, however. This book will make you want to close your eyes and feel the sand between your toes. I longed for the Mediterranean whilst I was devouring this book. Kerry's descriptions will do the next best thing and help you to envisage being on a warm sandy beach somewhere with the sun on your skin and a few hunky men in the background. Sigh. I guarantee that The Island Escape will make you forget about the drizzle whilst you are submerged amongst it's warm, sunny pages.
The range of characters were superb, including the supporting cast. I hated Roberta's evil husband, Scott, with a passion. Simon and Michelle are two characters that I found especially hilarious at the start of the story, but there are so many others. Each character contributes to the story is their own unique way, whether they're ones that you love or one's you'll love to hate. Jake is also worth a mention simply because I loved him.
Kerry Fisher has created just the kind of book that I love with The Island Escape. It's got a juicy plot line, remains light whilst touching upon more serious issues, has a brilliant cast, is fantastically written and will have you dreaming of sunnier climes. What more could you ask for in a book? Absolutely nothing.
If you're on the look-out for a gripping, summery read that you can enjoy by the pool whilst frantically turning the pages to find out what happens then your search is officially over.
A huge thank you to Sabah and publishers Avon for sending me a review copy of The Island Escape and for having me on board the blog tour. ♥
Born in Peterborough, Kerry Fisher studied French and Italian at Bath University, followed by several years working as an English teacher in Corsica and Spain before topping the dizzying heights of holiday rep and grape picker in Tuscany. She eventually succumbed to 'getting a proper job' and returned to England to study Periodical Journalism at City University. After two years working in the features department at Essentials magazine in London, love carried her off to the wilds of the West Pennine moors near Bolton. She now lives in Surrey with her husband (of whisking off to Bolton fame), teenage son, 12-year-old daughter and a very naughty lab/schnauzer called Poppy. Kerry can often be seen trailing across the Surrey Hills whistling and waving pieces of chicken while the dog practises her 'talk to the tail'. 
Kerry has spent half her life talking about writing a novel, then several years at Candis magazine reviewing other people's but it wasn't until she took some online courses with the UCLA (University of California) that the dream started to morph into reality, culminating in the publishing of The Class Ceiling. The Avon imprint of HarperCollins picked it up and retitled it The School Gate Survival Guide published summer 2014. Her next book, The Divorce Domino, will be published in summer 2015. It won first prize at the York Festival of Writing for the opening line: 'I was wearing the wrong bra for sitting in a police cell'.