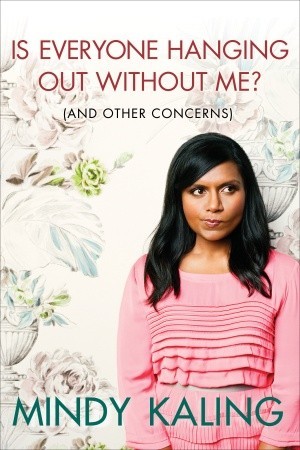 Is Everyone Hanging Out Without Me? (And Other Concerns) by Mindy Kaling
Release Date: 15th November 2011
Publisher: Crown Archetype
Buy: Paperback  Kindle
Rating:

Mindy Kaling has lived many lives: comedienne, actress, obedient child of immigrant professionals and, now, writer. With a blend of witty confessions and unscientific observations, Mindy writes about everything from being a timid young chubster afraid of her own bike to living the Hollywood life, dating, friendships and planning her own funeral – all executed with several conveniently placed stopping points for you to run errands and make phone calls.
As well as staring in hugely successful TV show The Mindy Project and the US version of The Office, Mindy Kaling is also a writer and executive producer. She is also one very, VERY funny lady, as Is Everyone Hanging Out Without Me goes to show.
There seems to be quite a lot of these types of books doing the rounds at the moment, well known women's guides to love, careers, growing up and just life in general, whilst being part memoir at the same time. Mindy's book was released back in 2011 and as soon as I read the synopsis I was sold. It's the kind of book that I love, containing fun observations, stories, essays and general musings on being a chubby teenager who loved comedy to struggling to become a success in a male-dominated industry later in life.
It's difficult to put this book into a single category; whilst it's part autobiographical it also contains some fun interludes, such as random lists that Mindy has compiled on everything from romcoms to being a man (You read that right. Incidentally this list is both hilarious AND spot on…I would imagine…) I loved reading these; they made me snort with laughter and convinced me that Mindy and I were possibly separated at birth. Hey, it could happen! If she can't be my long lost twin then I'd happily appoint her my BFF. In fact reading Is Everyone Hanging Out Without Me? practically equates to having a super-fun, gossipy, girl sleepover with your friends.
Mindy has a great style of writing; informal, light and naturally amusing. I loved the casual feel of this book, although sometimes it did just feel a little bit too random topic-wise as it seemed to flit from one thing to the next at top speed.
Not that there's anything wrong with that; it just made the book feel more like a scrap book-type collection of essays rather than your conventional memoir.
There's no way that you could read this novel and not fall a tiny bit in love with Mindy. She's honest, smart and embraces her flaws. She is ultimately saying that it's ok to not be perfect and I loved the message that she portrays through this book. Her stories will make you smile, her observations will have you nodding your head in recognition and her lists are just wonderful. (I especially loved 'Why Do Men Put On Their Shoes So Slowly?' and 'Alternate Titles For This Book' – The Girl With No Tattoo and Sometimes You Just Have To Put On Lipstick and Pretend to Be Psyched were firm favourites.)
Is Everyone Hanging Out Without Me? is entertaining, laugh-out-loud funny and the perfect way to cheer yourself up on a gloomy day. It will make you look at life's quirks and smile, whilst you discover a little about Mindy, her life and career. The photographs included were such a nice touch (especially getting to nose through the selfies on Mindy's Blackberry – a guaranteed winner for any nosy readers like me!)
Mindy has another book due out this October titled Why Not Me? which I am off to pre-order RIGHT NOW. If it's anything as smart, funny and frighteningly true as Is Everyone Hanging Out Without Me? then it'll be a winner!
*Personal copy.