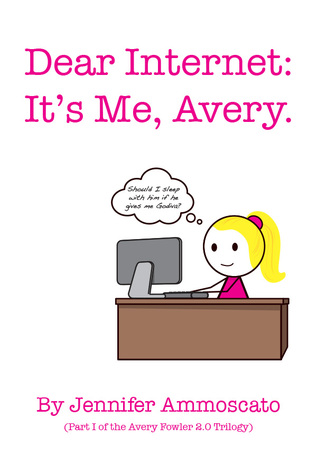 Dear Internet: It's Me, Avery by Jennifer Ammoscato
Release Date: 27th May 2015
Publisher: Blue Moon Publishers
Buy: Kindle
Rating:

"Oh, don't judge me, people. We all do it.  
"Don't try to tell me that you've never checked that weird mole on your thigh on WebMD. Or how to fold meringue on Epicurious. And, there's no way that I'm the only one who clears her search history after looking up how to give a great bl— (Um, that last one's not important.)"  
When newspaper reporter Avery Fowler discovers her husband is having an affair, the online help site HowTo.com is where she turns to navigate this challenging stage of her life.  
If the Internet is Avery's information god, then HowTo.com is her Holy Grail. Its live chat option is like having a virtual life coach for the low, low price of $14.95 a month:  
"When I joined HowTo.com, it assigned me 'Clementine' as my advisor, based on my choice of 'British female' in the Preferences panel. That way, I can pretend that a Maggie Smith or Judi Dench type supplies the wisdom, tinged with a sassy touch of malt vinegar. (In reality, it's most likely a bored, seventeen-year-old boy labouring in a New Delhi call centre.)" 
Add into the mix a new boss, Victoria, whose managerial style calls to mind the Wicked Bitch of the West—or the Anti-Christ—and the poor girl needs all the help she can get! The stakes rise and hilarity ensues as our heroine struggles to take control of her personal life and topple her boss after she learns Victoria's guilty secret.  
With Clementine (virtually) in tow, our heroine tackles such tricky questions as dating after divorce, sex once nothing points north anymore, and how to cover attempted murder scenes (despite a paralyzing fear of blood) as the new and improved Avery Fowler 2.0)
Things aren't going great for reporter Avery Fowler. Her husband has been having an affair and ups and leaves her for another woman, breaking the news at a Sushi restaurant, and then she meets her terrifying new boss, Victoria, who makes Hitler look like a softie.
Struggling in her personal and professional life, Avery is relieved to have at least one ally in the form of Clementine, her very own advisor/life coach/confidant. For a monthly subscription to HowTo.com, Clementine is on hand 24/7 to help Avery out with life's tricky problems, such as 'How do I get cabernet out of a white carpet?', 'How can I impress my boss?', and 'Is twelve cups of coffee a day too many?'
Dear Internet: It's Me, Avery follows the ups and downs of Avery's slightly crazy home/work/love life. Then as things start to continue on a downward spiral, Avery decides that it's time of unleash something special…Avery Fowler 2.0. The new and improved Avery goes jogging and isn't afraid of a hard day's work…But the question is, can this brand new Avery follow her heart?
I was drawn to Dear Internet: It's Me, Avery from the moment I spotted it. I loved the premise for the story; most of us would be lying if we said that we could now survive without the internet and the idea of having your own personal advisor who you can call upon any time, day or night, with those tricky questions ('How long can I live on mac & cheese?') is rather amazing. However, you've then got the issue of becoming over-reliant on the World Wide Web and it takes one crisis too many for Avery to see that the only advice she needs to follow doesn't come from Clementine, but from herself.
Before we go any further I must confess my love for Avery Fowler. Jennifer Ammoscato has created one heck of a fabulous heroine in Avery that every reader will be able to relate to in some shape or form. She's just your average (slightly disaster prone) woman, trying to navigate the choppy seas of work and romance. I can't imagine anyone not loving Avery. Self deprecating, funny, loyal, witty and with a slight tendency to day dream, she is your ideal chick-lit heroine who I guarantee you'll be rooting for. I badly wanted everything to turn out right for Avery, despite her being involved in crisis after crisis. I just wanted a nice man to take her in his arms and tell her he loved her. Not that I'm some soppy old romantic (*cough*), but this girl deserved it! Avery is definitely up there is my list of favourite fictional characters. In fact I'd place her somewhere near the top (amongst Bridget Jones and Becky Bloomwood).
There's a range of fantastic characters throughout the novel. I loved Andy, despite his infuriating tendencies (and occasional smugness) I had the feeling that there was more to him than met the eye and couldn't wait to find out if my instincts were right. I also loved Avery's friends and work colleagues Becca and Harrison. They formed a friendship group that I would love to be a part of…
You will have no trouble hating Victoria, I can assure you. Jennifer Ammoscato has created a wonderfully bitchy villain who will have you seething with her cruel jibes and behaviour. You will need to keep reading this novel to ensure she gets her comeuppance…
There wasn't a single thing that I didn't love about Dear Internet: It's Me, Avery. Jennifer's style of writing is wonderful; she sneaks in some hilarious one liners and scenarios that will have you sniggering. The fact that some of the things that happen are realistic as well as extremely funny make it all the better. (Ok, they're maybe not ALL one hundred per cent realistic but they are certainly one hundred percent funny.) I adored the way her sense of humour was translated onto the page and her writing had me flicking through the pages on my kindle, desperate to see what was going to happen to Avery and co.
If you're feeling low or down about life then I urge you to pick up this book. It's the best medicine you could find. A fabulous mix of romance and humour I guarantee that this novel will brighten anyone's day. It's also one of those stories that you can't help but gobble up all at once if time allows. So set aside an 'Avery Day' and be prepared to laugh your stilettos off.
 A huge thank you to Talia and publishers Blue Moon for approving me to read Dear Internet: It's Me, Avery on NetGalley. ♥
By day, Jennifer Ammoscato is an intrepid writer/editor. By night, she fights crime, the urge to organize closets and to stuff herself with salted chocolate caramels.
Despite her exhaustion, she's also written her first novel, "Dear Internet: It's Me, Avery" (The Avery Fowler 2.0 Series Book I.)(Blue Moon Publishers 2015)
NEED A LAUGH? SUBSCRIBE TO HER BLOG AT: WWW.JENNIFERAMMOSCATO.COM/BLOG
♥Jennifer Ammoscato♥ |  Website  |  Twitter |  Facebook |  Goodreads |