The competition really doesn't get any easier, does it? Once again May 2015 has seen the release of some AMAZING books, both fiction and non-fiction. However, when it came down to it I knew that there was only one book that could possibly be my favourite and that's the latest release from one of my all time favourite chick-lit authors, the fabulous Lindsey Kelk. I love Lindsey. This lady can do no wrong in my eyes and her trend for writing awesome books continues with Always The Bridesmaid, which was released on the 7th May. Lindsey is a first class story teller and I love how she writes. She creates the most amazing characters and truly brings them to life with the realistic (and often hilarious) scenarios in which they find themselves.
Maddie Fraser has never been anything other than the girl in the background: golden boy Dan's little sister, crazy Shona's minion, workaholic Sebastian's ex and now she's also the girl in the middle of her warring best friends.
Lauren has announced she's getting married – just as Sarah's husband asks her for a divorce. Nothing in Maddie's career in event organising has prepared her for this particular combo of planning and real pain. The news that her ex is also tying the knot is the final straw. While the magazines say she should be leaning in, all she wants to do is sleep in. But whether she likes it or not, everything is about to change for Maddie. For better or worse, this grown-up bridesmaid is taking centre stage…
Click to purchase in paperback or ebook and to read my original review,
I am slightly cheating yet again this month (Shhh…) by having two special mentions. They go to debut author Amy Lynch for her laugh-a-page novel, Bride Without A Groom. This is a book that is guaranteed to make anyone smile. Lead character Rebecca completely consumed me and as crazy as it sounds; I miss her! I'm really looking forward to reading more about Rebecca, hopefully in the very near future.  Amy is the perfect new author for chick-lit fans to discover…
Single, coupled-up or married, this laugh-out-loud summer read is the perfect anecdote for the wedding season!
Rebecca has chosen the most luscious, five tiered, wedding cake. The engagement ring that she has selected is celebrity inspired. The wedding singer is on speed dial. He doesn't usually do Michael Bolton, but as it's for a first dance he'll make an exception. Father Maguire is checking dates for the parish church as we speak. The deposit on the white sand honeymoon is paid for in full on Barry's card. She has fallen for an ivory lace couture gown that is to die for. The down payment may require her to sell a left kidney, but it will be worth it. Isn't that why you have two?
There's one teeny tiny problem. It's nothing, really. No need to panic! It's just that Barry has yet to propose. Says he's not ready! He can be a bit of a kill joy that way. It's time to face the harsh reality – Rebecca is a bride without a groom!
Click to buy and click to read my original review.
My second special mention this month is for The Island Escape by Kerry Fisher. I enjoyed this novel so, so much. Whilst it's perfect pool-side reading, there's also a much more serious side to the story and this makes for a gripping, exciting un-put-down-able novel, which will have you relating to the characters whilst dreaming of sunnier climes…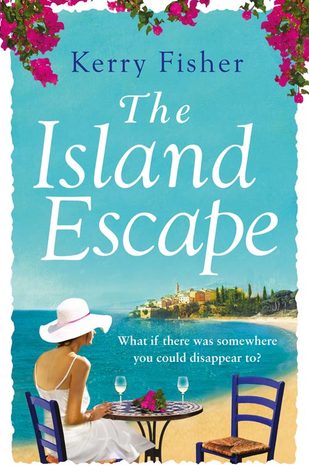 Can one woman's marriage survive her best friend's divorce? Fans of Veronica Henry and Erica James, this is the next book to add to your reading list.
It's time to get back to where it all began…
Octavia Sheldon thought she'd have a different life. One where she travelled the world with an exotic husband and free-spirited children in tow. But things didn't turn out quite like that.
Married to safe, reliable Jonathan, her life now consists of packed lunches, school runs and more loads of dirty washing than she ever thought possible. She's not unhappy. It's just that she can barely recognise herself any longer.
So as Octavia watches her best friend's marriage break up, it starts her thinking. What if life could be different? What if she could escape and get back to the person she used to be? Escape back to the island where she spent her summers? And what if the man she used to love was there waiting for her…?
Click to buy and click to read my original review.
♥