I am so excited to be able to share an interview with the (rather fabulous) Rachael Lucas. Rachael's latest novel, Coming Up Roses, was released on the 21st May and it's an absolute cracker! Funny, romantic, original – it's just the perfect story. I will save my gushing about this book for my review which will be posted later (in the meantime get hold of your copy here) For now it's over to the lovely Rachael as she talks writing inspiration, reviews and spills the beans on what she's working on at the moment…
Hi Rachael, a big, warm welcome to Bookaholic Confessions! Thank you so much for participating in this interview, would you like to start by introducing yourself…?
Hello! I'm Rachael (er, obviously) and I live by the seaside in the North West of England with my partner Ross (we get a lot of Friends jokes). I have four children, two cats, and we're just about to get a spaniel puppy called Mabel. And maybe some chickens.
You could say I'm a teeny bit excited about your new novel; Coming up Roses (released 21st May 2015 by Pan). Ok, that's a fib – I am VERY excited! Can you tell us a bit about the novel?
It's the story of Daisy, who holes up at her parents' house after a grim and unexpected break up. She's determined to keep herself to herself but village life being what it is, she ends up making friends with people and gets drawn into their lives. She meets Elaine, a lifestyle blogger who appears to have everything – or does she? – and Jo, who is a counsellor and single mother, wrestling with her conscience over a fairly big dilemma. It's got flowers and village fetes and some rather lovely handsome men and intrigue and a sneaky twist and lots and lots of food. I think that might be because I was on a mega diet when I wrote it so I kept writing all the delicious things I couldn't eat!
What inspired you to come up with the storyline for Coming up Roses? Are you a fan of gardening yourself?
Years ago when I was living in Edinburgh I was wandering through my favourite part of town (Stockbridge) and I was reading all the little signs outside a shop and wondering what would happen if someone put up a sign saying 'Friends Wanted' because it's really hard to make friends when you move somewhere new. So it was really a book about friendship before it became a book about gardening. But I am a huge gardening fan so the story just grew (ha) from there…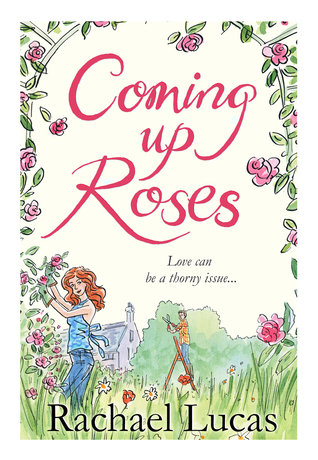 Is your lead character Daisy completely fictional or is she based on anyone in real life?
Completely fictional. She just popped into my head one day and started chatting and I liked her.
Your first novel, Sealed with a Kiss was a massive success. It's been downloaded to over 150, 000 Kindles worldwide and has some amazing 5* reviews. How does it feel to hear that readers enjoyed your book so much?
For me the number of people who have taken the time to download SWAK is amazing, really touching, and something I really treasure. A lot of people are snooty about pricing books at 99p but I loved the fact that it meant the book was accessible to anyone and it had a huge readership. My absolute favourite thing is that for lots of readers the characters live on in their heads and the island feels real to them – that is the nicest thing that could ever happen to me as a writer and whenever someone says they are re-reading I want to hug them!
You also released a Christmas novella, Sealed with a Christmas Kiss (which I incidentally LOVED!) which followed the characters from Sealed with a Kiss. Do you plan to write any more books involving Kate and Roddy?
My next novel – which has a vague working title of You Are Here (a story about finding yourself in unexpected places) – features Kate and Roddy in the background, but the main characters are Isla, a girl from Edinburgh, Finn – who you might remember from SWAK – and his grandmother, Mary.
Do you have any reading or writing 'confessions'? (e.g guilty secrets or habits?)
I think all reading is A Good Thing (I am the opposite of a book snob, and can't bear literary snobbery) so I s'pose my confession would be that a) I am a HORRIBLE spine-breaking-corner-folding-shopping-list-on-fly-pages book abuser. And b) I would like to appal the literary world by admitting that I blooming love my kindle and I'm a total convert.
Who are your favourite authors and what kind of books do you enjoy reading?
I'll stick to adult books although I am a huge YA reader. I love Jilly Cooper for her characterisation and humour, Mary Wesley for the same, Joanna Trollope for her acute eye for family behaviour, Katie Fforde for romance that makes you go 'ahhhhh' without fail, Sue Moorcroft and Kat Black for heroes who make you go phwoar without fail, and Holly Martin because she's blooming brilliant and makes me laugh.
And finally – can you tell us a bit about what you're working on at the moment?
It's about a girl called Isla who is head stylist at the best hairdresser in Edinburgh and is cornered into spending eight weeks on the island of Auchenmor running her aunt's salon as a favour to her. It's also about Mary, who is eighty five and trying to bring her estranged family back together, and about Finn, who has realised at thirty five that all his friends have moved on without him and he doesn't know what he wants any more. It's the first book I've written from three viewpoints and I'm loving it although it's currently on course to be about 500 pages long if I don't get to the point soon…
A huge thank you to Rachael for participating in this interview and to Lucie at Pan Macmillan.♥