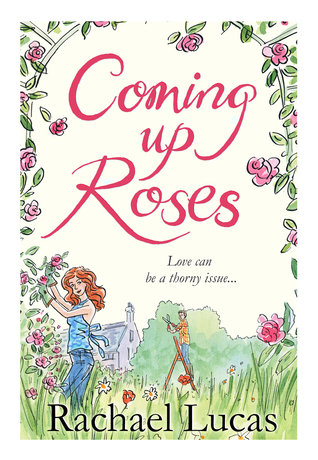 Coming Up Roses by Rachael Lucas
Release Date: 21st May 2015
Publisher: Pan
Buy: Paperback | Kindle
Rating:

Would-be gardener Daisy can't believe her luck when her parents announce they're off on a midlife crisis gap year, leaving her in charge of their gorgeous garden. After a turbulent few months, a spot of quiet in the countryside is just what she needs.
A shoulder to cry on wouldn't go amiss either – so when Daisy comes across Elaine and Jo, she breathes a sigh of relief. But her new friends are dealing with dramas of their own…
As Daisy wrestles the garden into something resembling order, her feelings for handsome Irishman George begin to take root. Daisy's heart's desire − her parent's garden − is under threat, and Daisy's forced to confront nosey neighbours and fight greedy developers. Village life is turning out to be far from peaceful.
With her parents off on their very own 'gap year', Daisy is looking after their house and giving the neglected garden some much needed attention. Getting away from everything in the sleepy village of Steeple St John is just what Daisy needs and she can't wait to get her fingernails dirty by bringing some life back into the garden.
Despite being content with her only company being in the form of Poppy, her parents Labrador, it's not long before Daisy makes one or two friends of her own in the village in the form of Elaine, Jo and the adorable-sounding Thomas.
In spite of her best attempts, it's not long before Daisy becomes ingratiated in life in Steeple St John as she forms new friendships, starts having fun and maybe, just maybe, considers letting a bit of romance back into her life.
It's not just the flowers that are blooming at Orchard Villa…
As a big fan of Rachael's previous novels I was fizzing over with excitement at the prospect of getting stuck into Coming Up Roses. One of the things I loved most about the two other novels of Rachael's that I have read (Sealed with a Kiss and Sealed with a Christmas Kiss) is how warm and satisfying her writing is. Reading a Rachael Lucas novel s kind of like snuggling up in a big sheepskin blanket on a chilly evening with an overflowing mug of hot chocolate (cream and marshmallows, please!) Coming Up Roses is no different…It's cosy, sweet and all encompassing.
I was a goner from the word go; as soon as Daisy and Elaine met (there was a hosepipe involved…) I just knew that I was going to love this novel, and it certainly didn't disappoint.
I was amazed at how involved I became with the characters and their lives in Steeple St John. Rachael really brought the village to life through her writing and vivid descriptions, so much so that I really want to live there. I'm not sure I'd be any use at keeping the garden in check though, which might not go down too well with the locals…
The gorgeous descriptions of the garden at Orchard Villa really made me want to slip on a pair of wellies and appreciate the beauty of plants and flowers. I could picture the transformation of the garden as it went from resembling an overgrown jungle to a gorgeous, serene place of beauty. I can certainly appreciate how much work Daisy (with a bit of help from Thomas, of course…) would have put in to getting the garden looking ship-shape.
I loved the friendship between Elaine, Jo and Daisy. They were strong yet realistic characters who each brought something different and unique to the story. I also really liked the friendship between Daisy and Thomas, two characters who wouldn't necessarily seem to have anything in common, not to mention a huge age gap; but the way they worked together was touching and I just adored the relationship they shared.
Of course it's not all petunias and perennials as Daisy must decide whether she is willing to let romance blossom in her life once again after getting hurt in the past. When she arrives at Steeple St John it's clear that she's more than happy to rely on her own company and the idea of getting close to anyone certainly doesn't appeal. It's a joy to read about Daisy's journey and you never can quite tell how things are going to end up. Rachael has a way of writing that will keep you guessing and there's just the right amount of unexpected plot twists and turns to keep your attention firmly in place.
Rachael Lucas is fast becoming a stand out author in women's fiction. For me she definitely ranks amongst the likes of Katie Fforde and Jill Mansell. Her novels are gentle, clever, romantic and the perfect accompaniment to a warm sunny day. I really hope that we get to re-visit Steeple St John and call upon some of these characters again in the future…
A huge thank to you publishers Pan Macmillan for sending me a copy of Coming Up Roses to read and review. ♥
Rachael Lucas is an author, coach and freelance writer.
Her debut novel SEALED WITH A KISS was downloaded over 130,000 times on Kindle and was a bestseller.
She lives and works in a Victorian house by the seaside in the North West of England with her partner (also a writer) and their six children.