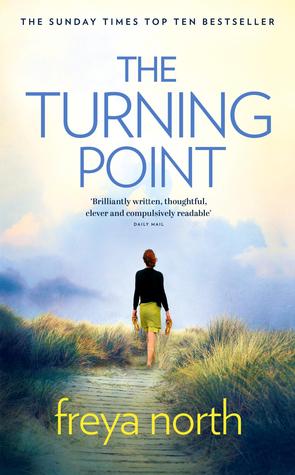 The Turning Point by Freya North
Release Date: 4th June 2015
Publisher: HarperCollins
Buy: Hardback |  Kindle
Rating:


Over one short weekend, when Canadian musician Scott Emerson and British children's author Frankie Shaw meet by chance, a profound connection is made. Their homes are thousands of miles apart: Frankie and her children live by the coast of North Norfolk while Scott's roots lie deep in the mountains of British Columbia. Against all advice, they decide to see where this might go.
Over oceans and time zones, they make sacrifices and take risks, discovering along the way new truths about love and family. For the first time in a long while, it seems life could be very good. But fate has a tragic twist in store, one that could destroy all that was hoped for.
Poignant, engrossing and moving, The Turning Point is a novel about the importance of seizing happiness and trusting that love will always find a way.  
Children's author Frankie is most certainly not looking for love. After escaping London and moving to a quiet little cottage in Norfolk with her two children, Sam and Annabel, she is has more important things to consider – her bad case of writers block for starters…
Meanwhile musician Scott is reluctant to leave his daughter, Jenna, alone in their home in the Columbian mountains of Canada whilst he travels to England on a work trip. Jenna suffers from epilepsy and after another fit, Scott is all ready to cancel his visit to the UK, but Jenna won't hear of it…
This is how Scott finds himself asking Frankie for directions one seemingly normal day when he loses his way around London. As if by magic the two strangers find themselves staying in the same hotel and as soon as they get chatting it's clear that they won't be remaining strangers for long.
But can anything become of a couple who live oceans away from one another? And what happens when fate makes an unwelcome return to the couples' lives?
Freya North is one of my 'automatic read' authors. We all have them; authors whose books we are guaranteed to read  simply because we love them and know we're guaranteed a good story. However, when I read the synopsis for The Turning Point, I had a feeling it was going to be something special. All of Freya's books are fantastic (she's not one of my 'automatic read' authors for nothing y'know…) but this one sounded good. REALLY GOOD.
I was engrossed from the opening chapter as we are introduced firstly to Scott and then Frankie. Two people in their forties, both living very different lives in very different parts of the world, however I knew that they were going to meet (somehow) and I couldn't wait to find out where the story went from there. I quickly became obsessed with these characters, not only were they very 'real' but they were beautifully crafted. I'm not just talking about Scott and Frankie, but the secondary characters too, Jenna, Aaron, Sam and Annabell, amongst others.
Whilst The Turning Point is not a short novel, coming in at 470 pages, I can assure you there won't be a moment where your attention isn't held. Sometimes with novels of this length I find it easy to become distracted and find myself taking longer than normal to finish the book but this couldn't have been further from the truth with The Turning Point. When I first started reading, I didn't surface until I'd reached nearly 100 pages and I was in no mood to stop reading. I just couldn't get enough of these characters and wanted to know whether Scott and Frankie would succeed in finding love a second time round. It kept me reading way past my bedtime and when a book can do that it's a guaranteed winner.
There's something really special about Freya North's writing. Her writing flows so seamlessly it's almost like the words are reading themselves and you're not actually reading at all – more sat down for a coffee with an old friend. Her style of writing is so familiar, warm and all encompassing, something which I always find with her novels but particularly so with The Turning Point.
For me another strong factor to this story was the settings. As far as I was concerned I WAS taking in the briny sea air in Norfolk and I WAS taking in the glorious sight of Mount Currie in Canada. Freya's use of descriptive language is truly wonderful and she sets the scene so well. You will hardly need to call upon your imagination because as far as I was concerned I was already in the places that Freya's writing took me to.
Don't be fooled by the gentle start to The Turning Point. It is a story that will throw some epic surprises your way and might just break your heart into a million little pieces along the journey. (Warning: have tissues).
Whilst reading The Turning Point I have been overcome with the desire to go and dig out some of Freya's older titles as this novel has reminded me why I love her so much. Saying that though, The Turning Point is definitely my favourite Freya North novel to date. I love the direction that her writing is taking and I'm really excited to see what she produces next.
Absorbing, heart-breaking and extremely thought provoking, The Turning Point is one book that needs to be added to your own 'To-Be-Read' list (and maybe even snuck to the top!?)
A huge thank you to Louise at HarperCollins for sending me a review copy of The Turning Point.♥
Freya North was born on 21 November 1967 in London, England, UK. She gave up a PhD scholarship to write her first novel, Sally. For 4 years she turned deaf ears to parents and friends who pleaded with her to 'get a proper job'. She went on the dole and did a succession of freelance and temping jobs to support "writing days" every now and then. In 1996 she approached one of the UK's top literary agents, Jonathan Lloyd at Curtis Brown Ltd. Lloyd took her on and put her work up for auction. 5 publishers enter a bidding war for Freya's books. A three-book deal for a six figure sum is the result. Published since 1996 to great acclaim. She lives in London with her family. In 2008 Freya won the Romantic Novel of the Year award by the Romantic Novelists' Association with Pillow Talk.