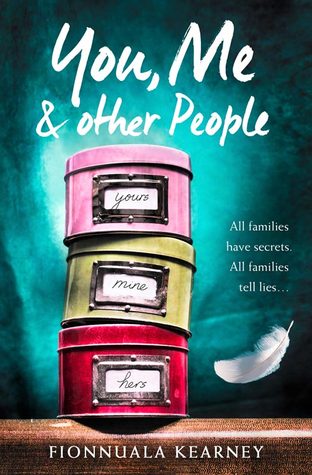 You, Me and Other People by Fionnuala Kearney
Release Date: 18th June 2015
Publisher: Harper
Buy: Paperback  |  Kindle
Rating:

THEY SAY EVERY FAMILY HAS SKELETONS IN THEIR CLOSET . . .
But what happens when you open the door and they won't stop tumbling out?
For Adam and Beth the first secret wasn't the last, it was just the beginning.
You think you can imagine the worst thing that could happen to your family, but there are some secrets that change everything.
And then the question is, how can you piece together a future when your past is being rewritten?
When we first meet Beth and Adam their marriage is unravelling before our very eyes.Adam has broken Beth's heart (for a second time) by cheating on her with a blonde waitress called Emma, leading Beth to decide that enough is enough as she throws Adam out of the house and demands a separation. However, Beth is struggling to come to terms with Adam's unfaithfulness. She is seeking help from a therapist and although she has the full support of their daughter, Meg, she still can't seem to stop what's happened from eating her up inside. (Not even ABBA or dolphin noises will help…)
However, it's not long before more shocking truths suddenly become unveiled and it seems as though the Hall family and their lives are about to be blown apart in ways that they could never have imagined.
The main word that first comes to mind when I think about this novel is WOW. Wow, wow, wow, wow, wow, wow.
I was certain I was going to enjoy this book as soon as I saw it being compared to The Husbands Secret by Liane Moriarty (which I also loved) and it most certainly didn't let me down.
Fionnnuala will grab your attention right from the very first chapter and reel you in nicely…and she never really stops. The story kicks off with a short Prologue, narrated by Adam. It left me with so many questions, wonderings and suspicions that there was no way in the world I was putting this book down any time soon.
The format of the story is fantastic. You have alternating chapters told from both Beth and Adam's point of view and I felt that this worked really well. It's fascinating to see how Adam's affair effects them both in ways that you wouldn't necessarily imagine. To start off with I was certain I was going to hate Adam. I wasn't interested in his reasoning behind cheating on Beth, all I know is that he had a beautiful family and he threw it all away for some waitress who lived in a white house. However, as time progressed and the truth is uncovered I felt my opinion of him start to waver. This was one of the things that I loved most about this novel – it gets you questioning everybody; even yourself. It also got me thinking about how everything is not always as black and white as it may first appear. There's definitely plenty of food for thought contained within these pages and it will have you questioning as to whether you can ever really know a person.
The way that Fionnuala has created these characters really has to be applauded. There is so much depth to them as we discover the deceit, lies, secrets and confusions swimming around in their heads. Beth and Adam are simply fascinating characters to read about, and also worryingly easy to relate to in certain areas of their lives. The way that Fionnuala built them up and then picked them apart is just incredible and I know for certain that these characters will stay with me for a long, long time.
The fact that this is a debut novel is mind-blowing, Fionnuala writes with confidence and knows exactly how to engage the reader right from the off with a plot full of twists, turns and jaw-dropping surprises. Her writing is accomplished and she builds the story with ease, so much so that I had no idea what was coming. And I'm not just saying that. I honestly felt as though I had been slapped round the face with a big, wet fish.
I'm really conscious of giving anything away here so I'm going to wrap up highly, HIGHLY recommending this book. If you like a book that will have you scrabbling at the pages and cancelling social events just so you can stay in and find out what happens then this is a must-read for you. An explosive, riveting and unsettling look at marriage, family and relationships which asks if some secrets are really better off staying hidden?
A huge thank you to publishers, Harper, for sending me a review copy of You, Me and Other People. ♥
Fionnuala discovered, age six, that she had in fact been christened Ann (that's Ann with no 'e') and that her parents had decided, for some reason, to saddle her with a life of dealing with unnecessary vowels. At twenty she moved to London and marrying Mr. Kearney proved to be the best thing she ever did, apart from the fact that the vowel thing escalated further. Two daughters, both with deliberately simple mono syllabic names followed.
She worked, for many years, in London as a home search agent (like Phil and Kirstie without the cameras) until she decided, one fateful day, that it was time for a change – time to pursue the dream of being a writer.
Seven years on; time spent in her garret learning her craft, she is often found talking to herself with yellow 'post its' stuck to her forehead. She likes to write about relationships: couples, a mother and child, siblings, best friends… She likes to peel away the layers and see what's going on beneath and then tell you all about it.

♥Fionnuala Kearney♥ |  Website |  Twitter |  Goodreads |