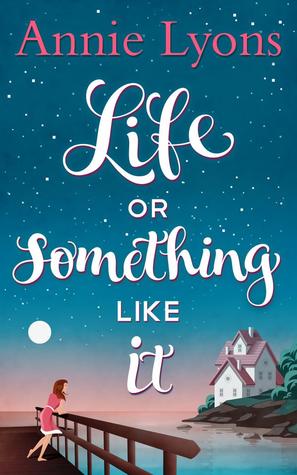 Life or Something Like It by Annie Lyons
Release Date: 13th July 2015
Publisher: Carina UK
Buy: Kindle
Rating:

Step into someone else's shoes for a day…
And it will change you for a lifetime.
Cat is very good at her job. She runs a PR company with her best friend (and secret crush) Jesse, and is never happier than when her high-profile celebrities are glittering in the spotlight.
But when her footballer client gets in the press for all the wrong reasons, Cat's career takes a sudden nosedive. So when her brother Andrew unexpectedly needs her to look after his kids for a few weeks, she can hardly say no. She's happily single, hasn't exactly been the 'World's Best Auntie' over the years, and what she knows about looking after children would fit on the back of a postage stamp. But it's only temporary until she gets her real life back on track – isn't it?
Thirty-something Cat Nightingale is more than happy with her lot in life, thank you very much. Running a successful PR company with her friend Jesse, Cat would much rather be a workaholic who can enjoy the finer things in life than settle down and start a family. She would take social media over screaming children any day and on her list of important things in life designer handbags come up much higher than being a mother.
However, disaster strikes at work and Cat finds herself temporarily suspended from her job. But that's ok – she'll soon be back to the glittering world of PR that she loves so much. But things seemingly go from bad to worse when her brother Andrew calls upon her to look after her niece and nephew. Despite children being pretty alien to Cat, with all the extra time on her hands she has no choice but to agree, although I think even she is unaware exactly what she's letting herself in for.
There are tantrums, vomit, and accidents aplenty (too much sugar can make children sick – who knew!?) as Cat struggles to become some kind of Super-Aunt. She consoles herself with the fact that she's only looking after Charlie and Ellie temporarily and she'll soon be back to being  super-organised, perfectly groomed, successful PR manager Cat Nightingale very soon…
Life or Something Like It was one of those books I was hugely looking forward to reading. I absolutely loved Annie's two previous novels, especially Not Quite Perfect and Life or Something Like It sounded brilliant. I always tend to enjoy stories where characters are taken out of their comfort zone for whatever reason, whether it's swapping lives with someone else or finding themselves in unusual circumstances. It always makes for a great story seeing how they cope and Life or Something Life It lived up to all of my expectations and much more.
I really liked the character of Cat. Ok, so she wasn't maternal – lot's of people aren't. I actually felt quite sorry for her, what with the way that everyone was constantly asking her about starting a family and always trying to set her up with someone. Give the girl a break. She may not have had the most likable of personalities to start off with but I truly loved watching her transform before my very eyes throughout the novel. It's not so much the fact that she started off not really liking children, it's more the fact that she learns about what's really important in life.
She always tried her best with Charlie and Ellie, despite being so out of her depth at times it looked as though she was about to drown…
I also loved her relationship with Finn (who is the uncle of one of Ellie's friends, Daisy) which doesn't get off to the best of starts, in fact as time progresses it looks to be getting worse… There's no denying that he is great with kids and at the start of the story you can completely see why Cat finds him smug and annoying. However, don't forget that opinions can easily change…
Charlie and Ellie were brilliant characters and shone out as the real stars of the story for me. I adored Ellie especially – she was wise way beyond her six years and comes out with some classic one-liners. I love her honesty and innocence, she was just such fun to read about. The relationship that Cat forms with her niece and nephew will warm the cockles of your heart.
Annie's writing is such a joy to read. She is a first class storyteller, creating warm and realistic characters who are such fun to read about. Her stories make you appreciate the importance of family, friends and love and there is so much more to this story then purely romance. There's a gorgeous setting and some laugh-your-socks-off hilarity, all the while reminding us to never lose sight of what's really important in life.
If you're looking for a gorgeous read that will give you warm, fuzzy feelings aplenty then Life or Something Like It is definitely a read for you…
A huge thank you to publishers Harlequin for approving me on NetGalley to read and review Life or Something Like It. ♥