I need to ask a massive favour. Please can we forget the fact that we're mid-way through July for just a few minutes so I can announce my Book of the Month for June and not look totally and completely behind? Thank you.
In all seriousness, June was once again a cracking month for books. There were some incredible debuts and also some fantastic releases from some of my all-time favourite authors. The novel that I chose for my June Book of the Month is in fact a debut, but from the standard of storytelling in this novel you would never guess it in a million and one years.
My Book of the Month for June goes to The Silent Hours by Cesca Major. It was one of those novels that lived up to all of my expectations and more. I had been hearing so many things about this book from bloggers before I started reading that I was worried it wouldn't live up to the hype, but BOY OH BOY, it did just that. It such an incredible, fascinating, heartbreaking story that I feel as though I learnt a lot from reading. I know for certain that this book will be one of the ones that I re-read again and again throughout the future. I am also certain of the fact that we can expect big things from Cesca Major…
An epic, sweeping tale of love and loss inspired by heartrending true events in the Unoccupied Zone of wartime France.
The Silent Hours follows three people whose lives are bound together, before war tears them apart:
Adeline, a mute who takes refuge in a convent, haunted by memories of her past;
Sebastian, a young Jewish banker whose love for the beautiful Isabelle will change the course of his life dramatically;
Tristan, a nine-year-old boy, whose family moves from Paris to settle in a village that is seemingly untouched by war.
Beautifully wrought, utterly compelling and with a shocking true story at its core, The Silent Hours is an unforgettable portrayal of love and loss.
Click to buy in paperback or ebook. Click here to read my original review.
My special mention for June goes to one of my all-time favourite authors who had a book out during June, and that is the incredible Freya North. It is no exaggeration to say that her books keep on getting better and better and her latest release, The Turning Point is undoubtedly my favourite so far. It was beautiful, touching and extremely thought-provoking.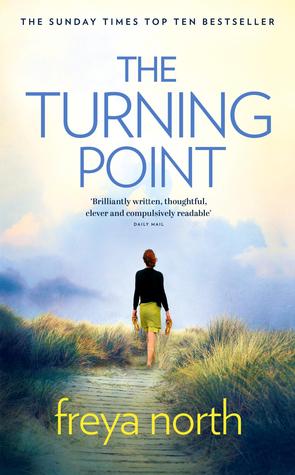 Over one short weekend, when Canadian musician Scott Emerson and British children's author Frankie Shaw meet by chance, a profound connection is made. Their homes are thousands of miles apart: Frankie and her children live by the coast of North Norfolk while Scott's roots lie deep in the mountains of British Columbia. Against all advice, they decide to see where this might go.
Over oceans and time zones, they make sacrifices and take risks, discovering along the way new truths about love and family. For the first time in a long while, it seems life could be very good. But fate has a tragic twist in store, one that could destroy all that was hoped for.
Poignant, engrossing and moving, The Turning Point is a novel about the importance of seizing happiness and trusting that love will always find a way.  
Click to buy in hardback or ebook. Click here to read my original review.
♥