What Happens in Cornwall by T.A. Williams
Release Date: 20th July 2015
Publisher: Carina
Buy: Kindle
Rating:

For a very British summer holiday…
When archaeologist Sam realises her relationship is as dead as the skeletons she's exhuming, she knows it's time to make a change. But with bills to pay her options are limited…until a discovery on Rock Island in Cornwall gives her a reason to escape…
Head to the Cornish coast!
In Cornwall, questions are thrown up at every turn: who is the glamorous owner of Rock Island that the paparazzi are so interested in? How has the irresistible, but impossibly arrogant, history professor James Courtney managed to get so far under Sam's skin? And will it ever stop raining so Sam can lose the cagoule and sip a cool drink in the sun? One thing's for sure: there's never been a holiday quite like this one!
Samantha Squires is loving studying archaeology at Exeter University, but whilst her professional life is going well, the same cannot be said for her personal life. Stuck in a monotonous relationship with Neil, Sam is desperately unhappy, but feels as though she cannot end things because of her mother who thinks that Neil and Sam are made for each other and is suffering from depression. Sam worries that if she ends her relationship it will upset her mother even further.
However, when the opportunity arises for Sam to take a trip to Tregossick in Cornwall with her friend Becky a series of events take place which look set to shake up Sams life, particularly when she finds herself on the elusive Rock Island. Through pure chance Sam even gets to meet the owner, a mysterious woman called Ann…But who is she really? And why is it that everyone is so desperate to find out?
T.A. Williams is fast becoming a firm favourite of mine. This is the third book of his that I have read and totally loved and I'm certain there will be many, many more to come.
I dived into this story head first and didn't want to come up for air until I had found out exactly what was going to happen. I was drawn to Sam right from the off, she's a really likeable character who is easy to identify with (unlike Neil who I could quite easily have strangled. Argh!) The other character I really felt as though I bonded with was Becky. I love this girl! She is hilarious and made me snort out loud with laughter various times. She's the kind of girl you would be happy to call a friend in real life and I love how she seems to be always on the hunt for her dream man (pots of cash is a non-negotiable requirement).
I'll tell you who else I loved – bumbling Giancarlo and Beppe. Not because they were particularly loveable characters (in fact, quite the opposite) but these two Italians certainly made me laugh on their trip over to England. The scene when they arrived at their guest house in Tregossick was hilarious. I especially liked it when Giancarlo referred to it as an 'armpit of a place'. Why have I not heard/used that expressions before? Sorry Giancarlo – I'm nabbing it.
Whilst I'm on the subject of characters, I can't not mention Dr James Courtney. Although he comes across as rude and not the most likeable of people, I can kind of see why Sam was drawn to him. I was desperate to find out what was going to happen there… The thing about What Happens in Cornwall is that it proves how easy it can be to mis-judge people and it goes a long way to showing you that people aren't always what you might think.
I also need to talk about the scenery in this novel. Tregossick was really brought to life for me by T.A. Williams' writing. It sounded heavenly and I had no trouble picturing the houses, the cliffs, The Smugglers Arms and of course, Rock Island. Whether you're enjoying this novel in a sunny back garden or on a beach for real I promise that you will be transported to the idyllic Cornish coast (even if you're hidden under a duvet on a rainy day!)
Reading about the archaeological side of things and the dig that took place was just as exciting. I don't think I've ever read a story based around this subject matter before so it made for a different and really interesting storyline.
I loved how there were plenty of twists and surprises in What Happens in Cornwall. T.A. Williams has such a wonderful style of writing; he never gives too much away and the way he portrays his characters and their outcomes really gets you thinking. His writing is so descriptive and flows really well, so well in fact that once you start reading you'll become so swept up in the current of this story that you'll resent putting it down. As I mentioned earlier, I have loved every one of Williams' novels that I have read, but I think at a push, this is my favourite. His stories seem to be getting better and better and they all seem to have a little something special about them.
What Happens in Cornwall has all the ingredients of a brilliant summer read: love, laughter, friendship, drama, twists, excitement and of course – T.A Williams' story-essential – a Labrador.
A huge thank you to Bliss Book Promotions. ♥
Don't forget to enter the giveaway to win an e-copy of What Happens in Cornwall. Click here. Good Luck!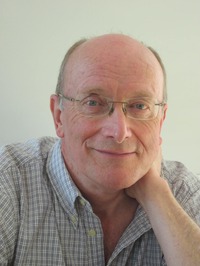 Firstly, my name isn't T A. It's Trevor. I write under the androgynous name T A Williams because 65% of books are read by women. In my first book, "Dirty Minds" one of the (female) characters suggests the imbalance is due to the fact that men spend too much time getting drunk and watching football. I couldn't possibly comment. Ask my wife…
I've written all sorts: thrillers, historical novels, short stories and now I'm enjoying myself hugely writing humour and romance. Romantic comedies are what we all need from time to time. Life isn't always very fair. It isn't always a lot of fun, but when it is, we need to embrace it. If my books can put a smile on your face and maybe give your heartstrings a tug, then I know I've done my job.
I've lived all over Europe, but now I live in a little village in sleepy Devon, tucked away in south west England. I love the place. That's why you'll find leafy lanes and thatched cottages in most of my books. Oh, yes, and a black Labrador.
I've been writing since I was 14 and that is half a century ago. However, underneath this bald, wrinkly exterior, there beats the heart of a youngster. My wife is convinced I will never grow up. I hope she's right.
♥T.A. Williams♥  | Website | Facebook | Twitter | Goodreads |