The weekend is well and truly upon us and if you're anything like me then you'll be spending a majority of your weekend hours out shopping…Preferably for books. So whether you're heading out to your nearest bookshop or plan on doing a bit of online shopping from the comfort of under your duvet, then here are some of my recommendations of some of the best books you can add to your basket, virtual or otherwise…
The Daughter's Secret by Eva Holland. Click to buy.
My daughter is a liar. A liar, liar, liar. And I'm starting to see where she gets it from.
When Rosalind's fifteen-year-old daughter, Stephanie, ran away with her teacher, this ordinary family became something it had never asked to be. Their lives held up to scrutiny in the centre of a major police investigation, the Simms were headline news while Stephanie was missing with a man who was risking everything.
Now, six years on, Ros takes a call that will change their lives all over again. He's going to be released from prison. Years too early. In eleven days' time.
As Temperley's release creeps ever closer, Ros is forced to confront the events that led them here, back to a place she thought she'd left behind, to questions she didn't want to answer. Why did she do it? Where does the blame lie? What happens next?
Released last week, The Daughter's Secret by Eva Holland is a book I have been hearing lots and lots about – and all of it good. I cannot wait to get stuck into this book and going on some of the reviews I've been reading this novel is set to be a must-read for 2015.
You're Never Weird On The Internet (Almost) by Felicia Day. Click to buy.
From online entertainment mogul, actress, and "queen of the geeks" Felicia Day, a funny, quirky, and inspiring memoir about her unusual upbringing, her rise to Internet-stardom, and embracing her individuality to find success in Hollywood.
The Internet isn't all cat videos. There's also Felicia Day—violinist, filmmaker, Internet entrepreneur, compulsive gamer, hoagie specialist, and former lonely homeschooled girl who overcame her isolated childhood to become the ruler of a new world…or at least semi-influential in the world of Internet Geeks and Goodreads book clubs.
After growing up in the south where she was "homeschooled for hippie reasons", Felicia moved to Hollywood to pursue her dream of becoming an actress and was immediately typecast as a crazy cat-lady secretary. But Felicia's misadventures in Hollywood led her to produce her own web series, own her own production company, and become an Internet star.
Felicia's short-ish life and her rags-to-riches rise to Internet fame launched her career as one of the most influential creators in new media. Now, Felicia's strange world is filled with thoughts on creativity, video games, and a dash of mild feminist activism—just like her memoir.
Hilarious and inspirational, You're Never Weird on the Internet (Almost) is proof that everyone should embrace what makes them different and be brave enough to share it with the world, because anything is possible now—even for a digital misfit.
I have loved the sound of this book for what feels like forever and I have been eagerly awaiting its release. Now I finally have a copy in my hands I cannot wait to delve into Felicia's world. If you're looking for a giggle or a book that's just something a little bit different then grab this book…
The Mark and the Void by Paul Murray. Click to buy.
Claude is a Frenchman who lives in Dublin. His birthplace is famed as the city of lovers, but so far love has always eluded him. Instead his life revolves around the investment bank where he works. And then one day he realizes he is being followed around, by a pale, scrawny man. The man's name is Paul Murray.
Paul claims to want to write a novel about Claude and Claude's heart sings. Finally, a chance to escape the drudgery of his everyday office life, to be involved in writing, in art! But Paul himself seems more interested in where the bank keeps its money than in Claude-and soon Claude realizes that Paul is not all he appears to be …
I picked up a copy of this book the other day and I am so excited about reading it as it comes so highly recommended. The cover is absolutely amazing and the storyline sounds brilliant. This book is sat on my shelf yelling 'read me' and I don't think I shall be able to ignore it for much longer…
Am I Normal Yet? By Holly Bourne. Click to buy.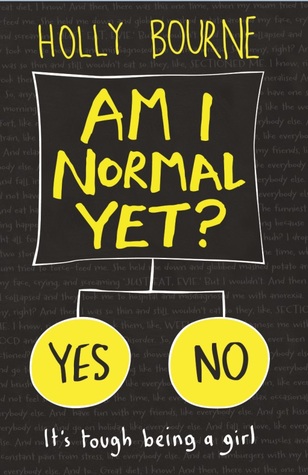 All Evie wants is to be normal. She's almost off her meds and at a new college where no one knows her as the girl-who-went-crazy. She's even going to parties and making friends. There's only one thing left to tick off her list…
But relationships are messy – especially relationships with teenage guys. They can make any girl feel like they're going mad. And if Evie can't even tell her new friends Amber and Lottie the truth about herself, how will she cope when she falls in love?
The more YA I read, the more I start to love it as a genre. There is no denying that Holly Bourne has really made her mark in YA fiction with her previous two books, Soulmates and The Manifesto of How to Be Interesting. However, Am I Normal Yet? sounds absolutely incredible and the reviews I have read imply that this is a corker of a novel. I had this on pre-order for ages and then I won a signed limited edition copy too (EEEK!) This book will definitely be creeping up my TBR as I am stupidly excited about reading it. Plus it's currently only 59p on Kindle…The words 'rude' and 'not to' spring to mind!
Books from the comfort of your own duvet…
Don't fancy venturing out this weekend? No problem! One click an ebook. Here's my selection of the best bargains up for grabs…
After Anna by Alex Lake. Click to buy. (Currently £2.00)
The real nightmare starts when her daughter is returned…
A bone-chilling psychological thriller that will suit fans of Daughter, by Jane Shemilt, and The Girl on the Train, by Paula Hawkins.
A girl is missing. Five years old, taken from outside her school. She has vanished, traceless.
The police are at a loss; her parents are beyond grief. Their daughter is lost forever, perhaps dead, perhaps enslaved.
But the biggest mystery is yet to come: one week after she was abducted, their daughter is returned.
She has no memory of where she has been. And this, for her mother, is just the beginning of the nightmare.
I haven't shut up lately about the fabulous psychological thrillers I've been enjoying and I have a feeling that I will be adding After Anna to that list very soon. Compared to Daughter and The Girl on the Train (both of which I loved!) After Anna is a mist-read for me. I'm intrguied purely from reading the synopsis alone…That's gotta' be good, right? EEEK!
Summer by the Sea by Jenny Hale. Click to buy (currently £1.99)
They say there's always one summer that changes you.
For Faith the one summer she can't forget is when she fell in love as a teenager – only for her sister, Casey, to steal her man. Now, at the request of her beloved ninety-year-old Grandmother, Faith has agreed to a family holiday – at their childhood beach house, where it all began.
Faith hasn't seen her sister in years but is finally ready to forgive and forget, enjoy the sunshine and relive happy memories. What she's not ready for is meeting Jake Buchanan – the owner of the beach house – or the long-forgotten feelings he ignites in her.
Can Faith overcome the hurt of the past, rekindle the close bond she had with Casey and make this summer THE ONE to remember?
Ahhh, how I love Jenny Hale. This lady can do no wrong and this fabulous, summery read is no exception. If you're looking for some gorgeous feel-good fiction this weekend, then here's your book. Lighter and yummier than a 99'er on the beach… (With a flake. And strawberry sauce. Naturally)
No one Ever Has Sex in the Suburbs by Tracy Bloom. Click to buy. (Currently 99p)
Ben is still desperately trying to forget that Katy had a one-night stand just before she announced she was pregnant. Nine months later a new baby explodes into their lives creating utter chaos.
As a lack of sleep, a lack of trust and a lack of…sex! wreaks havoc upon their lives, it seems like there is no returning to the way they were. That is until Ben comes up with the answer to get them back on track. A role swap!
But being a stay-at-home dad isn't as simple as it seems, in fact it's a disaster. Help comes when Ben least expects it and arrives, in the most unlikely form, of the wife of Katy's ex-lover. Should Ben tell Katy about his secret rescuer or is it his turn to keep a secret…? Can any relationship survive NO SEX, endless lies and conversations about nappy rash?
Looking for a laugh this weekend? This here is your provider! I love Tracy Bloom's writing and I can't believe that it took me as long as it did to discover her books. They. Are. Brilliant. This will be the smartest 99p you spend all weekend…
Freebies!
Seeing as it's nearly the end of the month, if you've spent all your money on a combination of books, bills and shoes (not me *cough*) then here's a few fabulous freebies for you to download to keep you going…
Strawberries at Wimbledon by Nikki Moore. Click to buy.
The fifth short story in the fun & flirty #LoveLondon series from exciting new chick lit author Nikki Moore!
The one that got away?
Sipping Pimms and eating fresh strawberries at Wimbledon are the perfect start to the British summer for Rayne. Immersed in her career as a journalist in the City, she's been too busy and distracted to give men – or other outside interests – much of a chance lately. That's something her friend Lily thinks she should correct, coming up with the perfect 'sex with an ex' solution – much to the amusement of the crowd on Centre Court!
When Rayne runs into old flame Adam, former good guy who is now all grown up with a hint of bad boy about him, it's a tempting thought. But is that such a good idea, when she knows that four years ago, she broke his heart?
Back from travelling the world and settling into running the family business, Adam never expected to see his university girlfriend again. And he definitely didn't think he would still be angry with her for running away, or that she would still have the same stunning effect on him. But she does, so maybe the perfect way to get her out of his dreams and from under his skin, is to have a hot sex-filled night with her? The only trouble is, one night might not be enough…
First love – can you ever go back?
I am very quickly starting to LOVE Nikki Moore and her fabulous romances. This gorgeous novella is perfect for the current heatwave…Just make sure you have a nice, fruity drink to accompany.
Marilyn by J.D Lawrence. Click to buy.
In a small American town, Marilyn, an over worked and under-appreciated mother, quits her consuming job and sets out on a cross country drive with her eight year old son, Jack, with whom she is desperately trying to reconnect. After hours on the road, the signs of a turbulent storm setting in, and nowhere near their intended destination, they pull over to rest and grab a bite to eat at a roadside café.
Sitting in the shadows, a stranger, torn apart by grief and loss, spots the young boy. Fuelled by anguish and despair, the stranger drugs both Marilyn and Jack.
Marilyn wakes up, alone, on the side of road, only now, Jack has vanished.
Hundreds of miles from home and caught in the belly of the storm. Marilyn enlists the help of an aged and lonely borderline alcoholic motel owner, Elwood Bailey. They forge an unlikely friendship as they risk life and limb to find Jack and bring him home.
Marilyn has been on my TBR for quite a while now and it's one that I am really looking forward to reading as I am loving thrillers at the moment. Why not join me and grab yourself a copy whilst it's free?
Imperfect Chemistry by Mary Frame. Click to buy.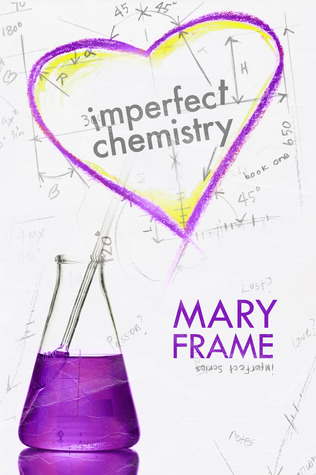 Lucy London puts the word genius to shame. Having obtained her PhD in microbiology by the age of twenty, she's amassed a wealth of knowledge, but one subject still eludes her—people. The pendulum of passions experienced by those around her both confuses and intrigues her, so when she's offered a grant to study emotion as a pathogen, she jumps on the opportunity.
When her attempts to come up with an actual experiment quickly drop from lackluster to nonexistent, she's given a choice: figure out how to conduct a groundbreaking study on passion, or lose both the grant and her position at the university. Put on leave until she can crack the perfect proposal, she finds there's only one way she can study emotions: by experiencing them herself.
Enter Jensen Walker, Lucy's neighbor and the one person on the planet she finds strangely and maddeningly appealing. Jensen's life is the stuff of campus legend, messy, emotional, complicated—in short, the perfect starting point for Lucy's study. When her tenaciousness wears him down and he consents to help her, sparks fly. To her surprise, Lucy finds herself battling with her own emotions, as foreign as they are intense. With the clock ticking on her deadline, Lucy must decide what's more important: analyzing her passions…or giving in to them?
I bought this novel a while ago but it's currently free over on Amazon. It sounds like classic chick-lit and JUST my kind of novel. It sounds funny, entertaining and smart. I also like the fact that it seems to be the first in a series meaning there will be lots more books to look forward to! (ALWAYS a good thing!)
What are you buying and reading this weekend? Be sure to let me know in the comments! ♥