It's with great pleasure that I welcome one of my newly crowned favourite authors to Bookaholic Confessions, today. Liz Tipping has just released her AMAZING debut novel, Five Go Glamping with Carina (Psssst. It's an absolute cracker…Review to follow!) You can get hold of your copy by clicking here. I loved chatting to Liz about camping, glamping, chick lit and what it feels like to have your debut novel released into the wild…
Hello Liz. Welcome to Bookaholic Confessions! Thank you so much for participating in this interview. Would you like to start by introducing yourself…?
Hi Holly! Thank you for having me on your blog. It's fab to be here, I've been a fan for a while. I live in Birmingham with my husband on a busy High Street  which I love because there is always something going on! When I am not nosing out of the window or  nattering on twitter, I am working on my romantic comedy novels. It feels exciting to be a brand new debut author. I also recently qualified with a diploma in Specialist Support of Learning in Schools so I'm beginning two new careers at the age of forty! I've always loved stories, so it feels exciting to be writing them and supporting children with their reading at the same time.

I am really excited about your debut novel; Five Go Glamping, released 28th August by Carina (and I love, love, LOVE the title!) Can you tell us a bit more about it?
How lovely that you are excited! I am so pleased you love the title, I came up with it before I starting writing the book. I'm always thinking up book titles but this one I knew I just had to write. The novel is based around a glamping holiday. It's the end of summer and Fiona and her friends feel they haven't made the most of it. They all have a reason for wanting to get away from it all, especially Fiona who feel like life isn't going the way she wanted it to. She feels a bit stuck especially in her work life and her love life and sees the holiday as a break from her life, but she doesn't realise what an impact it will have and how much it will change things for her.

What was your inspiration behind the story?
I wanted to write a chick-lit novel with all the sense of fun of our favourite childhood stories. But a lot of the inspiration behind it also came from how absolutely horrendous it can be doing a job you don't enjoy and perhaps working with people you are not that keen on. Work is such a big part of people's lives and if you don't enjoy what you are doing, it can be a daily struggle. Fiona can't see how she can change her circumstances and I think a lot of people feel like that.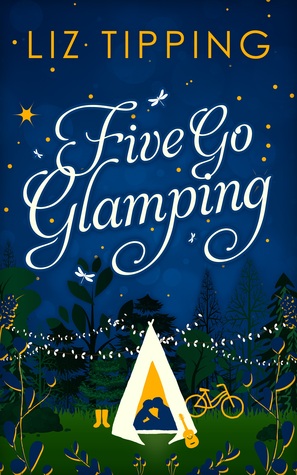 Are the characters in Five Go Glamping completely fictional or are they based on anyone in real life?
They are all completely fictional, but I think a lot of people will recognise someone they know in lots of the characters. Fiona's work colleague, Doris for example will be recognisable to a lot of readers- we've all had a Doris in our lives at some point!
I think Fiona's friends will feel familiar to everyone as well!
How long did Five Go Glamping take you to write?
Oh! So long! It took about two years to write the first draft, but it felt like an eternity. When I started out, I had no idea how to write a novel, really. I began by writing scenes which I thought were funny, but then I had to find out lots of things about structure and storylines and how to put a novel together.  It wasn't until after I had finished it and worked on it with my editor that I felt I knew what I was doing. But I think I have the hang of it now as I wrote the first draft of my second novel in a month!
Which would you prefer – traditional camping or are you more of a 'glamping' girl yourself?
I LOVE camping and have a fab little tent which goes up in under a minute. We always went camping when I was young. I worked out I have spent  in total around a year of my life camping! I love nearly everything about camping –getting up in the morning and being outside immediately and cooking breakfast on a camping stove. It's such fun! It's so peaceful too. Although, having said that, the  last time I went camping, there were a family next door in a bell tent with an acoustic guitar. Have you ever been woken at 6am by a seven year old playing an acoustic guitar? I have.  It's probably the least peaceful experience you can have!
I went glamping for the first time this summer and loved it- it wasn't really  that different to camping in a way. We stayed in a lovely yurt with a real bed. There's  still have that lovely sense of being away from it all that you get with camping and you are still in a tent, but it's nice to have real furniture and not have to inflate an airbed!
How does it feel to have your debut novel released into the big, wide world?
It's so exciting and nerve-wracking all at the same time.  I'm afraid to use that well known cliché from reality TV, but it does feel a bit like an emotional rollercoaster! ( oh dear! listen to me, I'll be saying I gave it 110% next! ) Some days I will be incredibly excited and feel proud of what I have accomplished and excited for people to read my story. I feel really happy that someone may read my book and laugh out loud on the bus. Other days I feel really nervous.
It's kind of hard to believe it's happened really. I feel incredibly fortunate as I know it's a dream for so many people and I am delighted that my stories are going to be read.
Do you have any tips for all of the aspiring authors out there?
Once your novel is done and you are happy with it, get it out there. There are so many opportunities for aspiring authors- hundreds of agents and publishers waiting to read your work. I have found with a lot of people, they send out maybe up to ten submissions and feel dejected when their work isn't snapped up. But you HAVE to keep going- ten submissions is barely scratching the surface and it's a numbers game.  I change my goal from trying to get a publishing deal to trying to get 100 rejections- it made it more exciting and I looked forward to the rejections. So my advice to aspiring authors would be instead of sending out ten submissions and giving up, send out ten at a time.
Who are your favourite authors and what kind of books do you enjoy reading?
My reading choices are really  eclectic- I love ALL kinds of  books. I read romantic comedies science fiction, dystopian, historical fiction, anything really!
Some of my favourite authors are  Marian  Keyes, Lindsey Kelk, Mike Gayle, Suzanne Collins, Francesca Haig . I also love reading celebrity autobiographies – I find them so easy to get into as you already know the character, but their books often reveal the things you didn't know and they can be quite surprising.
I've always loved lots of different types of books since I was a child. As a teenager I was fascinated with the aftermath of nuclear war and I read a book called Brother in the Land over and over. I love a post-nuclear war tale, nothing makes me happier than reading about the end of the world. I find it strangely comforting.
And finally – can you tell us a bit about what you're working on at the moment?
I'm just finishing up my second book, which is also going to be published by Carina. It's been amazing as the book has a real film theme going on- from golden oldies to modern classics.  I feel so excited whenever I think about it and can't wait to share more!
A huge thank you to Liz and Charlotte at Harlequin UK.
Remember to pick up your copy of Five Go Glamping, released 28th August 2015 with Carina UK.
Liz Tipping writes romantic comedy.
As well as reading and writing novels, Liz enjoys John Hughes films, science fiction box sets, reality television, Irish sausages and ginger beer.
Her debut novel Five Go Glamping is published by Carina and she is represented by Juliet Mushens.
Facebook: https://www.facebook.com/LizziesBooks
Twitter: @LizTipping https://twitter.com/LizTipping
Website: liztipping.com http://liztipping.com/
Blog: fivegoglamping.blogspot.com
Glamping Check list
Festival tickets
Double check best Instagram filter
Avoid thinking about work/Connor/five year plan!!
A four day break from her hectic life to relax in the countryside and hang out at a local festival (for free!) is just what Fiona Delaney needs. With her best friends, great tunes and a cool looking hat her Instagram shots are going to look A-Mazing!
Until suddenly glamping starts to feel a lot more like camping and Fiona's in desperate search of a comfy chair, wi-fi and a chilled glass of wine. But when she finally makes it to the local pub she discovers this trip could be more than just a holiday, it might just change her life forever…