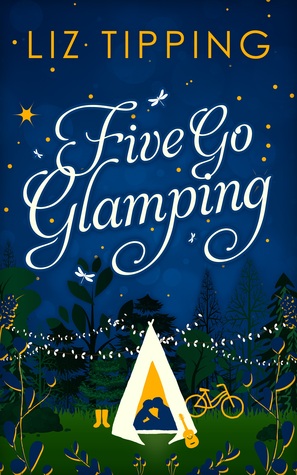 Five Go Glamping by Liz Tipping
Release Date: 28th August 2015
Publisher: Carina UK
Buy: Kindle
Rating:

Glamping Check list
Festival tickets
Double check best Instagram filter
Avoid thinking about work/Connor/five year plan!!
A four day break from her hectic life to relax in the countryside and hang out at a local festival (for free!) is just what Fiona Delaney needs. With her best friends, great tunes and a cool looking hat her Instagram shots are going to look A-Mazing!
Until suddenly glamping starts to feel a lot more like camping and Fiona's in desperate search of a comfy chair, wi-fi and a chilled glass of wine. But when she finally makes it to the local pub she discovers this trip could be more than just a holiday, it might just change her life forever…
Lead character Fiona is about to drive herself crazy with her own five year plan. Not that there's anything wrong with being organised…But Fiona is starting to regret planning her spending and social activities down to the very last detail in order to save for a deposit on her future house with her boyfriend Connor. When things start to go wrong at work and Fiona becomes increasingly frustrated with sharing her romantic meals with her Instagram followers rather than her actual boyfriend, her friends convince her to go with them on a mini-break. However, this isn't any ordinary mini-break. Ohhh nooo. This is glamping at a new-age festival in Dorset and will surely give Fiona the perfect break from her disastrous career/relationship/life.
There follows a weekend of no mobile phones, no Instagram and absolutely, positively NO planning whatsoever. What could go wrong…!?
I have been desperate to read Five Go Glamping pretty much since the very first time I heard about it. I will admit that I am slightly in love with the title (I was a kid who loved Enid Blyton!) and when I read the synopsis I thought it sounded like the perfect piece of fun, laugh-out-loud chick lit – and for me this is EXACTLY what Liz Tipping has created with this wonderful novel.
I loved Fiona as soon as we were introduced. She is lovable, realistic and so easy to relate to. She has the same worries and insecurities as us all (and fear of turning into a mad cat lady…) I could completely relate to where she was coming from with her five-year plan and I think many other readers will be able to aswell. Also, to what happens when her plan doesn't go, well, exactly to plan…
I loved her friendship group, composed of Fiona, Steph, Sinead and Kirk, and OF COURSE Brian Harvey. (Who is a dog by the way, not the bloke out of East 17.) I loved the relationship that these guys had going on. They were supportive of one another and knew how to have fun. They were a complete joy to read about and really made me wish I was past of their gang! Liz Tipping has done such a fantastic job of creating three dimensional characters who you'll genuinely like reading about. Their dialogue and observations will resonate with every reader in some way of another and they are effortlessly brought to life through Lizs' writing.
The scenes where the four friends go glamping are, as expected, both hilarious and classic. Their experiences at the new-age festival are chortle-worthy (Yurts! Weird beards! Mung beans…Yum!) There's the odd spark of romance in the air too when we meet Landlord Sam. I thought this potential love-interest part of the story was done so well. It wasn't rushed, but well paced and believable. It was also super-sweet (but not over-done) as Sam made Fiona stop and evaluate what was really important to her. Sam was great addition to the story in general – he intrigued me and he sounded pretty gorgeous, it must be said. It was clear that there was more to him than first meets the eye…
I can't think of a single negative thing to say about Five Go Glamping – it was perfectly formed, perfectly paced, fantastically written and it ticks all my boxes for a piece of top-rate chick-lit. It's the kind of book that you can't help but 'fall' into; as soon as you're introduced to the characters and their situations you never really want to stop reading and before you know it you've reached the end. It was a funny, clever, romantic adventure, packed full of fun and frivolity. The perfect book to indulge in on a chilly autumn evening which will leave you with a big, satisfied grin.
Liz Tipping has officially landed on my list of authors to look out for. I can't wait to see what she brings us next…
A huge thank you to publishers Carina for approving me on NetGalley to read Five Go Glamping.
Liz Tipping writes romantic comedy.
As well as reading and writing novels, Liz enjoys John Hughes films, science fiction box sets, reality television, Irish sausages and ginger beer.
Her debut novel Five Go Glamping is published by Carina and she is represented by Juliet Mushens.