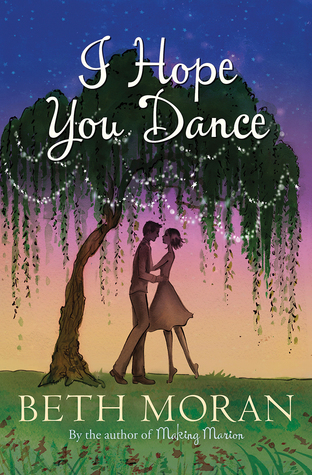 I Hope You Dance by Beth Moran
Release Date: 18th September 2015
Publisher: Lion Fiction
Buy: Paperback | Kindle
Rating:

Ruth Henderson has moved back in with her parents–something she swore she would never do, especially not at the age of thirty-three. But in the face of the mountain of debt left by her late partner, and the fact that her teenage daughter, Maggie, is expressing her grief through acts of delinquency, there was really only one option.
Returning to a house Ruth swore never to set foot in again is bad enough. Add to this an estranged father, whirlwind mother, and David–the boy next door who broke her heart–and it is little wonder Ruth can barely make it out of bed.
But then, reunited with her old friend Lois, Ruth is persuaded to go along to a monthly girls' night. Here she meets a bunch of incredible women and for the first time since leaving home at eighteen, Ruth begins to make some genuine friends.
She also has her first ever date–with the charming Dr. Carl Barker. However, after a disastrous dinner, and an upset Maggie still struggling with her father's death, Ruth promises her daughter she won't go out with any other men. A promise she quickly regrets when David, the boy next door, asks her to dance. . .
Things are looking bleak for poor Ruth and her daughter Maggie. At thirty three, Ruth finds herself back living with her parents, job-less and in serious debt after the sudden death of her partner and Maggie's dad, Fraser.
Ruth is dreading showing her face in Oak Hill, the tight knit community where she grew up. Surely everyone will be gloating to see her back living under her parents roof after her life has gone so spectacularly wrong? She's not relishing seeing David either, her childhood best friend and the one-true-love-of-her-life who happens to live next door.
However, it's not long before Ruth is encouraged to face her demons as she begins to realise that her old school friends and neighbours are actually – gasp – quite nice. With the support of her new friends, Lois, Ana Luisa, Ellie, Emily Rupa and Martine, Ruth beings to put the pieces of her life back together. but it's far from an easy ride. As well as her own troubles Ruth has to compete with worries over her parents marriage, keeping Maggie on the straight and narrow and things look set to get a whole lot more complicated when she meets Dr Carl Baker… How much can one woman take!?
I had really high hopes for I Hope You Dance after absolutely loving Beth's debut novel, Making Marion, last year. I fell instantly in love with the cover and the blurb grabbed my attention straight away. Who doesn't love stories where a character returns to the place that they grew up and gets to see how everyone has changed? No one, that's who. They are my favourite kind of stories.
However, whilst I suspected I might like I Hope You Dance, I never had any idea exactly how much I would enjoy it. The whole story from beginning to end was an absolute delight and I loved every page.
Ruth is a character who you will immediately identify with. The poor women has really been through the mill and I could understand her reluctance to return home, especially once I discovered the circumstances through which she left and all that happened between her and her dad. It was so much more than a case of Ruth just 'swallowing her pride' when she returns to Oak Hill and I sympathized with her and her extremely rubbish-y situation at once. All she has ever tried to do is the best for her daughter and the fact that she's ended up in this situation will break your heart. It also quickly becomes clear that Ruth has no friends, no confidence and no life of which to speak of, which is why watching her gradual transformation as she returns to the village where she grew up is such an complete and utter delight.
I was afraid for Ruth, she had so much to conquer, but like all of the best heroines she did it in her own time, in her own way and with the crucial support of her friends.
There were so many elements to this story that I liked and the way that the different themes of the novel all intertwined with one another was beautifully done. For one, the inclusion of ball room dancing provided such a interesting and entertaining aspect to the story. Ruth, growing up the youngest in a house full of Henderson dancers, never really got bit by the dancing bug and that has has a huge impact on her life in ways in which she could never have imagined. However, the way in which things turn out is perfectly fitting and in keeping with the sweetness of the story. The element of dancing is perfect for any Strictly fans too, of course!
I was massively impressed with Beth Moran's writing in Making Marion and she has certainly kept up her high standard of story-telling with I Hope You Dance. She has created the perfect romance with a fantastic array of characters, plenty of humour and quite a large dose of page-turning drama too. The novel put my emotions through the wringer and during the course of the novel I found myself grinning, crying, laughing and there were some quite tense, scary moments too which was something I was not expecting at all (but loved, they added so much to the story!)
My favourite thing about I Hope You Dance was the way that Beth portrays friendship and its importance. Without sounding overly soppy, it really made me think of how much we can achieve with the support and love of our friends. Whether it was Ruth and Lois, Maggie and Hannah or Ruth and David, all of the friendships within this novel made me feel all warm and cosy, but for different reasons.
I Hope You Dance is an all-round lovely, entertaining, leave-you-with-a-big-soppy-grin kinda' book and I couldn't get enough. It's definitely one of my favourite romances of this year so far and has put Beth Moran well and truly on my radar. I'm hugely excited to see what she will bring us next.
A huge thank you to Rhoda and Lion Fiction. ♥
♥
Beth Moran
♥
| Website | Twitter | Goodreads  |