Today I am thrilled to be joined not only by my favourite author EVER, but by one of my favourite people EVER, too. Robert Bryndza releases his first crime thriller, The Girl in the Ice, TODAY with the wonderful Bookouture. This novel has got everyone talking – and all of it good. I have seen so many bloggers and reviewers completely devour this book and the 5 star reviews keep on coming thick and fast. I am delighted to be able to host a Q&A with Robert on publication day of his superb novel & my review will follow shortly. Enjoy!
Hi Robert, welcome (back!) to Bookaholic Confessions! I'm so excited to have you on my blog on publication day of your AMAZING new novel, The Girl in the Ice. For those of us who haven't discovered your brilliant books yet would you like to start by introducing yourself…?
Hello Holly, it's lovely to be welcomed back here, thank you. For those of you know don't know me, my name is Robert Bryndza, and my debut crime thriller The Girl In The Ice has just been published by Bookouture. I was born in the UK, and now live in Slovakia. I was originally an actor, which I used to combine with writing plays. Then the writing took over, and now I'm lucky enough to write full time. The Girl in The Ice is a change in direction for me, as I have previously written a series of best selling women's fiction novels.
Can you tell us a bit about The Girl in the Ice (released 12th February with Bookouture)?
I'm fairly hopeless at explaining things myself, so here is the book description…
Her eyes are wide open. Her lips parted as if to speak. Her dead body frozen in the ice…She is not the only one.
When a young boy discovers the body of a woman beneath a thick sheet of ice in a South London park, Detective Erika Foster is called in to lead the murder investigation.
The victim, a beautiful young socialite, appeared to have the perfect life. Yet when Erika begins to dig deeper, she starts to connect the dots between the murder and the killings of three prostitutes, all found strangled, hands bound and dumped in water around London.
What dark secrets is the girl in the ice hiding?
As Erika inches closer to uncovering the truth, the killer is closing in on Erika.
The last investigation Erika led went badly wrong… resulting in the death of her husband. With her career hanging by a thread, Erika must now battle her own personal demons as well as a killer more deadly than any she's faced before. But will she get to him before he strikes again?
I'm sure many readers will know and love you for the wonderful Coco Pinchard series and your romantic comedies. What made you decide to try your hand at writing crime? Is it something you've always wanted to do?
I have always wanted to write drama as well as comedy. When I began to write the second book in the Coco Pinchard series, Coco Pinchard's Big Fat Tipsy Wedding I had it all planned out in my notebook and it was going to be a funny wedding disaster book… and then from out of nowhere it took on a darker direction, and Coco's boyfriend Adam was accused of a crime he didn't commit. I went with it, and found I was writing a sort-of comedy whodunit! The book is primarily a comedy, but I loved writing and researching the crime aspect, and that put something in the back of my mind about writing a dark gritty crime series.
What was the inspiration behind your sassy lead character DCI Erika Foster? Is she based on anyone in real life or is she entirely fictional?
Erika is a mixture of loads of people. A girl I went to school with who went into the police force, another friend who is very tough and fierce but extremely loyal. There is also a bit of Helen Mirren's Jane Tennyson character too.
One of things I liked most about The Girl in the Ice was how factually accurate the story felt. It all added to the atmosphere of the story and the authenticity of the investigation. How did you go about doing the relevant research into police procedures and murder investigations to make sure everything was realistic?
I'm obsessed with research and getting things right. I do loads of reading, I talk to people, and I try to visit places I'm writing about. The key is to let the research inform your writing, but not to bog down the book with unnecessary details. The Girl In The Ice is set in South London, in an area I lived in for six years, and I've taken lots of experiences from this too.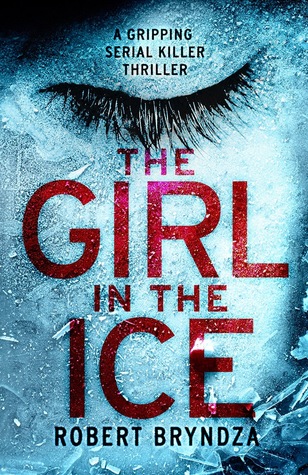 Did you have the culprit planned in your mind before you started writing the story? Was it difficult to ensure that you didn't give too much away as to who was behind the murder?
I wrote the first draft not knowing who the culprit was, and it came to me right at the very end. I think this helped not giving it away. The problem is then going back writing the next draft, knowing who it is and trying not to give the game away!
How have you found writing two very different genres? Did you find yourself slipping into 'rom-com' mode when writing The Girl in the Ice? (How great would it have been to have Ethel roll up at the station during the investigation!?)
Ha! Yes, I would love to write a mash-up where all the characters meet. I'm not sure how that would work… maybe it would have to be a short story. I didn't go into rom-com mode, but I found that I had to cut a great deal of stuff the character DI Moss said. She provides a bot of comic relief for the darker bits in the book, and in early drafts she was being a bit too funny!
The Girl in the Ice is only officially released today but it has been storming up the Amazon charts on pre-orders alone and it's a novel that literally EVERYONE is talking about. How does that feel?
I feel incredibly lucky. I've been fortunate enough to work with an amazing group of people at Bookouture. I've been a little distracted from it all because I've been writing the second Erika Foster book whilst all this has been going on, so it's kept me grounded in reality, which is a good thing.
I can't wait to be reunited with DCI Foster. Can you give us a hint about what her next investigation will involve?
It's going to be called The Night Stalker, and it's another serial killer thriller, although this serial killer is completely different to the one in the first book… you'll have to wait and see to find out more!
I also have to ask – will we be hearing from our good friend Coco Pinchard in the near future, too?
Absolutely. I love writing the Coco books. I've wanted to give her a rest for the time being, but in 2017 Coco will be fifty, and living on the farm with her husband Adam and son Little Adam, who will be five years old. I have a wonderful idea for a new story, and it involves all the characters from the previous books.
A huge thank you to Robert for answering my questions. ♥
Grab your copy of The Girl in the Ice now in ebook or paperback.