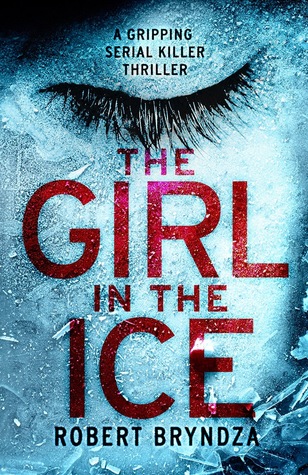 The Girl in the Ice by Robert Bryndza
Release Date: 12th February 2016
Publisher: Bookouture
Buy: Paperback  Kindle
Rating:

Her eyes are wide open. Her lips parted as if to speak. Her dead body frozen in the ice…She is not the only one.
When a young boy discovers the body of a woman beneath a thick sheet of ice in a South London park, Detective Erika Foster is called in to lead the murder investigation.
The victim, a beautiful young socialite, appeared to have the perfect life. Yet when Erika begins to dig deeper, she starts to connect the dots between the murder and the killings of three prostitutes, all found strangled, hands bound and dumped in water around London.
What dark secrets is the girl in the ice hiding?
As Erika inches closer to uncovering the truth, the killer is closing in on Erika.
The last investigation Erika led went badly wrong… resulting in the death of her husband. With her career hanging by a thread, Erika must now battle her own personal demons as well as a killer more deadly than any she's faced before. But will she get to him before he strikes again?
The Girl in the Ice gets off to a dramatic start when the body of a young girl is found encased in ice in a lake. The girl is identified as Angela Douglas-Brown, a young socialite who also happens to belong to a rather important family. Her father is a prominent politician and whilst he wants to catch Angela's brutal attacker, he is also intent on making sure both Angela's reputation and his own aren't tarnished in the process.
Enter Detective Erika Foster. A no-nonsense, smart and completely kick-ass DCI, Erika is surely the best woman for the job. However she has just returned from bereavement leave after the last case she was working on went horrifically wrong and resulted in the death of five of her fellow officers…One of which was her own husband. Erika is still struggling to come to terms with what happened and will never forgive herself for the decisions she made on that day.
However she is determined to crack this case and puts her all in to catching Andrea's murderer. Although it doesn't look as if everyone is going to co-operate with her investigation, especially Andrea's own family who are a slightly odd bunch to say the least. Intent on protecting Andrea's reputation, information is withheld and secrets hidden, much to the despair of Erika who feels as though the police are looking in the wrong place.
It's not long before she pushes politics to one side and picks apart the case herself which doesn't go down well with her bosses…
But before Erika knows it the killer looks set to have someone else set in their sights and she's running out of time before they strike again. DUN. DUN DUNNNNNN.
I don't need to tell you that Robert Bryndza is one of my favourite authors in the whole-wide-world-ever. If I could only read one series for the rest of my life then I would choose his wonderful Coco Pinchard books.
Another fact that is not a secret (probably because I'm always banging on about it) is my new found love for psychological thrillers over the past year.
So just stop for a second and imagine how I felt when I found out Robert Bryndza had written a psychological thriller…? I may have screamed/clapped/whooped/rubbed my palms together with glee. I was also a tiny bit scared. Would I like this as much as the Coco Pinchard books? Would I miss Coco, Ethel and Rosencrantz too much? Would reading a thriller written by Robert be the same as reading his other books? GAH.
Anyway, once I stopped procrastinating and actually picked up The Girl in the Ice I certainly had no plans on depositing this amazing book from my sweaty little palms any time soon. Real life was well and truly put on hold.
The Girl in the Ice is, hands-down, one of the most exciting, dramatic, tense and compelling thrillers that I think I have ever read.
I loved the way that the plot unfolded. Robert was very clever in his writing to never give too much away, yet he drip-feeds you just enough clues to have you think that you might have got the murderer sussed…Only like me, you will probably discover that you are wrong. The way in which Robert has crafted his characters enables you to think you can second guess them, but the truth is that no matter how much you try, you just can't. The story moves at such a swift pace that you cannot help but get swept along by what's going on. It's one of those books that you just HAVE to keep reading, just until you finish this chapter…And the next chapter…And so on – then BAM it's 1am. Whoops.
The way Robert's style of writing has transitioned from light & extremely comical for his previous books to sinister, dark and tense for The Girl in the Ice clearly shows he has talent in abundance. He is so good at setting the scene and his descriptions will give you goosebumps and make the whole story frighteningly realistic. It's also obvious that Robert put a huge amount of research into the story. The whole thing felt so factually accurate which added to the authenticity of the investigation.  The characters also felt very realistic, particularly Erika who I am in awe of. She was such a strong-minded, brave woman, who wasn't afraid to put herself in danger to get the answers. It was obvious that she was still struggling to come to terms with what had happened to her husband, yet she put her heart and soul into finding Andrea's murderer. Not one to let politics and hierarchy hamper the investigation she stands up for what she believes in and listens to her instincts. She's an incredible lead character and I can't wait to discover many more investigations with her in the future.
Creepy, exciting and insanely intense; The Girl in the Ice is already a massive contender for my book of the year for 2016. I just could not get enough…
A huge thank you to Kim at Bookouture for the opportunity to read and review The Girl in the Ice.
Originally from the UK, Rob lives in Slovakia with his Slovak husband and their two crazy dogs. He originally trained as an actor, but was bitten by the writing bug in his mid-twenties and hasn't looked back.
His debut novel, The Not So Secret Emails of Coco Pinchard became an Amazon bestseller, and has grown to a best selling series of five books.
In addition to his recent number one romantic comedy Miss Wrong and Mr Right, Rob is excited to embrace the darker side of life, and has just signed a three-book deal with Bookouture to write a crime thriller series. The first book, The Girl In The Ice will be released in Spring 2016. Sign up to Robert's New Release Mailing List here:http://eepurl.com/UITxz
♥Robert Bryndza♥ |  Website  | Facebook | Twitter | Goodreads |