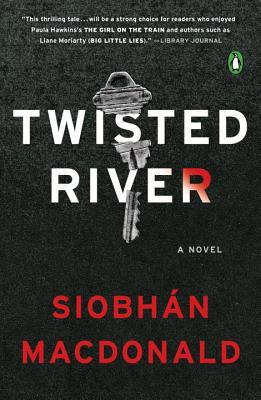 Twisted River by Siobhán Macdonald
Release Date: 22nd March 2016
Publisher: Penguin Books
Buy: Paperback | Kindle
Rating:

"She would never have fit as neatly into the trunk of his own car." Limerick, Ireland: the O'Brien family's driveway. American Oscar Harvey opens the trunk of his hosts' car and finds the body of a woman, beaten and bloody. But let's start at the beginning. 
Kate and Mannix O'Brien live by Curragower Falls in Limerick, in a lovely house they can barely afford. Their son Fergus is bullied at school, and their daughter Izzy blames herself, wishing she could protect him. Kate decides that her family needs a vacation, and is convinced her luck's about to change when she spots a gorgeous Manhattan apartment on a home-exchange website.
Hazel and Oscar Harvey and their two children live on Manhattan's Upper West Side. Though they seem successful and happy, Hazel has mysterious bruises, and Oscar is hiding things about his dental practice. They, too, need a change of pace. Hazel has always wanted her children to see her native Limerick, and the house swap offers a perfect chance to soothe two troubled marriages. But this will be anything but a perfect vacation. And the body in the trunk is just the beginning.
Despite living in a idyllic house by the river in Curragower Falls, Limerick, the O'Brien family are going through a tough time at the moment. Short of money and with her son Fergus being badly bullied at school and her daughter Izzy growing more unsettled by the day, Kate wishes there was something she could do to make things better. What the family really need is a holiday; something to look forward to – only with their current money woes that's out of the question.
Meanwhile over in Manhattan things aren't running too smoothly for the Harvey family, either. Wife and mother Hazel is struggling with her job, her family and her life in general, meanwhile her husband Oscar is also experiencing difficulties at the dental practise where he works. Hazel feels an overwhelming desire to return to her roots over in Limerick. A break could be just what the whole family needs…
However, back in Ireland Kate strikes it lucky when she spots the Harvey's gorgeous Manhattan home up on a house-swap website. Fergus will get to live out his dreams by visiting the Empire State building and even Izzy seems enamoured by the idea. Plus the accommodation won't cost them a penny…It's exactly what the O'Brien's need and it turns out that their gorgeous home by the river is exactly what the Harvey family are looking for.
However, when the house swap takes place it proves to be as far away from idyllic as you could ever imagine, especially when a case of mistaken identity looks set to change one of the families lives forever. Suddenly the idea of a house swap doesn't seem so wonderful after all…
After just reading Under Italian Skies by Nicky Pellegrino, I will admit to having a bit of a romanticised view of house-swaps. Twisted River took my views to the other end of the spectrum and has provided a spooky, tense and horrifying look at what can happen when things go wrong when partaking in a house swap.
Siobhán Macdonald certainly pulls no punches with her debut novel and I defy you to not read the prologue and become completely immersed in this novel right from the off as things kick off with the body-in-the-boot scenario. By starting the story in this way you can't help but come to your own conclusions and this makes you feel a part of the story already.
It's gripping and intriguing stuff from here on in as Siobhan introduces us to two very dysfunctional yet fascinating families who I was desperate to learn more about.
I will freely admit to loving stories that are about family dynamics and the secrets contained between loved ones. I think it's partly because I'm so nosey but it's a topic that grips me and believe me when I say I could not get ENOUGH of the twisted, juicy and sometimes dark lives of the O'Brien's and the Harvey's. Whilst I quickly became obsessed with both families, Siobhán completely led me up the garden path with my judgement of some of the family members (I won't say who.) I was embarrassingly wrong with my assumptions and was in awe of the way that Siobhán had made something appear to be something it wasn't (if that makes ANY sense!)
To be honest these two families were leading such intriguing lives and hiding so many secrets before you even bring the house-swap element to the story – however, once you do there's no way their secrets are staying hidden for much longer.
I had this weird sense of foreboding through the story. I couldn't quite fathom Mannix O'Brien out and I don't think I ever really did. I desperately wanted to know what he was up and to I was all ready to blame him for many of the events that took place within the story. I felt the same way about Oscar Harvey and will admit to taking a perhaps unfair dislike to the guy. He just came over as a real control freak and I didn't like what I was seeing. However, this novel is a classic case of expect the unexpected, so maybe it's best to reserve your judgement of certain characters until the very end. Whether you like the families or not becomes almost irrelevant as you become immersed within their lives and you won't want to step away until you know what's going to happen.
Siobhán's writing is fantastic and it's crazy that this is only her debut novel. She has a great eye for detail, for atmosphere and tension – making you feel increasingly on edge. I love how she never gives too much away, despite the fact that this novel is told from the viewpoints of the four main characters in turn. It would be all too easy to let details slip but Siobhán is way too clever for that (sometimes much to my frustration!) I also like the way that she would sometimes end chapters on a cliff-hanger and the next chapter would be told by a different character, meaning the story back-tracks for a while until you have caught up. This is such a unique and clever way of storytelling as it leaves the reader having no choice but to continue reading in their desperation to find out what happens.
Packed full of twists and surprises, Twisted River is a must-read for fans of psychological suspense.
A huge thank you to Hayley at edpr for the opportunity to review Twisted River. ♥
Born in Cork, Siobhan studied in Galway, worked as a technical writer in Scotland for ten years, and then in France, before returning to Ireland. She lives in Limerick with her husband and two sons.
TWISTED RIVER is a gripping page-turner set in Manhattan and Limerick, as a dream holiday house swap goes horribly wrong. THE BLUE POOL is already sold in German to Piper.