The moon was high in the sky before Hayley decided she'd better pack up her things – including work she had to do over the weekend – and head home. The air outside was cool, yet she sucked in a big lungful, hoping the damp fog would somehow have a calming effect on her. It didn't, so she hurried down the street on the way to the tube station, her mind racing and her hands clammy. She'd hoped she'd be rushing back to share good news with Rick, that she'd brought on a new client, finally had some success at work again. They could have done with something positive, maybe they'd even have celebrated a little. Instead she'd be spending the weekend looking for a new job.
Her mobile phone rang and she fished it out of her coat pocket, her steps barely slowing.
'Hi, Mum,' Hayley said. At times she even surprised herself at how upbeat she could force herself to sound.
'Hello, love. How are you? I just wanted to check in. See how you're doing. I called home but Rick said you weren't back yet. You're working late again. Are you okay?'
Hayley plastered a smile on her face and crossed her fingers. 'Just on my way home. I'm fine.'
'Really?'
'Really. How's Dad?'
'We've had a good day today.' Tenderness filled her mother's voice. 'He's asleep now.'
'That's good. Mum. What about the new medicine? Any difference?'
'No love. Even if it does help, it won't be that quick.'
'Not even a tiny bit?'
'No. But it's still early. The doctor said it takes time.'
Hayley cleared her throat as she walked down the steps to the station. 'And you, Mum? Are you okay?'
'Yes, I'm fine.'
'You're sure?'
'As good as I can be.' Her mother sighed. 'But I was calling to check up on you. Will we see you all this weekend?'
Hayley closed her eyes. 'I'm not sure yet. I'll try.'
'We'd love to see you, if you can.'
'So would we. I'll do my best, Mum.' Hayley's phone crackled. 'I'm losing the connection. I'll call you tomorrow.'
'Okay. Thanks, lo–' The line went dead.
As Hayley slipped her mobile into her pocket she pictured her father, the once strong and active man now reliant on others for physical and financial help, confined to a wheelchair.
If only I'd been there.
Rick said she shouldn't blame herself and she knew he was probably right. But she couldn't stop herself from wondering. Could she have done something? Would she have recognised the signs? She'd seen the F.A.S.T. adverts – Face, Arms, Speech, Time – so often. What if she'd been there?
What if?
It wasn't fair. None of it was fair.
I bet Dad would tell me how much he hates all the fuss.
Hayley smiled, genuinely this time.
And he'd have told me to sod off when we paid to make their house wheelchair accessible.
As the train arrived and started to slow down she stared at her moving reflection in the window and her smile disappeared. She felt much older than forty-two. Her face looked drawn, with bags under her eyes like overstuffed suitcases, and, thanks to the humidity, her long, brown hair had morphed into a shapeless, frizzy disaster. She got on the train, found a seat then fished an elastic band out of her bag and tried to smooth her hair into a ponytail.
I look like I'm auditioning for The Rocky Horror Picture Show.
Her stomach lurched as she thought about looking for a job again. She knew all too well how hard it could be.
Especially when we've got two sets of finances to worry about.
Hayley looked down. The headline of a discarded copy of Metro on the seat next to her caught her eye: KLINGEL'S TO REPRESENT BOOTS BORRELLO.
Everybody had heard of Carmine Benedetto Borrello. The press dubbed him 'Concrete Boots' because no evidence tying him to any crimes had ever been found. Hayley put the paper back on the seat beside her.
Maybe I should go over to the dark side. I'd probably make more money.
She shuddered. Mergers and acquisitions might not be the sexiest area in law, but at least she'd never wake up next to a horse's head.
It was gone eight o'clock when she arrived at their compact, terraced house in Chiswick. Although she'd attempted to run almost all the way home from Stamford Brook tube station in her heels, she knew that Millie and Danny would already be fast asleep. A pang of regret hit and her guilty conscience tut-tutted for good measure. She couldn't remember the last time she'd been home for a family supper during the week. Balancing everything – work, children, husband, parents, finances and household – was pushing her to the breaking point. Rick always said she should look after herself.
Well, duh. But when?
Even before she'd contacted Isamu, Rick kept asking Hayley why she didn't tell Charles to shove his job up his backside.
Easy for him to say, most of the financial responsibilities are on me now.
She knew that was unfair, so she never said it out loud, but it didn't stop the thought bubbling under the surface.
Hayley quietly opened the front door and walked into the hall. Rick sat at the kitchen table reading the paper, his glasses perched on the end of his nose and a glass of red wine in front of him. He glanced up, folded the paper and smiled at her. Hayley noticed how relaxed he looked and, inexplicably, it annoyed her. She'd always loved his easy-going, laissez-faire attitude, felt it kept her grounded, but now she often wanted to give Rick a shake. Instead she gave him a small wave, dumped her heavy bag on the floor, hung up her damp coat, took off her shoes and crept upstairs.
Millie was fast asleep, curled up in a ball with Jelly-Belly, her favourite teddy with the big gut and green eyes. Pickles purred and stretched at the foot of the bed. Hayley tickled him behind the ear, then smoothed down Millie's auburn hair and kissed her cheek.
'Sweet dreams, darling.'
Millie murmured something incomprehensible and Hayley smiled. Very quietly she snuck out of the bedroom and into Danny's room. He lay higgledy-piggledy in his bed, arms flung out like a starfish, his dinosaur pyjama-top halfway up his belly. Hayley covered him with his SpongeBob SquarePants duvet and kissed him. She lingered at the doorway.
I should have 'Crap Mum' tattooed on my forehead.

A huge thank you to Louis & Helena at Avon. ♥
Click here to download your copy of Time After Time.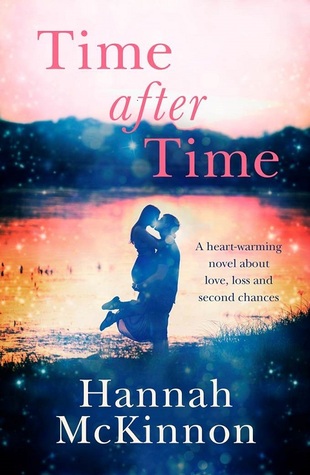 Hayley Cooper, a powerful but now struggling lawyer, fantasizes about what her life would be like if only if she'd made different choices. It's understandable; the past two years have been hell. She barely sees her kids, her boss is trying to sabotage her, and her marriage is falling apart.
Burnt out, Hayley goes to sleep wishing for a different life. When she wakes up married to her first boyfriend, one she has not seen in over twenty years, she realizes there might be some truth in the saying "be careful what you wish for". Over a single weekend, like Ebenezer Scrooge, Hayley gets to see her life on other side of the white picket fence – not just with her first ex, but with each of her past loves. But is the grass always greener, and will she ever want to go home?