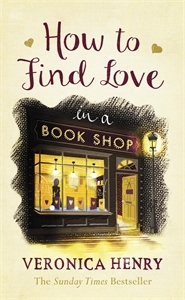 How to Find Love in a Bookshop by Veronica Henry
Release Date: 16th June 2016
Publisher: Orion
Buy: Hardback |  Kindle
Rating:

Nightingale Books, nestled on the high street in the idyllic Cotswold town of Peasebrook, is a dream come true for booklovers.
But owner Emilia Nightingale is struggling to keep the shop open. The temptation to sell up is proving enormous – but what about the promise she made to her father? Not to mention the loyalty she owes to her customers.
Sarah Basildon, owner of stately pile Peasebrook Manor, has used the book shop as an escape from all her problems in the past few years. But is there more to her visits than meets the eye?
Since messing up his marriage, Jackson asks Emilia for advice on books to read to the son he misses so much. But Jackson has a secret, and is not all he seems…
And there's Thomasina, painfully shy, who runs a pop-up restaurant from her tiny cottage. She has a huge crush on a man she met and then lost in the cookery section, somewhere between Auguste Escoffier and Marco Pierre White. Can she find the courage to admit her true feelings?
Emilia Nightingale finds herself returning to the gorgeous-sounding town of Peasebrook in order to take over her late fathers bookshop and pride and joy, Nightingale Books. Still struggling to come to terms with the loss of her father Emila is even more distraught when she discovers that Julius Nightingale was not in a strong financial position and the bookshop doesn't look to be making a profit any time soon. The temptation to sell Nightingale Books to a property developer looks to be Emilia's only option. Or is it…? Knowing that Julius would never forgive Emilia if she were to allow his beloved bookshop to be turned into a block of flats, she is certainly facing a very difficult situation.
However, it doesn't look like the residents of Peasebrook and loyal customers of Nightingale Books are going to stand back and watch their little piece of bookish heaven be taken away from them any time soon. It's then that you come to realise exactly how vital this beautiful little bookshop is…
You know when you hear about certain books and you just know they are going to be perfect for you in every way imaginable? How to Find Love in a Bookshop was one of those books. I mean – COME ON – A book about a bookshop. Every bookworm's dream, am I right? It certainly is mine, and I'm sure Veronica Henry has created every book lovers paradise in the form of Nightingale Books. Crammed full of books on anything and everything, this is the kind of place where you could easily spend a day sampling the stock and sniffing the odd page or two. I know that if I visited this shop I certainly wouldn't be leaving empty handed (if I were to leave at all, that is…) Veronica has basically taken every good thing about bookshops and brought those features to life within this tale. Not only in the form of the bookshop, but also in the form of the wonderful characters who we get to meet amongst its overflowing shelves. The way in which the bookshop has touched so many peoples lives is heart warming and as soon as we meet Julius when he first takes on the venture of running Nightingale Books and declares 'A town without a bookshop is a town without a heart' I just KNEW this book was going to be a special one…And it certainly was.
Extremely moving and poignant, the way in which Julius' death affected the whole town was heart breaking. There are some really emotional moments that will have you sniveling away into a king-size box of Kleenex, but there are plenty of funny, warm, happy and gooey moments to counter-act the tear-jerkers. I loved reading the story behind how Julius took on the shop as a single parent when Emilia was a baby and how he instilled such a strong love of reading into his daughter. Emilia is, understandably, heartbroken at the passing of her father and I wanted more than ever for her to succeed with her venture of keeping Nightingale Books up and running.
It was absolutely lovely the way the town of Peasbrook, who were also devastated by the loss of Julius, pulled together to make things work. I love reading stories which are set in a place that has that strong sense of community, friendship and support and Peasbrook has this by the bucket load.
Whilst the battle to save the bookshop is a deliciously exciting and charming read in itself, there is so, SO much more going on in this novel alongside. There are a whole range of wonderfully fascinating characters who are all connected to Nightingale Books in some shape or form and the way in which their stories are interlinked is marvelous. Some of my favourites included Sarah, Ralph and Alice Basildon, local teacher Thomasina and bookshop volunteer June. There were just so many wonderful characters hidden within these pages and I was intrigued and compelled by all of them and the storylines that they shared. Sometimes when a book focuses on a wide array of characters I struggle to keep track of who's-who, but I can honestly say I didn't experience this at all with How to Find Love in a Bookshop. I took such a deep interest in each and every character and I found myself quickly enveloped in their world and the obstacles that they faced.
There were just so many things right with this book, I could easily blabber on about how wonderful it is all day. Stunning cover, gorgeous setting, fantastic characters and most importantly – extremely well written and structured. Whilst I am yet to read all of Veronia Henry's novels (of which there are 15!) this is easily my favourite so far and it will take some beating…
Charming and delightful, this novel is every bookworm's dream…
A huge thank you to Elaine at Orion for sending me a review copy of How to Find Love in a Bookshop.
As an army child, I went to eight different schools, including the Royal School Bath, where I learnt Latin, how to make rock buns and how to take my bra off without getting undressed.  I went on to study Classics at Bristol University, followed by a bi-lingual secretarial course – a surprisingly useful combination.
I landed a job as Production Secretary on The Archers at Pebble Mill in Birmingham, where it used to take me two and a half hours to type out an Archers script on an Olivetti ET121 typewriter.  Duties ranged from recording the sound of newborn piglets to playing Peaches the barmaid in the Cat and Fiddle.  There was never a dull moment, and The Archers taught me that everyone needs an escape from everyday life.
From there, I became a script editor for Central Television, working on broadcasting legends Crossroads and Boon.  I started a family and became a freelance scriptwriter, writing hundreds of hours of television drama, including Heartbeat and Holby City.
In 2000 I got my first book deal, and am currently writing my fifteenth novel, The Forever House.
I also write lifestyle features for newspapers and magazines, including Woman and Home, Red, The Daily Mail, Woman and The Sunday Times.
I speak regularly at Literary Festivals, libraries, WIs and charity events, talking about my career and the inspiration for my novels.
Veronica Henry |  Website |  Twitter |  Facebook |  Goodreads |