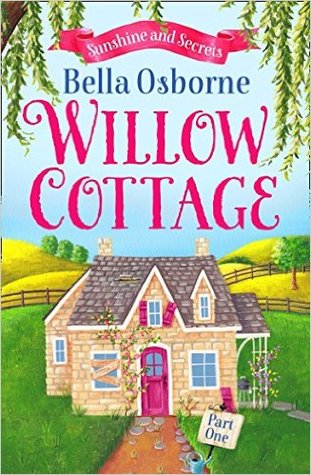 Sunshine and Secrets (Willow Cottage #1) by Bella Osborne
Release Date: 7th July 2016
Publisher: Avon
Buy: Kindle
Rating:

Beth is running away. With her young son Leo to protect, Willow Cottage is the lifeline she so desperately needs. Overlooking the village green in a beautiful Cotswolds idyll, Beth sees a safe place for little Leo.
When she finally uncovers the cottage from underneath the boughs of a weeping willow tree, Beth realises this is far more of a project than she bargained for and the locals are more than a little eccentric! A chance encounter with gruff Jack, who appears to be the only male in the village under thirty, leaves the two of them at odds but it's not long before Beth realises that Jack has hidden talents that could help her repair more than just Willow Cottage.
Over the course of four seasons, Beth realises that broken hearts can be mended, and sometimes love can be right under your nose…
Beth takes a massive risk when she buys a house at auction that she's never actually seen (gulp). Beth is running away from her old life for the sake of her son, Leo, however she hadn't quite banked on their new start together involving quite such a dilapidated house.
To the backdrop of a gorgeous Cotswold village, Beth tries her best to take on what seems to be a frighteningly big project- but it soon becomes clear that maybe what's hiding underneath the overgrown weeping willow tree might not be such a disaster after all. But that still leaves the (charming yet slightly insane) locals to deal with…Piece of cake. Right!?
I was so excited about reading the start to this gorgeous-sounding series by the wonderful Bella Osborne after being a huge fan of her previous books. I loved the premise, I loved the dreamy cover and I couldn't wait to get the story started…and it most certainly didn't disappoint.
I always seem to enjoy stories which involve abandoned houses (does that make me strange!?) and I love it when it's actually the house which ends up fixing its owner rather than the other way round (if that makes any sense…) and I have a feeling that this will be Willow Cottage all over. However, I do love hearing about the renovations and picturing the transformation in my head. Thanks to Bella's wonderfully descriptive writing I've had no trouble whatsoever doing exactly that so far…
Beth is great as a central character. There was a point when I feared I wasn't going to warm to her but I was relieved to find that I eventually did. I'm also hoping that as the story progresses and I get to know her even better I'm sure I will grow to love her. I could feel her frustrations over Willow Cottage and the difficulties she was running from in her past. Character-wise I also really liked Beth's friend, Carly. She really made me chuckle – she is an absolutely hilarious character and I'm looking forward to seeing more of her very soon!
This is a fantastic start to the Willow Cottage series which is looking to be a good 'un. The setting is absolutely perfect and as for the supporting characters in the form of the locals – don't get me started! As mad as a box of frogs (but it goes without saying BLOOMING BRILLIANT to read about!) Cosy, charming and a complete delight, I was just sorry that our visit to Dumbleford was over so quickly and I am eagerly awaiting to return…
A huge thank you to publishers, Avon, for approving me on NetGalley to read Sunshine and Secrets.
I've been jotting down my stories for as far back as I can remember… well that's not exactly true. I remember writing a story when I was about nine and I was in Mrs Hurran's class. The story was about a thief who stole the crown jewels but then didn't know what to do with them. It went on for pages and pages, in my spiders dance handwriting, so my teacher typed it up and pinned it to the classroom wall. It was a proud day!
Somehow life took over, I got a sensible job and the writing has remained a hobby which other people puzzle over and which I adore.
Over the years there have been dalliances into poetry, short stories and five unfinished novels. But I decided that 2013 would be the year that was going to change. I joined the Romantic Novelists Association New Writer Scheme which gave me a deadline to chase – a full length novel had to be completed and submitted  for review by 31st August. I beat the deadline by a month!
In November 2014 I secured a two book contract with Harper Impulse, part of the Harper Collins Group, and my first novel 'It Started at Sunset Cottage' was published in ebook format on 12th February 2015 and paperback on 23rd April 2015. A revised cover saw it re-released under Harper Collins Avon on 27th August 2015.
My second book 'A Family Holiday' was published as an ebook on 16th June 2016 and the first part of my third novel 'Willow Cottage' will be available digitally from 7th July 2016.