I am so excited to be able to kick off the blog tour for They All Fall Down by Cat Hogan. You could say I'm excited to read this novel; only it would be a complete and utter understatement…It sounds fantastic. Cat is also genuinely one of the loveliest authors I have had the pleasure of welcoming to my blog. I was thrilled to be able to quiz Cat on her writing ideas, publication day nerves and she also shares her tips for all of the aspiring authors out there…
Hi Cat, welcome to Bookaholic Confessions! Thank you so much for participating in this interview. I'm delighted to have you on my blog! Would you like to start by introducing yourself…?
Hi Holly! Thanks for having me. I'm Cat and I am a writer from the beautiful Co. Wexford in Ireland. I live here with my musician partner, Dave who is originally from Newcastle and two little boys Joey 11 and Arthur 3.  Wexford is right on the coast and I'm never too far away from the inspiration of the sea. When I'm not conjuring up imaginary friends and madmen, I write content for business. It's busy here at home trying to juggle everything but so far so good! I'm also a self-professed book worm, I can't get enough of them!
Can you tell us a bit about your debut novel, They All Fall Down (released 1st July 2016 with Poolbeg Press)?
They All Fall Down is set on the coast in Ireland and is a dark tale looking at the destructive nature of addiction, the thin line between love and obsession and the effect of manipulation and deceit on a group of people. It has been described as an intoxicating cocktail of psychological thriller and emotional rollercoaster.
I am ridiculously excited to read They All Fall Down, it sounds right up my street! What was the inspiration behind the storyline?
When I started writing the novel, I thought it would be lighter and maybe even funny. My subconscious was having none of that and a sinister character popped up very quickly. Because of my love for the sea and the fact my late father was a lightship man- the location came first. All I thought about was having a lighthouse on the cover of the book- it's set in a fictional fishing village in Wexford. The characters came next and then the situations arose.
Are any of the characters in your novel based on anyone in real life or are they all entirely fictional?
I think there are elements of myself and all my friends in the characters but they are fictional. As each of them came into the story- I began to get to know them, their traits and how they would act in a given set of circumstances. They all had their own back story, right back to their childhood. I created separate lives and worlds for all of them and this dictated who they became as adults.
Did you know how the ending was going to pan out before you started writing the book or did things change as you made your way through the story?
I knew the location and two characters at the start and I had a fair idea how the story was going to end. Everything else evolved as I wrote.
How did you go about doing the relevant research for the novel?
My research was a combination of reading articles and books on different topics and speaking to people. The scenes where Andy was at work came from hours of chatting with local fishermen. I spoke to a couple of other professionals to make sure I had my facts straight too. Once I had the bones of the information correct, I let my imagination fly.
They All Fall Down has got some cracking 5 star reviews on Amazon already. On a scale of one to ten just how nerve-wracking is it releasing your debut novel out into the wild?
I have never experienced anything more nerve wrecking in my life! It all happened quickly for me. I finished the first draft of the novel in June of last year. I got picked up by my agent two months later and by November I had a two book deal with Poolbeg. The book was published and on the shelves really within a year of it being written.
I'm really pleased with the reviews so far. As I said to you, I am a bookworm and there is nothing I love more than the feeling of not being able to put a book down- staying up half the night just for one more chapter. People have said the same about They All Fall Down. That to me is the biggest complement of all. Readers have also had very strong reactions to the characters- that means they are real to the reader. You can't ask for more than that. I hope Hollywood is reading the reviews- it would translate well to the big screen! I will live in hope.
What advice would you give to any aspiring novelists out there?
I have been asked this question many times and my answer remains the same. The first thing any aspiring novelist needs to do is start writing. Just start. Then take advantage of the resources available to you whether it's online or the likes of a creative writing course. Writing a novel takes discipline and being organised with your thoughts. Steven King has written a wonderful book called 'On Writing'- go get a copy of it.
Who are your favourite authors and which type of books do you enjoy reading?
There are very few books I don't like to read. My favourite authors are Steven King, Wally Lamb and Ian McEwan. It also depends on my mood. There are many amazing books and authors out there and sometimes I panic as I feel like I will never get to them all! Ken Follett is another one. My TBR pile is ever growing but that's where my down time comes from. I'm busy all the time trying to juggle everything. I always read at night before bed.
And finally – can you tell us a bit about what you're up to at the moment?
At the moment I am writing the second book. I have a tight deadline as it is due back to my publisher in a month. Another dark tale. It's coming together now. The bones of the third book is rattling around in my head too and I have been really busy with promotion and events for They All Fall Down. It's also the summer holidays and I have been trying to get out and about with my boys.
This year I am looking forward to the winter and school routine. It's easier to stay disciplined when you have a strict routine (and children in bed early!!). For now, I will do what I can and see what happens.
Just to give you a little taste of things to come…
PRELUDE
At that exact moment she knew she was going to die. It was the same moment she stopped feeling terror. Nothing mattered any more – her time had come.
The wind battered her bare arms and whipped the hair back from her face. The sound of the waves crashing below drummed a beat in time with her retiring heart. Time slowed as her feet reluctantly shuffled towards the edge of the high cliff. Despair hung heavy in the air like fog and even the comforting glow of the lighthouse beam couldn't compete with the darkness surrounding her. Death had been invited, and now it had arrived.
For the briefest moment she was suspended in mid-air – like a dancer. Then, resembling a puppet whose strings have been cut, she fell free . . . limbs pirouetting on the wind. Her thoughts were of those she loved, wrapping her in a comforting hug as she sailed down through the abyss.
She could hear music but couldn't tell if it was in her head or rolling in on the sea. It was the tune to a childhood rhyme – she remembered it from her playground days. The words formed in her head.
Ring-a-ring o' Roses, A pocket full of posies, A-tishoo! A-tishoo!
We all fall down!
She hit the surface and her last breath hurtled from her lungs. Her broken body sank down into the icy black water. Time stopped, just like her – it had no relevance here any more.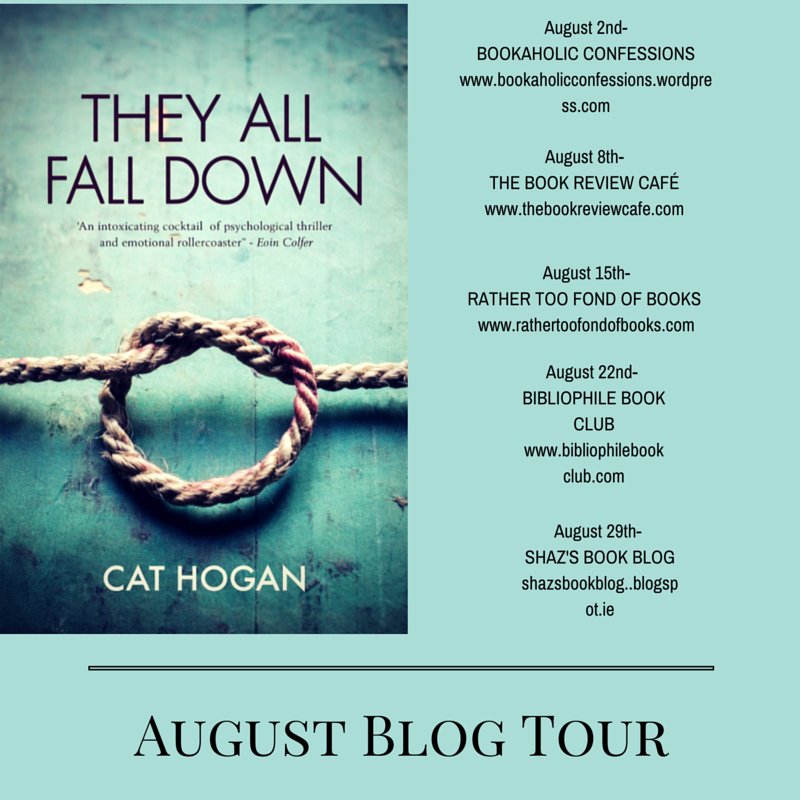 A huge thank you to Cat for answering my questions. You can get hold of your copy of They All Fall Down in paperback and ebook now.