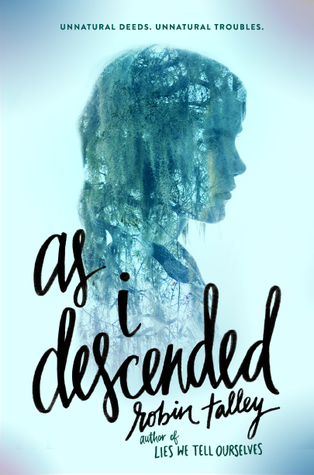 As I Descended by Robin Talley
Release Date: 6th September 2016
Publisher: MIRA Ink
Buy: Paperback  Kindle
Rating:

Maria Lyon and Lily Boiten are their school's ultimate power couple—even if no one knows it but them.
Only one thing stands between them and their perfect future: campus superstar Delilah Dufrey.
Golden child Delilah is a legend at the exclusive Acheron Academy, and the presumptive winner of the distinguished Cawdor Kingsley Prize. She runs the school, and if she chose, she could blow up Maria and Lily's whole world with a pointed look, or a carefully placed word.
But what Delilah doesn't know is that Lily and Maria are willing to do anything—absolutely anything—to make their dreams come true. And the first step is unseating Delilah for the Kingsley Prize. The full scholarship, awarded to Maria, will lock in her attendance at Stanford―and four more years in a shared dorm room with Lily.
Maria and Lily will stop at nothing to ensure their victory—including harnessing the dark power long rumored to be present on the former plantation that houses their school.
But when feuds turn to fatalities, and madness begins to blur the distinction between what's real and what is imagined, the girls must decide where they draw the line.
From acclaimed author Robin Talley comes a Shakespeare-inspired story of revenge and redemption, where fair is foul, and foul is fair.
In As I Descended we are introduced to Maria and Lily. Students at Archeron Academy, the two girls are hiding a rather large secret which only Maria's friend Brandon is aware of – the girls are actually a couple.
We also meet Delilah. Queen bee of Archeron Academy, it seems that Delilah can do no wrong and is absolutely perfect at everything she turns her hand too. Naturally Maria and Lily are both sick of Delilah and her status – and are desperate to take her down a peg or two.
Things look set to take an interesting turn when Maria, Lily and Brandon get hold of aOuija board and decide to hold a séance (dun, dun duuuun!) Naturally, the séance results in the unleashing of many a dark power which gradually takes over Maria and Lily's lives, bringing about unforeseen changes in the girls that neither of them could have ever imagined. But is the Ouija board really to blame for what's happening to Maria and Lily? Or have these traits been there all along…
You know those times when you come to write a review and there is just SO MUCH that you want to say about a book but you don't quite know where to begin? That is pretty much how I feel about As I Descended. It's one of those stories that have so much depth and intrigue to it. The characters are so dimensional and absolutely fascinating to read about and there's so much atmosphere to the story, making it really difficult to get across in a review exactly how fantastic it was.
As I Descended is a reimagining of Macbeth and I can't pile enough praise on the way in which Robin Talley has brought this idea to life. It's such a refreshing, unique take on the Shakespeare classic and it is so cleverly written. I loved the way in which Robin transferred the magic, the power and the drama from Macbeth into a modern day story involving friendships, relationships and high school hierarchy.
The characters in the story are believable and easy to relate to, making them ideal for a YA audience and also appealing to adult readers. They each play an important part in the story and develop effectively as the novel progresses.
Robin's writing is hugely atmospheric, adding to the overall intrigue and general spookiness of the story. As I Descended is a story that will grab your attention right from the start and will leave you unable to put it down until you've reached the end. Satisfying, dynamic and hugely diverse, As I Descended covers an array of fascinating themes and it has that special something which just sets it apart from a lot of other YA titles around at the moment. If you are a die-hard YA fan or new to the genre then this is a must-read…
A huge thank you to Cara at MIRA Ink for the opportunity to read and review As I Descended.
I live in Washington, D.C., with my wife, our baby daughter, an antisocial cat and a goofy hound dog. Whenever the baby's sleeping, I'm probably busy writing young adult fiction about queer characters, reading books, and having in-depth conversations with friends and family about things like whether Jasmine's character motivation was sufficiently established in Aladdin.
My website is at http://www.robintalley.com