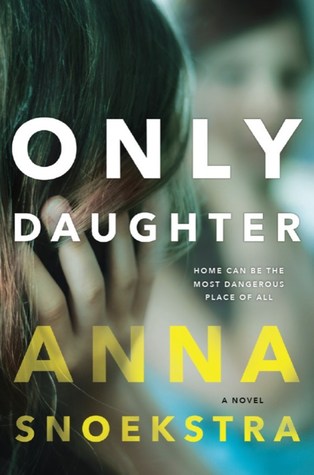 Only Daughter by Anna Snoekstra
Release Date: 22nd September 2016
Publisher: MIRA
Buy: Paperback  Kindle
Rating:

In 2003, sixteen-year-old Rebecca Winter disappeared.
She'd been enjoying her teenage summer break: working at a fast food restaurant, crushing on an older boy and shoplifting with her best friend. Mysteriously ominous things began to happen―blood in the bed, periods of blackouts, a feeling of being watched―though Bec remained oblivious of what was to come.
Eleven years later she is replaced.
A young woman, desperate after being arrested, claims to be the decade-missing Bec.
Soon the imposter is living Bec's life. Sleeping in her bed. Hugging her mother and father. Learning her best friends' names. Playing with her twin brothers.
But Bec's welcoming family and enthusiastic friends are not quite as they seem. As the imposter dodges the detective investigating her case, she begins to delve into the life of the real Bec Winter―and soon realizes that whoever took Bec is still at large, and that she is in imminent danger.
Eleven years ago Rebecca Winter went missing. The sixteen year old seemingly vanished without a trace whilst she was on her summer holiday. On the surface she appeared to have a pretty normal life; she had a summer job, had your average teenage crush on an older boy, regularly got up to no good with her friends…
However, when a woman who is being arrested for shoplifting claims that SHE is Rebecca Winter (or 'Bec' as she's referred to) things start to get strange. Is it really that easy to slip into someone else's life and assume their identity, even if they've been missing for eleven years? And what really happened to Bec all those years ago? Is the 'new' Bec really as safe as she assumes?
When I first saw the synopsis for Only Daughter I knew I just HAD to read it. And fast. The premise is such a brilliant one and no other book springs to mind to compare the plotline to. It's built upon such a strong and intriguing idea and the way the story played out absolutely didn't disappoint. It's a classic page-turner that I struggled to put down.
One of the things that intrigued me most about this novel is how you never even learn the narrator's name. That might sound crazy, but once you start reading you will see why this works so very well and the fact that she remains anonymous adds so much to the story. Whilst you could argue that this distance makes it hard for the reader to relate to the narrator, I didn't find this to be an issue. I still wanted to know what was going to happen to this person and I didn't find myself caring about her any less.
Full of suspense, Only Daughter might just play with your mind a little bit. The ending was a complete surprise to me and this is one of those classic novels that will keep you guessing right up until the end. It's also kind of creepy in parts…
The fact that this is Anna Snoekstra's debut novel is amazing. It is so cleverly written and brilliantly crafted, all whilst being based on a thrilling premise that will really get inside your head.
Hugely enjoyable and completely captivating, if you are a fan of psychological thrillers than you MUST add Only Daughter to your TBR immediately. But be prepared to settle in for the long haul, because once you start reading you won't be able to stop.
A huge thank you to Cara at MIRA for allowing me to read and review Only Daughter.
Anna Snoekstra was born in Canberra, Australia in 1988. She studied Creative Writing and Cinema at Melbourne University, followed by Screenwriting at RMIT University.
Anna's short films and music videos have screened around the world. She has written an array of published and award winning short fiction. Her debut novel ONLY DAUGHTER will be published in September 2016 (Mira).