Please Don't Leave Me Here by Tania Chandler
Release Date: 24th September 2015 (Paperback)
Publisher: Scribe Publications
Buy: Paperback | Kindle
Rating:

Kurt Cobain stands at the top of the stairs, wearing the brown sweater. 'Please don't leave me,' she yells up at him. But it's too late; he's turning away as the tram slows for the stop out on the street.
Then she's lying on the road. Car tyres are going past, slowly. Somebody is screaming. A siren howls.
Sweet voices of little children are singing 'Morningtown Ride'.
Is Brigitte a loving wife and mother, or a cold-blooded killer?
Nobody knows why she was in the east of the city so early on the morning she was left for dead by a hit-and-run driver. It was the Friday before Christmas 1994 — the same day police discovered the body of a man beaten to death in her apartment.
Fourteen years later, Brigitte is married to the detective who investigated the murder, which she claims to have lost her memory of in the car accident. They have young twins, and seem to be a happy family. Until the reopening of the cold case.
Please Don't Leave Me Here is about loss, love and lies. It is about pain, fear, and memory. And, above all, it is about letting go.
We first meet wife and mother of two Brigitte in 2008. Whilst she might be happily married and living a seemingly normal life, it soon becomes apparent that this is far from the case.
Brigitte was almost killed after being hit by a car early one morning in 1994. This was also the day that concert promoter Eric Tucker was found beaten to death in Brigitte's apartment. Brigitte has claimed to have no recollection of what happened fourteen years earlier and is desperately trying to move on from her past. She is now married to Sam, who was in fact the detective that investigated Eric's murder and they have two beautiful twins.
However, Brigitte's world comes crashing down when she hears that the case is to be re-opened. Surely it is only a matter of time before the truth is discovered? But what exactly IS the truth? Does Brigitte know more than she's letting on? How is Sam involved? And – the biggest question of all – who exactly IS Brigitte? Can this perfectly normal mother of two really be involved in a cold blooded murder?
I was stupidly excited about reading Please Don't Leave Me Here, especially when I saw the front cover which told me that if I liked The Girl on the Train then I would love this. Compare any book to The Girl on the Train and I am as good as sold. At the same time, this is a very, VERY bold comparison to make. Would it live up to my (now extremely high) expectations?
It took me a little while to get into the swing of things with this book. As the story starts in 2008, fourteen years after the incidents the book is set around actually took place, it felt as though I was playing catch-up for a while as I got things straight in my head. However, it wasn't long before the finer details didn't matter. I just desperately wanted to know what Brigitte was hiding. Who was this Eric Tucker? Why had he been found dead at Brigitte's apartment? It soon becomes clear that Brigitte knows more than she is letting on and I was scrabbling at the pages in an attempt to find out.
The story is written in three parts. We start off in 2008, then part two goes back to 1994 and it's then that all the missing pieces of the puzzle start to fit together. And fit together they do – PERFECTLY. Suddenly everything makes sense and the story really takes off. All of the happenings in the first part of the book start to add up and you are sat there with a astounded-mouth-wide-open-kind-of look (attractive!). The final part of the story then follows up what is going on in present day, which in the book is the year 2008. The format of splitting up the story like this works so well. Yes, I did feel slightly in the dark to begin with – but that's ok. Not everything can be instantly clear, stories just aren't like that. Then when you do start to find out what's really going on you have this immense feeling of both satisfaction and excitement.
The thing that surprised me most about Please Don't Leave Me Here is how what was originally the question at the forefront of my mind, 'Was Brigitte a murderer?' actually faded into the background as the story progressed. I no longer cared about what she had or hadn't done. I just cared about Brigitte as a person and whether or not things turned out ok for her. I wasn't sure how I felt about Brigitte at the start of the novel. The fact that she was hiding something from the reader made me want to keep my distance, but everything completely changed in part two of the story. It was like the Brigitte in 1994 was a completely different person to the one we knew in present day and as the story develops you can completely see why.
The second part of the story set in 1994 was probably my favourite. I love how so many minor things suddenly seem significant (for example, some of the hallucinations and dreams that Brigitte experiences in the first part of the book start to make perfect sense.) This part of the story also broke my heart, something which I perhaps wasn't expecting from a psychological thriller. I really did want to cry, scream and have a full on tantrum at what was going on. This was when I realised that my opinions of Brigitte had completely changed and I wanted what was best for her. There were so many times when I was screaming 'No, no NO!' at her actions and I love it when a book provokes such strong emotion in me.
The way everything comes together is extremely satisfying and the way that Tania Chandler has weaved this story together is spectacular. Her writing is so clever, ensuring that nothing is given away but small clues are peppered within the story at various points, just to get you thinking.
Please Don't Leave Me Here is another one of those books that you'll struggle to believe is actually a debut. Tania's writing is complex, confident and tense. She has the style of writing that just makes you want more and more and more. This is definitely one of those books that will keep you glued to the pages and have you sat up reading way past your bedtime.
A huge thank you to Molly at Scribe Publications for sending me a copy of Please Don't Leave Me Here to read and review. ♥ Be sure to check out the other blogs taking part in the official tour…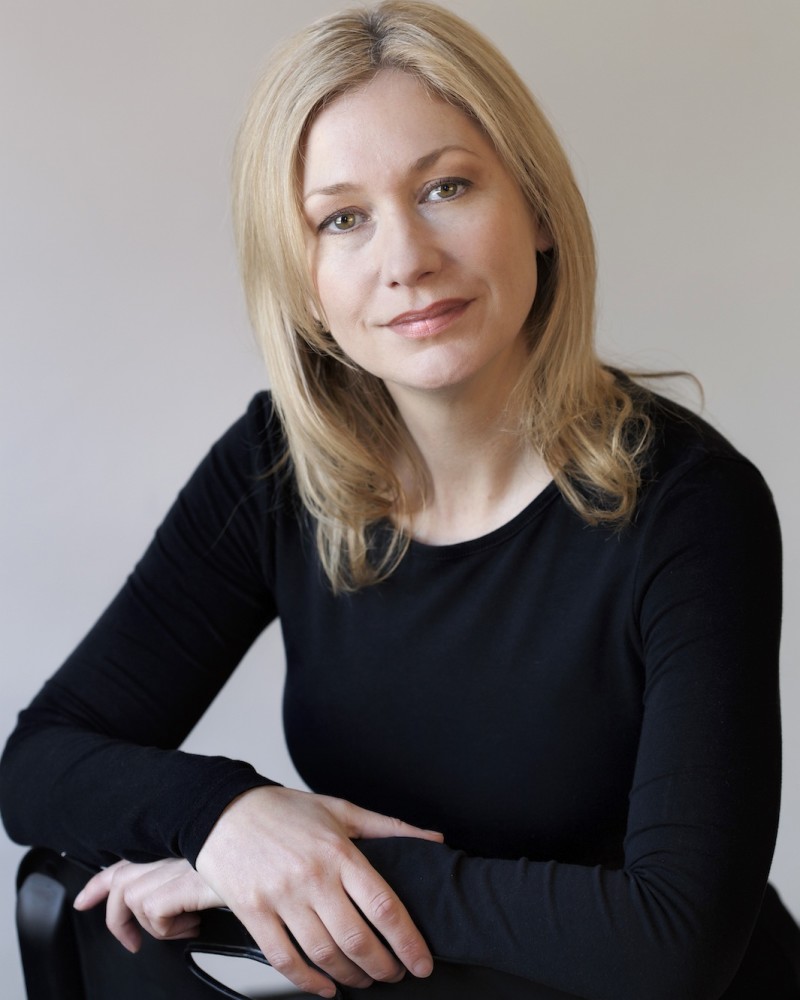 Tania Chandler is a Melbourne-based writer and editor. She studied professional writing and editing at RMIT, and her work was awarded a special commendation in the 2013 Writers Victoria Crime Writing competition.Please Don't Leave Me Here is her first novel, and she is currently working on a sequel.